Help Soundstreams bring innovative new works to life!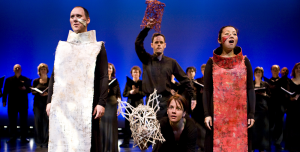 Three Major Works in Progress
Hell's Fury, The Hollywood Songbook

Hanns Eisler's life was the story of exile. The brilliant Austrian, Jewish, Marxist composer fled to Hollywood in 1938, only to be deported a decade later, an early casualty of the McCarthy era. Between film scores, he wrote these passionate songs of nostalgia, horror and longing, adapting lyrics by Brecht, Goethe and Shakespeare. Despite his troubles, this song cycle established Eisler's reputation as one of the 20th century's great composers of German lieder. This work is created in partnership with Luminato, and will premiere as part of our 18/19 Season
Gállábártnit
Set to premiere in our 19/20 season, this is the first staged Sami-language opera and the companion piece to our successful Cree opera, Pimooteewin. Michael Greyeyes has returned to direct:
 The Journey is a two-part international project that's been nearly 10 years in the making. Pimooteewin was the first Cree language opera and Gállábártnit…It's an examination of how we live, what are the consequences of love and sacrifice
– Micheal Greyeyes (director), watch the full interview in the video below:
Laporte
A new opera inspired by the events leading up to the kidnapping and assassination of Québec Vice Premier Pierre Laporte by the Front de Liberation du Québec (FLQ) during the October Crisis of 1970. Soon to enter its workshop phase, Laporte examines this watershed moment in Canadian history 50 years later.  Music by André Ristic and libretto by Nicolas Billon.