German philosopher Theodor Adorno famously said, "There can be no poetry after Auschwitz."  And yet legendary American composer Steve Reich's iconic work Different Trains (1988) for string quartet has been described as "the only adequate response to the Holocaust." 
Soundstreams presents "Steve Reich's Different Trains: Bearing Musical Witness to the Holocaust," a free forum to be held at the Miles Nadal Jewish Community Centre, Room 318, on Tuesday, January 22.
Join speakers Lawrence Cherney, Soundstreams' Artistic Director and Russell Hartenberger, Percussionist and Founding Member of Steve Reich Ensemble, in discussion as they pose the question: "Does musical reflection foster healing while fostering remembrance?"
Co-presented by Miles Nadal JCC
Tuesday January 22,
Doors Open at 7PM, Discussion 7:30-8:45PM
Miles Nadal Jewish Community Centre, Rm 318
750 Spadina Ave (at Bloor)
Free Admission
The Work, Composer and Speakers:
Different Trains (1988)
"A work of such originality that 'breakthrough' seems the only possible description… [It] possesses an absolutely harrowing emotional impact." – New York Times
The ways that music and art influence our memory and understanding of history is one of the primary themes of "Different Trains", reflected in Steve Reich's musical meditation on the Holocaust.
Perhaps the most personal of his works, Steve Reich calls "Different Trains" a "music documentary" bearing witness to his childhood train journeys across the US in the 1940s, and the realization that as a Jew, had he grown up in Europe, Reich's train journeys would have been very different.
Musically, it also marked for Reich, a return to the use of sampling, using train whistles and interviews with Holocaust survivors and US train workers as part of an electronic soundtrack that's juxtaposed with a string-quartet. Different Trains won the Grammy for Best Classical Contemporary Composition in 1989, and is considered Reich's 'late career' masterpiece.
On Saturday February 2 at 8 pm, Different Trains will be performed by the Rolston String Quartet in a version with video at the Jean Lamon Concert Hall, Trinity St. Paul's Centre (near Spadina and Bloor). A part of the annual Soundstreams series, tickets and information about this concert can be found here.
Steve Reich, Composer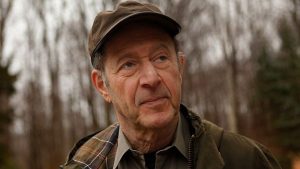 Steve Reich has been called "America's greatest living composer" (Village Voice), "the most original musical thinker of our time" (The New Yorker), and "among the great composers of the century" (The New York Times). His music has influenced composers and mainstream musicians all over the world. "Music for 18 Musicians" and "Different Trains" have earned him two Grammy Awards, and in 2009, his "Double Sextet" won the Pulitzer Prize. Reich's documentary video opera works—"The Cave" and "Three Tales", done in collaboration with video artist Beryl Korot—have been performed on four continents. His recent work Quartet, for percussionist Colin Currie, sold out two consecutive concerts at Queen Elizabeth Hall in London shortly after tens of thousands at the Glastonbury Festival heard Jonny Greenwood (of Radiohead) perform Electric Counterpoint followed by the London Sinfonietta performing his Music for 18 Musicians.
In 2012, Reich was awarded the Gold Medal in Music by the American Academy of Arts and Letters. He has additionally received the Praemium Imperiale in Tokyo, the Polar Music Prize in Stockholm, the BBVA Award in Madrid, and recently the Golden Lion at the Venice Biennale. He has been named Commandeur de l'Ordre des Arts et des Lettres, and has been awarded honorary doctorates by the Royal College of Music in London, the Juilliard School, the Liszt Academy in Budapest, and the New England Conservatory of Music, among others. "There's just a handful of living composers who can legitimately claim to have altered the direction of musical history and Steve Reich is one of them," states The Guardian.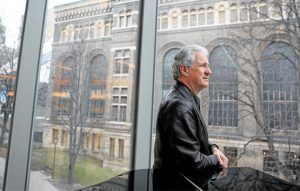 Lawrence Cherney, Artistic Director
Lawrence Cherney's first professional engagement as oboist was under the baton of Igor Stravinsky. For over 40 years as artistic director and performer, he has been at the forefront of Canadian music, often referred to as Canada's "Ambassador of New Music". Lawrence founded Soundstreams in 1982, which produces an eclectic annual series in Toronto featuring contemporary music and opera. His paramount role in the commissioning, developing, producing, performing, touring and recording of new music by Canadian and international composers has been widely recognized: The Order of Canada, Muriel Sherrin Award for International Achievement, two Lieutenant Governor's Awards and the Chalmers National Music Award.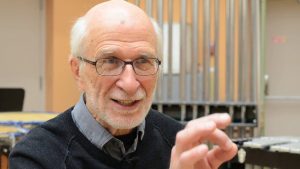 Russell Hartenberger, Percussionist
Russell Hartenberger is Professor of Percussion at the University of Toronto. He has been a member of Nexus and of the Steve Reich ensemble since 1971. With these two groups, Professor Hartenberger has performed throughout the world including appearances with the New York Philharmonic, Boston Symphony, Cleveland Orchestra, London Symphony, Israel Philharmonic, Cologne Radio Orchestra, Toronto Symphony, BBC Orchestra, New Japan Philharmonic, and with other leading orchestras in Europe, Asia and North America. His Western music studies were with Alan Abel and Fred D. Hinger. He has also studied tabla with Sharda Sahai, mrdangam with Ramnad Raghavan, Javanese gamelan with Prawotosaputro and West African drumming with Abraham Adzinyah. Prof. Hartenberger has appeared on over 70 recordings for various labels including Nonesuch, ECM, DGG, Sony, Philips and Nexus. He has also performed with the Oklahoma City Symphony, the New Haven Symphony, the U.S. Air Force Band, the Paul Winter Consort, the Canadian Opera Company, and at the Marlboro Music Festival under Pablo Casals.