The ensemble for Two Odysseys received a 2020 Dora Mavor Moore Award in the Opera Division for Outstanding Performance by an Ensemble!
The simplicity of these stories drew me in, leaving me rapt for the duration and in awe of the execution of it all. – The Globe and Mail

… the excellent performances incite us to hope that we won't have to leave this alternate universe for a while. – The Toronto Star

The two operas together make for an excellent and thoughtful evening of music theatre. – Ludwig van Toronto
Two Odysseys is a joyous celebration of Indigenous language and storytelling. It's a double-bill of two music dramas: Pimooteewin, The Journey, a setting of an ancient Cree story from North America, sung and narrated in the Woodland Cree dialect; and Gállábártnit, The Bear, a setting of an ancient Sámi story from the Nordic countries, sung and narrated in Northern Sámi.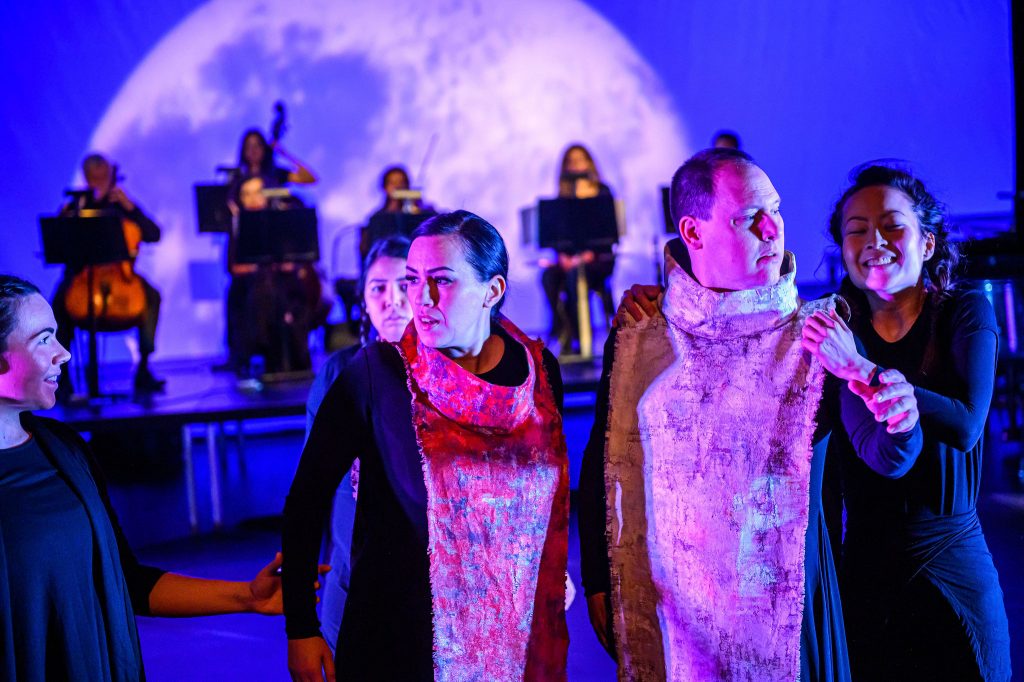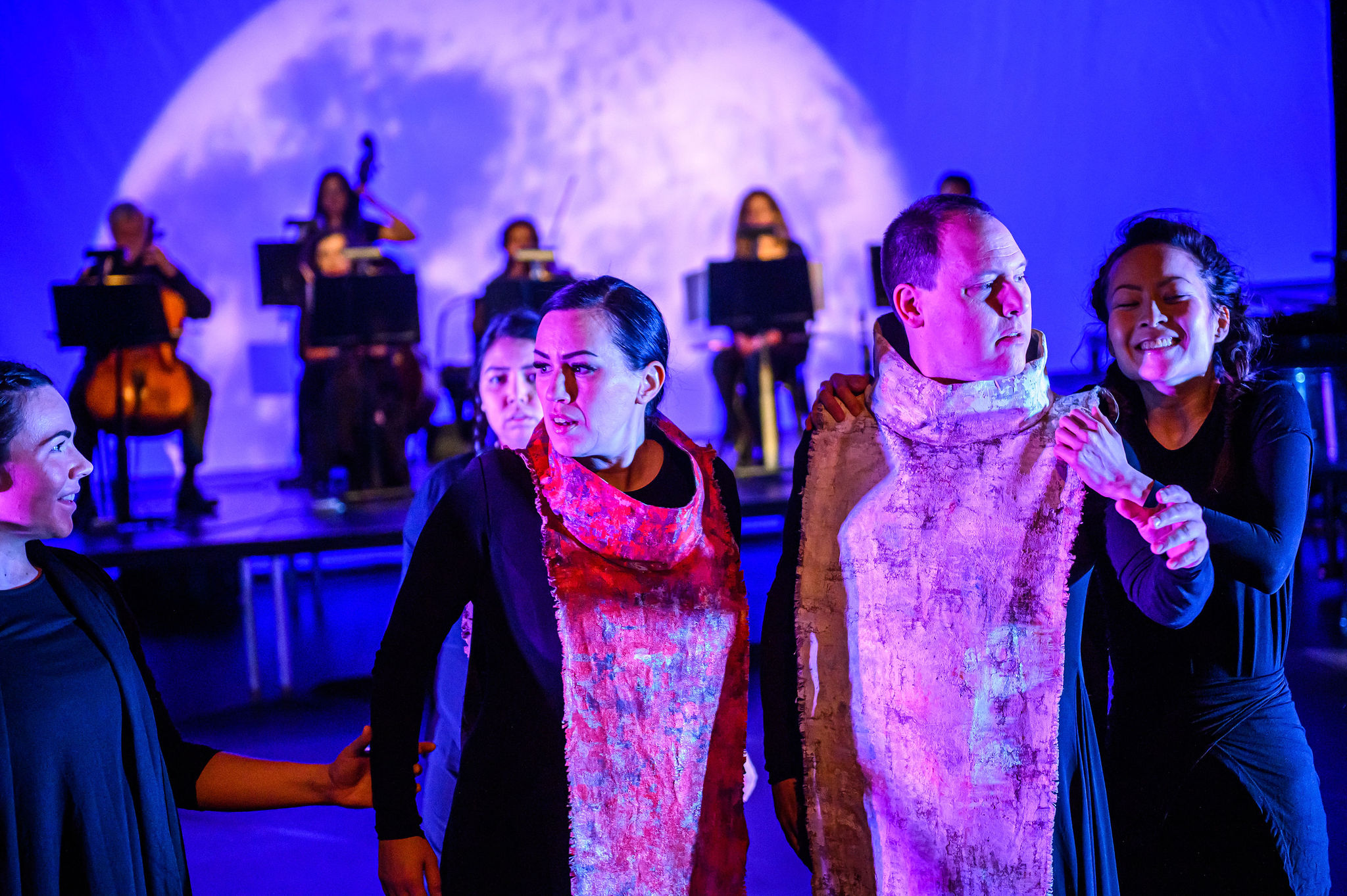 The two works are scored for similar forces: narrator, 2 vocal soloists, 3 actors/dancers, chamber choir and chamber orchestra. The cast is drawn from Indigenous artists of diverse heritages, and non-Indigenous artists, all coming together from Canada, Norway, and Finland.
The works are inspired by the human journey through life and death, but as with all Indigenous stories, themes of love, friendship, betrayal, and courage intertwine and defy genre.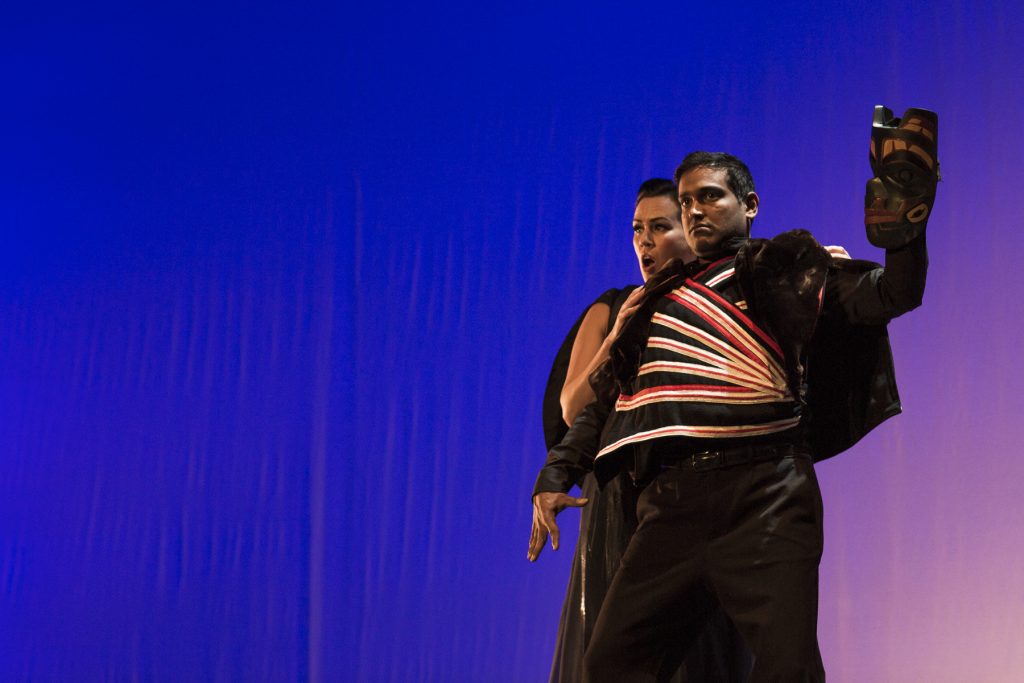 Creative Team and Featured Artists
Michael Greyeyes, Cole Alvis, co-directors
Melissa Hui, Britta Byström, composers
Tomson Highway, Rawdna Carita Eira, librettists
David Fallis, musical director
Yolanda Bonnel, Heli Huovinen, narrators
Melody Courage, Asitha Tennekoon, Bud Roach, vocal soloists
Samantha Brown, Vienna Hehir, actors/dancers
Choir 21
Chamber Orchestra
Cast  
Narrators (2)
Soprano
Tenor
Vocal Ensemble (14)
Actors/Dancers (3)
Chamber Ensemble (7)
Reviews
'Two Odysseys consists of two Indigenous operas that are a near-perfect fit' – The Globe and Mail
Contact
[email protected]
+1 416-504-1282 ext. 100
In partnership with: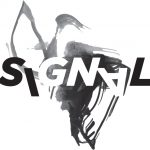 This production is supported by