This is one of those magical moments in theatre where every single element comes together so that one emerges from the venue deeply changed.

… a consistently powerful performance … Hell's Fury knows no bounds.

One of the most unforgettable cultural events of 2019
Hell's Fury, The Hollywood Songbook Promotional Video from Soundstreams on Vimeo.
Hanns Eisler's life was the story of exile. The brilliant Austrian, Jewish, Marxist composer fled to Hollywood in 1938, only to be deported a decade later, an early casualty of the McCarthy era. Between film scores, he wrote these passionate songs of nostalgia, horror and longing, adapting lyrics by Brecht, Goethe and Shakespeare. Despite his troubles, this song cycle established Eisler's reputation as one of the 20th century's great composers of German lieder.
Hell's Fury, The Hollywood Songbook portrays a day in the life of Eisler, from his arrival in Hollywood to his death in East Germany using the songs of Hollywood Songbook to weave the story together.
The production's creative team is led by acclaimed director Tim Albery, who devised the show's original concept. The award winning Michael Levine, one of Canada's most internationally lauded theatre and opera designers, sets the scene and provides the vision for Eisler's world. Lending his voice to the story is operatic powerhouse Russell Braun accompanied by Juno Award-winning pianist Serouj Kradjian. Braun, known for his luminous voice, is a familiar face in opera houses around the world for his melodic and compelling portrayals of many of the great operatic roles including Don Giovanni, Eugene Onegin and Werther. Canadian pianist and composer Kradjian has established himself as a versatile, groundbreaking artist with a "fiery temperament and elegant sound…with technique to burn" (Frankfurter Allgemeine)
Read rave reviews from The Toronto Star and Ludwig van Toronto.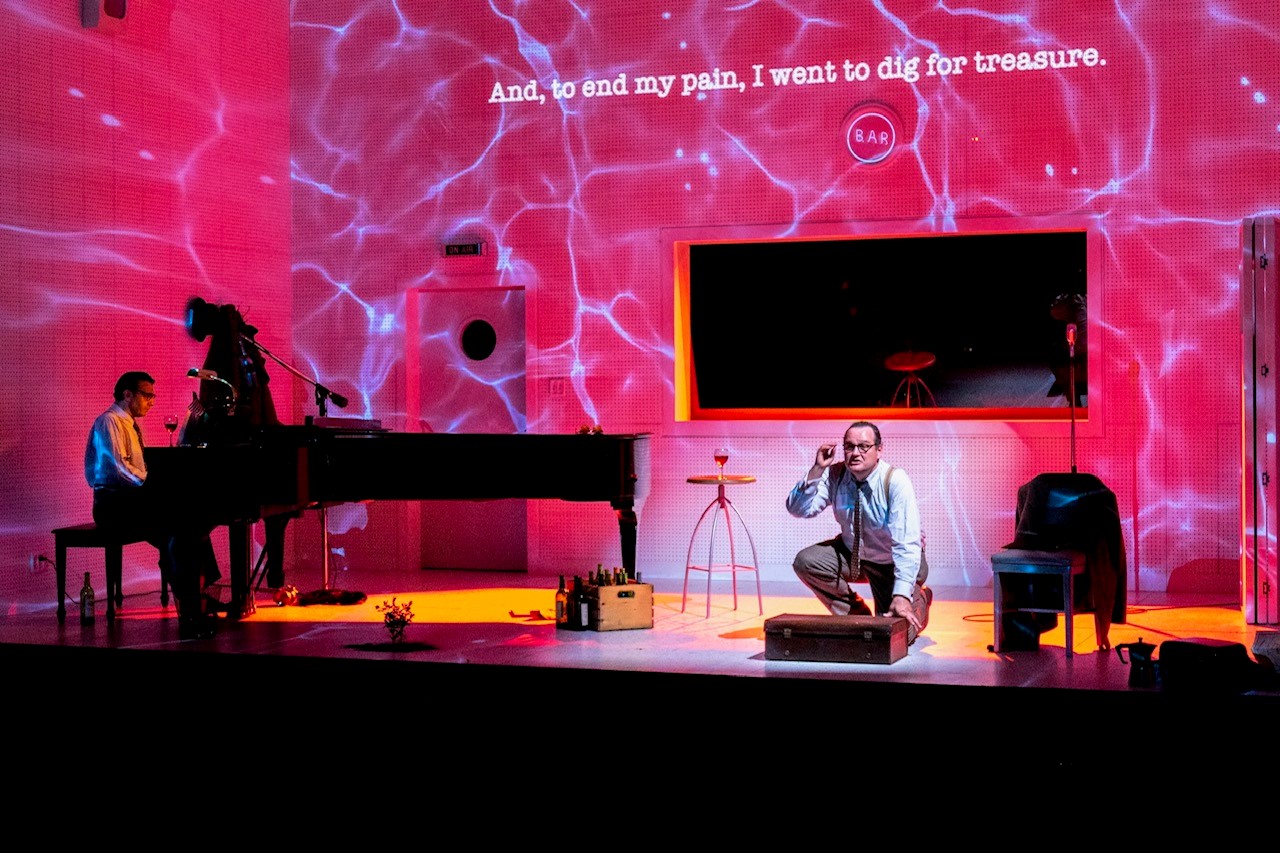 This is a one act performance with no intermission. The performance is roughly 70 minutes in length.
Travelling Company
• 1 Production Manager
• 1 Technical Director
• 1 Stage Manager
• 1 Video Director
• 1 Lighting Director
• 1 Director
• 2 Performers
Download preliminary technical rider.
Review
'Hanns Eisler opera at Stanford reopens the book on a blacklisted Hollywood composer' – L.A. Times
Photos by Bruce Zinger, unless otherwise noted.
Hell's Fury, The Hollywood Songbook is presented by Luminato, Soundstreams & Pinkhouse Productions
With support from Opera North, UK
THE HOLLYWOOD SONGBOOK
Composed by Hanns Eisler; edited by Oliver Dahin, Peter Deeg and Manfred Grabs
Published by Associated Music Publishers, Inc. o/b/o Brietkopf & Hartel