Hosted by Arts Etobicoke in partnership with Soundstreams. 

Percussion instruments and storytelling play a deeply significant role in almost every global culture, performing a ceremonial role marking the rituals of our lives from birth to death. This digital concert features Balinese-inspired Pulau Dewata (translation "Island of the Gods") by Quebecois composer Claude Vivier, Imbila by Dr. Bongani Ndodana-Breen (SA) narrated by actor Rhoma Spencer, and a new story by Spencer called The Good, The Bad, and The Ugly: How Brother Deer and Mother Turtle Pivot the Pandemic, set to a new arrangement of Ann Southam's Glass Houses. 
What to Expect 
The world premiere of our latest Encounters show, 

Stories & Drumming 

 

Event lasts approximately 2 hours

 

A discussion around the 

Encounters: Stories & Drumming 

broadcast and broader themes connected to it, with Soundstreams Founding Artistic Director Lawrence Cherney and a diverse panel of artists and community leaders

 

Please note the panel discussion will be recorded over Zoom.

 
Once you sign up, we'll be sending out a link to join us on Zoom before the date. Please make sure to have Zoom downloaded. 
Show Artists 
Ryan Scott, percussion
Greg Oh, piano
Joyce To, percussion
Tyler Cunningham, percussion
Rhoma Spencer, actor 
Repertoire: 
Claude Vivier Pulau Dewata 
Ndodana-Breen Imbila 
Ann Southam Glass Houses (new arrangement) 
Panel Guests
Rhoma Spencer
Mestre Sérgio Xocolate & Suzanne Roberts Smith
Rhoma Spencer – Actor, Playcreator, Director and Comedian is a veteran Theatre Practitioner practicing in Toronto since 2001. A graduate of York University with an MFA in Directing, she formed the now defunct Theatre Archipelago(TA) in 2005 and under her Artistic Direction the company produced Mad Miss /Just Jazz in 2005, Fallen Angel and the Devil Concubine (2006), Twilight Café (2007), I Marcus Garvey (2009) Obeah Opera (2012).
Acting credits include: Solitudes (ALUNA Theatre), Jean and Dinah (Lordstreet Theatre) Mad Miss, Fallen Angel and the Devil Concubine (TA/bcurrent), Stori Ya (bcurrent) and two seasons of the groundbreaking Afri-Canadian sitcom, Da Kink in my Hair for Global TV. Film: Sound of Tears (Short) which received an African Academy Award for Best Narrative Short (Diaspora). The Apartment (TV series Pilot for CCN TV6, Trinidad). Presently acting in the movie 'Scarborough' set to hit Canadian cinemas in the new year.
Directing credits include: Just Jazz, I Marcus Garvey, Our Lady of Spills, Twilight Cafe for Theatre Archipelago, Carnival Medea- Trinidad, For Colored Girls- USA and many more. In addition to stage, she has been the Artistic Director of Pan Alive, the Steelband Music Festival during Caribana for the last three years.
Rhoma is also the recipient of a US House of Congress Proclamation and the Borough President of NYC Proclamation for her contribution to Caribbean Theatre. She is also featured in the Who is Who in Black Canada and in The 50th Independence Anniversary publication of Distinguished Nationals of Trinidad and Tobago in Canada in the field of Arts and Culture. In 2017 she founded Canadian-Caribbean Arts Network and was the Artistic Director of the Canada contingent participating in CARIFESTA XIII in Barbados and again at CARIFESTA XIV in Trinidad and Tobago in 2019. She is also featured in The Kenny Robinson's Nubian Disciples of Comedy 25th anniversary album (2020) available on Amazon, ITunes and Spotify.
Sérgio Xocolate (photo below) is a Capoeira Master, International Recording Artist, Singer/Songwriter, Award Winning Composer, Percussionist, Artist-Educator, Social Outreach Facilitator and Artistic Ambassador of Traditional Indigenous & Afro Brasilian Cultural Arts. Revelling in an expansive career; his main focus, XOCÔ (formerly 'Sérgio Xocolate & Casa de Marimbondos') is an Indigenous & Afro Brasilian Psychedelic Punk Rock Band he conceived in his hometown of Recife, Pernambuco, Brasil but was actually born and realized in his new home of Toronto, Ontario, Canada. XOCÔ features a diverse group of multidisciplinary artists: Felipe Sena, Shane Miersch, Andrie Rudyrianto, Ana Maria Higuera & Suzanne Roberts Smith. With a penchant for composing songs on the streetcar, Sérgio's written an entire new album for XOCÔ; merging his poetry, politics, spirituality while paying tribute to his Indigenous Ancestor's by breathing new lyrical life into traditional rhythms. Recently released first single and video by Ana Maria Higuera ZUMBI DO BESOURO has been critically well received in Canada, Brazil and around the world.
Suzanne Roberts Smith (photo below) is a graduate of the National Theatre School of Canada & The Birmingham Conservatory for Classical Theatre and a critically acclaimed actor, director, theatre maker plus passionate artist educator & percussionist. Over the past two decades in Tkaronto, Suzanne's studied Traditional Afro Brasilian Percussion from Recife, Pernambuco, Brasil. She's a lifelong learner of these rhythms, instruments and cultural expressions and a livelong listener of how to honour them and pay respect as an outsider. Suzanne's central teacher, Juno nominated/singer-songwriter & master percussionist Aline Morales bridges the source of Maracatu Nação Estrela Brilhante and rhythms from other Nations and Traditions. Suzanne's creative partner, Sérgio Xocolate of Maracatu Nação Camaleão, a native of Recife & Olinda, generously teaches about his Indigenous Jurema & Afro-Brasilian Camdomblé culture and rhythms whether through his unique representation of the Caboclo de Lança lineage or key stories of cultural preservation and celebration from Pernambuco through his musical visions of XOCÔ. Suzanne is a proud founding member of BAQUE DE BAMBA & LAS VULVAS. Being a member of XOCÔ feels like winning the lottery!
Encounters Town Hall: Stories and Drumming is supported by TD Bank Group.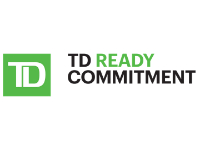 Photos: Rhoma Spencer (by Jocelyn Reynolds). Sérgio Xocolate and Suzanne Roberts Smith.