What to Expect
ONE NIGHT ONLY! Juno-nominated Nicole Lizée will mash up nostalgic pop hits from Australian and Canadian icons using fragmented music videos and electronic music in a multimedia trip merging screens, fashion technology, electronic and live sound with the improv-fueled Australian Art Orchestra. At the historic Great Hall, a venue that brings Victorian architecture into the 21st century.
Nicole Lizée's… pungent mix of iconic elements trick you into familiarity then lead you off on a seductive adventure. Close listening will reveal many worlds, some with shards of familiarity, but she seems to be singing for us in a region of her own devices, leaving the door wide open for our immediate pleasure and for memory. –  MusicWorks Magazine
The Music
Karappo Okesutura Vol III takes us into a messed up karaoke performance of Australian and Canadian pop hits from the 80s and 90s including: Olivia Newton-John, ACDC, INXS, Loverboy, Alanis Morissette, Platinum Blonde and the Silver Bullet Band. The karaoke machine begins to glitch, the singer holds on for dear life, and the Orchestra manages to hold it all together. This is unique and exciting, and the most fun you'll have at a 'serious' music concert.
It's a celebration of glitch, analogue, grooves, psychedelia, and the beauty of malfunction. – Nicole Lizée
Featuring
Nicole Lizée, composer/turntables and electronics
Peter Knight, Artistic Director, Trumpet and Electronics
Georgie Darvidis, Voice
Andrea Keller, Piano
Reuben Lewis, Trumpet and Electronics
Quinsin Nachoff, Saxophone and Clarinet
Samuel Pankhurst, Bass
Steve Raegele, Guitar
Ben Reimer, Percussion
Joe Talia, Drums
Leanne Zacharias, Cello
From Soundstreams Artistic Director Lawrence Cherney
Nicole speaks to us of nostalgia – not the sentimental kind – the kind that comes from listening to what outdated analogue technologies have to tell us about the human condition. They're just like us: they're glitch-prone, they warp, they distort, and they're highly imperfect. But just like the Volkswagen Beetle, they're lovable. She's the perfect antidote for the digital age!
From composer Nicole Lizée
In 2005 I started collecting karaoke tapes. I was drawn to the sounds that jump to the forefront once the the melody and lyrics are removed and what remains is the background vocals, bass lines, hand claps, etc. Once the lead vocals are extracted it becomes a whole new experience.

I started manipulating the tapes: splicing, warping, pitchshifting; ultimately creating my own surrealist 'karaoke' night. I imagined a scenario where a karaoke singer takes to the stage to perform a chart topper only to find that the song starts to morph. The machine is malfunctioning: the pitch and speed start fluctuating, the rhythms stutter, the harmonies become twisted and take off in a new direction. But the singer must finish the song in synchronization with the tape no matter what happens – like a true professional. A small chamber ensemble also synchronizes with the track and video, extending the defected karaoke tape/malfunctioning karaoke machine analogy as they embellish and colour the glitches, providing twisted harmonies and spliced rhythmic embellishments.

Part of the karaoke phenomenon is also the video component; each song has accompanying video, also manipulated, corrupted and damaged in precise tandem with the audio. Volume 1 of Karappo Okesutura was premiered in 2006, Volume 2 in 2015 and Volume 3 has just been written
Karappo Okesutura Volume III was developed by the Australian Art Orchestra and Nicole Lizée in partnership with Banff Centre for Arts and Creativity and Soundstreams, and with financial support from the Canada Council for the Arts, Australia Council for the Arts, Creative Victoria and the Ian Potter Foundation.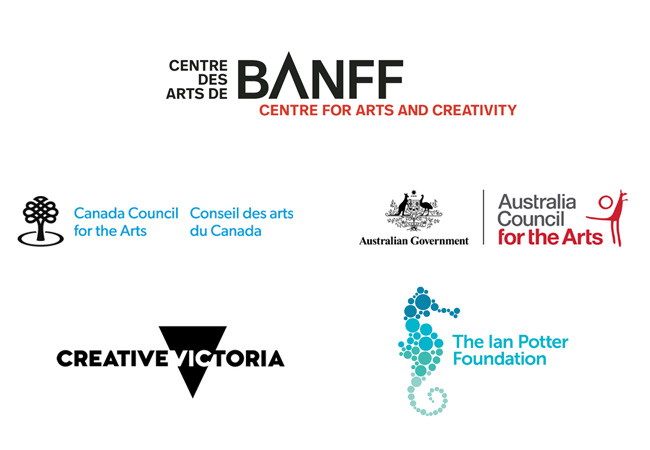 This concert is presented with the generous support of Steinway & Sons

From the AAO: "We take our commitment to the environment seriously. This is why we have partnered with Greenfleet to offset our carbon emissions through their native reforestation program. Greenfleet is a leading not-for-profit environmental organization committed to protecting our climate by planting native biodiverse forests to capture carbon emissions and help fight the impacts of climate change."