ABOUT ODAABAANAG
Odaabaanag is a collaborative project between Soundstreams and Jumblies, that bridges contemporary music, community-engaged arts and intercultural creative processes. Join us to hear inter-related works for string quartet and audio track by Melody McKiver and a song cycle by Beverley McKiver, performed by The Gather Round Singers community choir and soloist Nicole Joy-Fraser. Both works are informed by interviews with elders from the composers' home community of Obishikokaang (Lac Seul First Nation).
Odaabaanag is an Ojibwe word that translates closely to "trains". With a launchpad of Steve Reich's Different Trains, which explored Reich's Jewish heritage and voice excerpts of Holocaust survivors, Odaabaanag draws on cultural memories of Melody and Beverley McKiver, and interviews conducted in their Anishinaabe ancestral home. Their compositions feature the words and voices of Garnet Angeconeb, Josephine King and Tom Chisel.
ABOUT THE MUSIC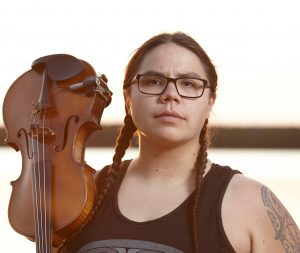 Works by Melody McKiver
Melody's works echo the instrumentation of Different Trains, in three movements, for string quartet and audio track.
Featuring:
Timothy Ying, violin 1
Aysel Taghizada, violin 2
Kathleen Kajioka, viola
David Hetherington, cello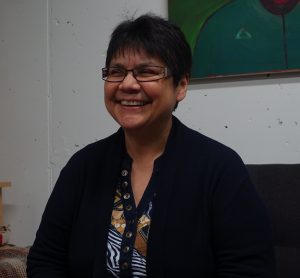 A song cycle by Beverley McKiver
Featuring:
Gather Round Singers (Jumblies' mixed-ability mixed-age choir)
Shifra Cooper, Conductor
Nicole Joy-Fraser, soprano soloist
Daev Clysedale, piano/keyboard
Alejandra Nunez, percussion
Daev Clysdale, piano
Melody McKiver, viola
Guest singers/drummers, Victor Lyon & Tom Chisel from Sioux Lookout
Before We Went Away From interview with Garnet Angeconeb: This song and movement tells of Garnet's experiences as a young child living a traditional life on the land through the cycle of seasons. In his memory "it was wonderful", before he was taken away to residential school.
What Is Going On? From interview with Josephine King: This song and movement gives us Josephine's words and memories of grief and disbelief of how her warm and ceremonial family life was shattered as she and her brother were taken away. Nonetheless, she offers some words of advice for recovery and a good life: "Walk on this Mother Earth for a little while: be a good person while you're here".
We're not going back to Shingwauk! From interview with Tom Chisel. This song and movement shares a story that Tom himself heard recounted by other members of his community, about the brave and life-risking journey of two young brothers who ran away from Shingwuak residential school (in Sault Ste. Marie) and sailed and walked all the way back to Lac Seul, with some human and spirit guides, to reunited safely with their family, never to go back to Shingwauk.
PERFORMANCE DETAILS
This performance is presented in association with Harbourfront Centre and the Talking Treaties installation, on view at the Small Arms Inspection Building, Mississauga for the inaugural Toronto Biennial of Art.
The performance venue is wheelchair accessible
There will be a pre-show presentation about the history and background of the piece and its originating community beginning half an hour before each performance.
Odaabaanag is a collaboration between Jumblies and Soundstreams, funded by an Ontario Trillium Foundation Seed Grant, to develop and explore collaboration across community arts and contemporary music, as well as across cultures (Indigenous and Settler/Immigrant) and regions (Toronto, Northern Ontario).