How do holiday traditions resonate today? Join us for "Holiday Encounters – Yuletide Remix," as SlowPitchSound, remixes your favourite seasonal music. Bring your treasured yuletide vinyl and hear it spun into exciting new sounds right before your ears. We're re-imagining the traditional, Bing Crosby will never sound the same again!
Fresh off Electric Messiah's three-night run, SlowPitchSound, will be ready to unwind and turn your favourite holiday vinyl into holiday magic.
SlowPitchSound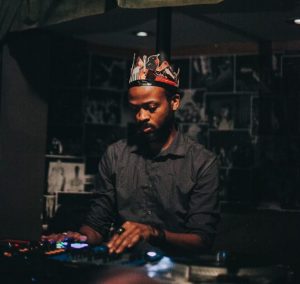 Cheldon Patterson aka SlowPitchSound is a full time artist who is known for experimenting with music, visuals and live performance. He is the 2018 TD SoundMakers Composer in Residence and Co winner of the 2018 CMC Toronto Emerging Composer Award. Cheldon has been developing his own style of music composition over 20 years and has releases 7 studio albums. His work has been featured at Classical and New music events, popular indie music festivals, world renowned electronic festivals, theatres, museums and many creative spaces. Cheldon's passion for presenting fresh ideas has allowed him to perform works around the world with established artists from a number of genres. Together with longtime collaborator and legendary Toronto dancer Lybido, SlowPitchSound's shows combine improvised music, dance and projected visuals to create a truly one of a kind performance. When he is not improvising or performing as SlowPitchSound he is co-operating and instructing at Toronto's Off Centre DJ & Electronic Music Production School.
COMING HUNGRY?
As a pioneer of the local food movement in Toronto since 2006, the Gladstone Hotel's menus change like the seasons. The Gladstone Hotel has been an international taste-maker for over a decade with its whimsical and unique artist designed hotel rooms and year-round arts programming. The hotel brings that same investment in local makers and dedication to innovation to its food program with Executive Chefs Suzanne Barr and Rudy Boquila at the helm. Check out the Gladstone's menu here.