Its images (in Water Passion) are unlike anything that the average Western audience will have encountered in a concert hall before (the title refers not only to the bowls of water on the stage, which singers and percussionists ripple to hypnotic aural and visual effect). Like its model, Bach's St. Matthew Passion, it transcends language, cultural and religious divides.
– The Times (London), UK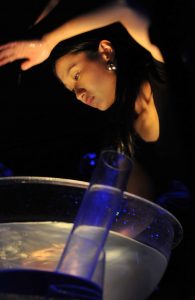 Academy and Grammy award-winning composer Tan Dun (Crouching Tiger, Hidden Dragon, Hero) has reimagined Bach's great masterpiece employing dramatically lit water bowls that adorn the stage and are played as an instrument in the performance. Using water as a sound and symbol transition, he explores themes of birth, death and resurrection.
Water Passion is a powerful narrative that explores a range of styles from Mongolian overtone singing, to Peking Opera, to Bach. David Fallis will conduct the Canadian and International ensemble that features Choir 21, baritone Stephen Bryant and soprano Carla Huhtanen and a small instrumental group that includes: percussionists Ryan Scott and Aiyun Huang and violinists Erika Raum and cellist David Hetherington in this distinctly modern reworking of a timeless liturgical text.
I was nervous about presenting a story that has lived in peoples' hearts in another culture for thousands of years, but I was excited because it is such a powerful, dramatic, operatic story
– Tan Dun