Trailblazing Canadian violinists, Andréa Tyniec, from the contemporary music world and Jesse Zubot, a genre-crossing composer-improviser; will showcase the range of this timeless instrument, performing an eclectic repertoire, with and without electronics, on February 1st at The Buddies in Bad Times Theatre.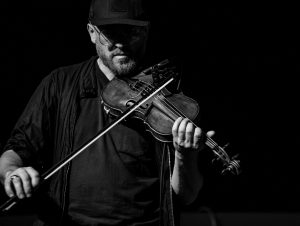 These virtuoso violinists from different ends of the musical spectrum, in their first ever collaboration, will each perform a solo segment with their most iconic repertoire, then come together in the finale for a spirited duet of an original piece created specifically for the Almost Unplugged performance.
I went into the studio with some ideas and made the noises and made some noises but it's Jesse who really did the arrangements and the mixes. He mixed it all. He almost went crazy…
Tania Tagaq, Polaris Music Prize Winner about her album Retribution
[Zubot presents] a sonic experience that would be best taken in with the lights low, and everyone else asleep.
 Luka Symons/CKUA Radio (Edmonton)
Primarily a violinist, Jesse Zubot is also a multi-instrumentalist and incorporates electronic manipulation and studio gadgetry in his work. He's a multiple Juno Award-winning musician, and has collaborated extensively with Polaris Prize-winner Tanya Tagaq, producing, touring and recording with her. Zubot has created with artists from across genres, including Steve Reich, Peggy Lee, Hawksley Workman, and Mother Mother.
Video: Jesse Zubot performs at the Banff Centre in 2017.

Tyniec's solo violin was an astounding traveler through the seven movements, flashing virtuosity in so many ways, one lost count
 The WholeNote
Andréa Tyniec's violin creates a forest of shimmering colours…
Voir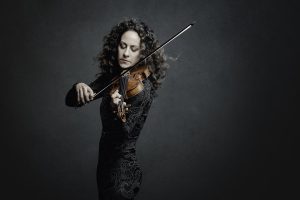 Andréa Tyniec is an internationally recognized violin virtuoso and a recognized promoter of contemporary music – with a particular love for new Canadian works. Andréa is the 1st prize winner of Italy's Andrea Postacchini International Violin Competition 2008 and has performed across Canada and in Switzerland, the United Kingdom, Italy, Holland, Germany, France, Poland, Turkey, and in the USA.  She is also a graduate Fellow of the Glenn Gould School of the Royal Conservatory of Music in Toronto. Andréa Tyniec plays on the Baumgartner Stradivari (1689), on loan from the Musical Instrument Bank of the Canada Council for the Arts.
Video: Andréa Tyniec performs A Song for MAD with Terri Hron, composer and electronics.
Ear Candy is supported by Neil & Carolyn Turnbull
Featured Performers
Andréa Tyniec, Violin
Jesse Zubot, Violin
Terri Hron, Electronics
Program
Eugène Ysaÿe

Sonata No. 2 for Solo Violin, "Obsession"

Terri Hron
Michael Oesterle
Jesse Zubot
Jesse Zubot and Andréa Tyniec