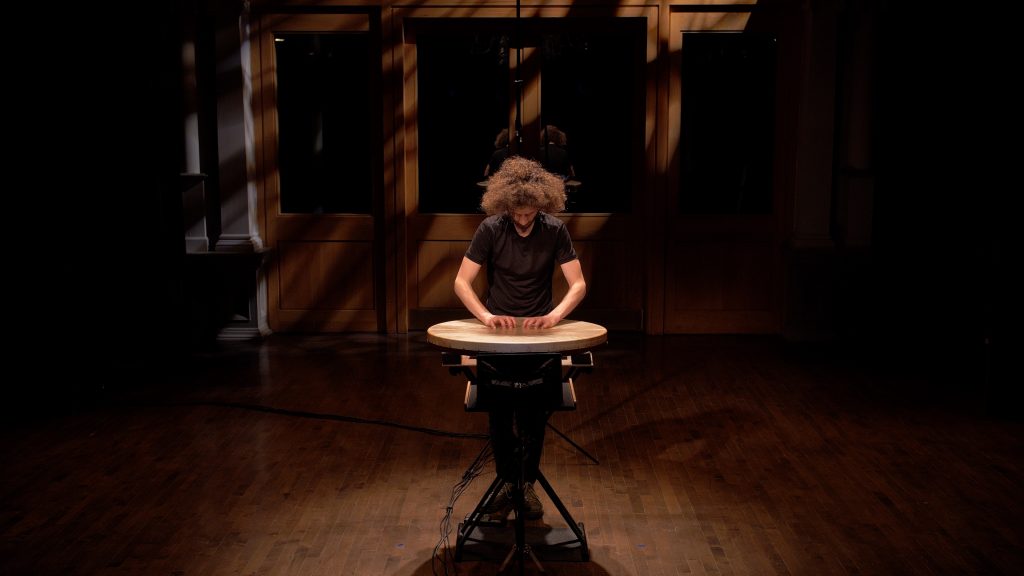 Soundstreams presents Noam Bierstone's Percussion Theatre
"Bierstone demonstrates his percussive skills while delivering something that has the power to enthral for its duration." – Vital Weekly
June 9, 2022 // Toronto, ON – Tickets are now on sale for Percussion Theatre, a 40th Anniversary Soundstreams concert created and performed by Canadian percussionist and Soundstreams New Voices guest curator Noam Bierstone. This one-night-only experience takes place on Saturday, June 25, at 8 p.m, at Crow's Theatre. Book tickets and learn more at Soundstreams.ca.
Percussion Theatre is a curated concert experience exploring the concept of instrumental theatre: the music doesn't just accompany an action, the music is the action.
The repertoire of Percussion Theatre includes: In Praise of Shadows and Orison by Kotoka Suzuki performed by Joyce To, Jasmine Tsui, and Louis Pino; Dressur by Mauricio Kagel performed by Noam Bierstone, Ben Duinker, and Randall Chavez; and ?Corporel by Vinko Globokar performed by Noam Bierstone.
"The theatrical nature of these works draws the audience into each unique performance situation, stimulating them to discover new musical approaches and opening their ears to sound worlds that they may not encounter otherwise," says Bierstone.
The concert run time is approximately 80 minutes, including intermission.
Soundstreams' New Voices guest curation program is supported by The Azrieli Foundation.
—
Connect: @Soundstreams (Twitter, Facebook, Instagram); YouTube: https://www.youtube.com/user/soundstreams
Media Gallery: https://soundstreams.ca/press-room/
—
Soundstreams | Soundstreams.ca
Founded in 1982, Soundstreams is one of the world's leading contemporary music companies, and the largest global presenter of new Canadian music. Founding Artistic Director Lawrence Cherney and Executive Director Beth Brown are committed to showcasing the work of living composers with a focus on innovative thematic and experiential programming and creating a lasting legacy for Canadian music. Since the inception of Soundstreams, Lawrence Cherney has commissioned over 170 new works and curated hundreds of unique and compelling concerts. Soundstreams serves a broad community of music lovers through their Main Stage series, free outreach programs such as Encounters, Town Halls, and Inside Look; and education programs including the New Voices mentorship program for aspiring curators, and RBC Bridges workshop for early-career composers. Years of collaboration with artists from diverse cultures have laid the groundwork for Soundstreams' leap onto the world stage, with productions like Claude Vivier's Musik für das Ende, the Cree- and Sámi-language Two Odysseys: Pimooteewin / Gállábártnit, and Hell's Fury: The Hollywood Songbook enjoying international success and rave reviews through The New York Times and The Los Angeles Times.
Noam Bierstone | noambierstone.com is a Canadian percussionist and curator dedicated to modern artistic performance. Committed to the creation and development of new music, Noam is a founding member of three primary artistic ventures: the saxophone and percussion duo scapegoat, which has extensively toured and performed across North America, Europe, and Australia; the Montreal concert series and performance collective NO HAY BANDA, that has quickly grown to be recognized as a leading voice of experimental new music in Canada, and the Montreal-based percussion quartet Architek. Noam pursues ongoing collaborations with various composers and artists, with a particular interest in works that expand the notion of percussion playing through new techniques, hybrid instruments, theatrical and choreographic elements, and performer-controlled electronics. Noam is regularly invited to perform at international festivals and with leading new music groups across Canada and Europe, and his discography includes releases on KAIROS, New Focus Recordings, NMC, and Cantaloupe Music. In his spare time, Noam enjoys cooking, baking, gardening, and folk dancing.
Noam holds a Doctor of Musical Arts from McGill University (supervisors: Aiyun Huang & Fabrice Marandola) and a Master in Percussion and Chamber Music from the Conservatoire national supérieur de musique et de danse de Paris. His research has been published in the CeReNeM Journal.
—
LISTING INFORMATION
Soundstreams presents the world premiere of Noam Bierstone's Percussion Theatre
Date & Time:
June 25, 2022
8 p.m. | 80 minutes run time (with intermission)
Venue:
Crow's Theatre, 345 Carlaw Ave, Toronto, ON M4M 2T1
Ticket Prices:
$25.43 – $81.93
Ticket Link:
Soundstreams: Percussion Theatre
Website:
Soundstreams.ca