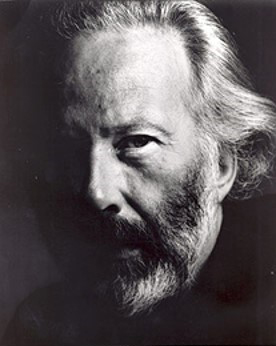 May 11, 2022 // Toronto, ON – Lawrence Cherney, Founding Artistic Director, Soundstreams, has announced a concert to celebrate and commemorate the legacy of R. Murray Schafer, to be performed live at Grace Church on-the-Hill on June 5 at 4 p.m., the very church where Schafer sang in the choir during his formative years. Free ticket registration is available at Soundstreams.ca.
Schafer, the pre-eminent Canadian composer, writer and acoustic ecologist, passed away last August. Soundstreams collaborated closely with Schafer for 30 years, commissioning and premiering major works in his opus. To pay tribute to this incredible collaboration, Soundstreams will present a powerful concert of Schafer masterworks including Aubade for Two Voices (from And the Wolf Shall Inherit the Moon), The Fall Into Light (from Three Hymns), String Quartet No.12, Two Sisters: Isis & Nephthys (from Ra), Epitaph for Moonlight, Fire and The Death of Shalana.
"Schafer was one-of-a-kind, one of the most remarkable artists ever to come out of Canada," says Cherney. "He was the Wagner of the North: the mythologies he created are infused with a profound sense of spiritual connection to wilderness lands and waters."
Celebrating R. Murray Schafer on June 5 will feature David Fallis (Conductor), Soundstreams' Choir 21, Meghan Lindsay, Lindsay McIntyre, the Molinari String Quartet, Judy Loman, Michael Murray, Joyce To, and Michael Fedyshyn.
This special concert also marks the official start of Soundstreams' 40th anniversary season.
"Soundstreams launched on June 7, 1982, with a three-concert festival celebrating the 100th
birth anniversary of Igor Stravinsky, who had strong Canadian links through conducting many of his major works with Toronto's CBC Symphony," says Cherney. "Forty years later,
Soundstreams continues to foster the legacy of our greatest composers like Schafer, just as we have done for his predecessors including John Weinzweig, Harry Somers, Harry Freedman, and Claude Vivier."
The concert is presented in collaboration with Eleanor James, Grace Church-on-the-Hill, and the Canadian Music Centre, and is funded in part by the Government of Canada, Canada Council for the Arts, Ontario Arts Council, Toronto Arts Council, The Michael and Sonja Koerner Charitable Foundation, The Mary-Margaret Webb Foundation, and Soundstreams' generous individual donors.
The concert run time is approximately 80 minutes, with no intermission. Register for free tickets and learn more at Soundstreams: Celebrating R. Murray Schafer.
—
Soundstreams | Soundstreams.ca
Founded in 1982, Soundstreams is one of the world's leading contemporary music companies, and the largest global presenter of new Canadian music. Founding Artistic Director Lawrence Cherney and Executive Director Beth Brown are committed to showcasing the work of living composers with a focus on innovative thematic and experiential programming and creating a lasting legacy for Canadian music. Since the inception of Soundstreams, Lawrence Cherney has commissioned over 170 new works and curated hundreds of unique and compelling concerts. Soundstreams serves a broad community of music lovers through their Main Stage series, free outreach programs such as Encounters, Town Halls, and Inside Look; and education programs including the New Voices mentorship program for aspiring curators, and RBC Bridges workshop for early-career composers. Years of collaboration with artists from diverse cultures have laid the groundwork for Soundstreams' leap onto the world stage, with productions like Claude Vivier's Musik für das Ende, the Cree- and Sámi-language Two Odysseys: Pimooteewin / Gállábártnit, and Hell's Fury: The Hollywood Songbook enjoying international success and rave reviews through The New York Times and The Los Angeles Times.
—
Media Gallery: https://soundstreams.ca/press-room/
Connect: @Soundstreams (Twitter, Facebook, Instagram); YouTube: https://www.youtube.com/user/soundstreams
—
LISTING INFORMATION
Soundstreams presents a free concert, Celebrating R. Murray Schafer
Date & Time:
June 5, 2022
4 p.m. | 80 minutes run time
Venue:
Grace Church on-the-Hill, 300 Lonsdale Rd, Toronto, ON M4V 1X4
Ticket Prices:
Free with Registration
Ticket Link:
Soundstreams: Celebrating R. Murray Schafer
Website:
Soundstreams.ca