We're pleased to be featuring composer Bruce A. Russell this February as part of Black History Month.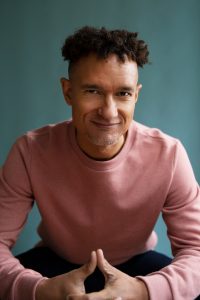 Piece: Linea Nigra, for string octet (2015)
Watch: On Vimeo.
From the Composer:
Linea Nigra (2015) is an orchestration and expansion of my piano piece Canon Chorale (2005). It's scored for string octet: four violins, two violas and two cellos. This ensemble was suggested by my friend Ashil Mistry, who also edited the score and conducted a demo recording. While I was very pleased with the result, afterwards I was still an unknown composer with minimal experience, no community, no commissions to date and very few performances in decades. Then 2020 happened. 
By June 2020, the pandemic had forced performing ensembles to pivot to online seasons. These same organizations were compelled, during the global revival of the Black justice movement in the wake of the killings of George Floyd and Breonna Taylor, to examine the lack of Black voices in their programming. Early that month, I received the first request of several to perform my music, a development I was completely unprepared for. The request came from Thomas Heuser, music director of both the San Juan Symphony in Colorado and the Idaho Falls Symphony. In October 2020, he conducted the double world premiere of Linea Nigra in prerecorded performances by ensembles from each orchestra. 
In addition, I had the opportunity to discuss my work and personal journey for the first time in a pre-concert Zoom. It was as though years of thirst were suddenly being quenched. While it was a poignant moment for me, it was important that there be signs of lasting change, which I believe we've seen. It's clear that this is a singular time in the arts. A door has been opened that won't be closed again. 
Similar to my later piece Companion, the primary technique is a variation on first species counterpoint. Short melodies in each of the different modes of C major form the basis of note-on-note canons, creating a series of block chord progressions, or a kind of chorale (hence the title of the parent piece Canon Chorale). In this texture, between two and six instruments might be playing the same sequence of notes, each with a different relative starting point in the sequence. The music begins to have a cloud-like feel as it becomes denser and less synchronized. Later on, faster and longer melodic lines develop out of a recurring triplet pattern. The lyrical passage at the end is a moment of escape, leaving structural constraints behind, signalling a moment of grace witnessed. 
While working on Linea Nigra, I thought about what was happening in my life that might help guide the mood of the piece and suggest a title. As a transracial adoptee, I was in the process of reuniting with biological family members and learning about that history. I was also still coming to terms with having blood relatives—my children—as I had known none for almost forty years. My heart was filled with a sense of connection I'd never felt before. 
The title thus reflects my quest to discover my biological and cultural roots, as a descendant of the Atlantic slave trade who was raised without any of this information and little sense of belonging. Linea nigra ("black line") references the vertical line that appears on a woman's belly in some pregnancies, while it also suggests Black lineage and survival. It could also be taken in the sense of a printed melodic line, preserved in time.