by Zoe Lin,  Marketing & Communications Intern
We are excited to introduce the ensemble for this holiday season's production of Electric Messiah.
Electric Messiah will be presented to you by four soloists along with our ensemble team – SlowPitchSound, Joel Schwartz, Wesley Shen, Joel Visentin, and Lybido; with designer/technical director Nick Andison.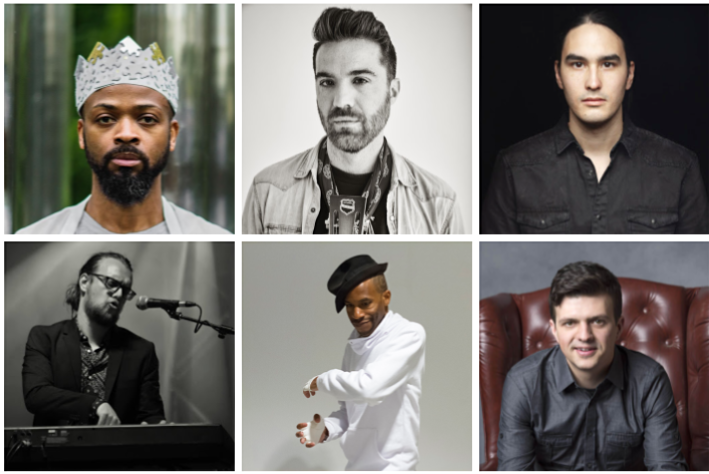 SlowPitchSound
SlowPitchSound is an experimental artist know for his unique style of live compositions and performances. He was the 2018 TD SoundMakers Composer in Residence and the Co-winner of the 2018 CMC Toronto Emerging Composer Award. SlowPitchSound has been developing his own style of music composition for over 20 years. Environmental awareness and dystopian sci-fi are major themes in SlowPithSound's brilliant works. He is a master turntablist, educator and visionary artist.
Joel Schwartz
Joel is a guitarist, producer, and composer based in Toronto, and a unique voice in the Canadian and American music scenes. He specializes in electric guitar. As an in-demand freelance musician, Joel has collaborated with a diverse range of artists. He is thrilled to sometimes play mandolins and guitars in the original hit musical, Come From Away. Joel studied jazz performance at Humber College and has trained with some of Canada's most celebrated jazz players including Don Thompson, Ted Quinlan, David Occhipinti, Jerry Granelli, and Don Palmer.
Wesley Shen
Wesley Shen is a Toronto-based keyboardist, specializing in contemporary music on piano and harpsichord. Recent performances include a feature concert at the 21C festival in Toronto with Continuum Contemporary Music and the harpsichord soloist for Carter's Double Concerto performed at the Prix Annelie de Man in Amsterdam. His current project is to collaborate with composers and commission new works for harpsichord in order to revitalize the instrument as a contemporary music medium.
Joel Visentin
Toronto-based keyboardist and composer Joel Visentin is a proud Winnipeg export with a passion for the Hammond B3 organ. Originally a pianist, the organ first grabbed him while studying music at Humber College. In 2015 he joined up with the unparalleled guitarist Adam Beer-Colacino and veteran Toronto drummer Jeff Halischuk to form the group of his dreams, JV's Boogaloo Squad. Their 2019 album, "Going to Market",  was named by Brad Barker of Jazz FM 91 one of three "new jazz albums from 2019 that you need to hear".
Lybido
Libydo is a collaborative dance performance artist based in Toronto. He established himself early in his career in the breakdance scene. Libydo is currently collaborating with SlowPitchSound. Together as a duo they combine improvisation with music, dance and projected visuals to create a unique and entertaining experience. With clever visuals tricks, multi-media, turntable compositions and Libydo's unique approach to dance, they consistently take their audiences around uncharted territories.
Nick Adison
Nick is thrilled to be back for a second year of Electric Messiah. He designs lighting for theatre, dance, opera and corporate productions. Some of his recent work includes, lighting design for: Cottagers & Indians, Bunny, Mustard, Midsummer (Tarragon Theatre); The Snow Queen (CCOC); DAS DING (The Thing) (Theatre Smash); associate lighting & projection design for A Christmas Carol (Shaw Festival) Lighting & Technical Director for: EUNOIA (Fujiwara Dance Inventions).
Tickets for Electric Messiah are available here.