by Tim Crouch, Director of Marketing & Patron Experience
Electric Messiah re-imagines George Frideric Handel's great masterpiece with inspirations from different genres to create a feast of musical styles for curious listeners.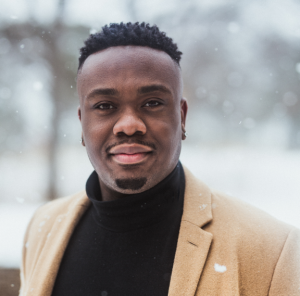 Perhaps not known to many, but the process of putting together Electric Messiah is an extremely collaborative affair. Each soloist and musician brings their own unique sensibilities to the process and therefore end product. Let's take a look at some!
Our bass soloist, Andrew Adridge encourages our audiences to look forward to a breath of fresh air amidst the cloud of Messiah's that the holiday season brings.
Shaping a New World identity for the traditionally Eurocentric art form of classical music is a concept that I feel is being spearheaded by groups such as Soundstreams. Electric Messiah brings new meaning to a piece with historic resonance.
Being part of Electric Messiah gives Andrew an opportunity to never stop playing, creating, and living the music.
Next up is soprano Lindsay McIntyre:
Soprano Lindsay McIntryre, photo by Jared Rosenbaum

When I was first asked to be a part of Electric Messiah I was SO excited, but I've been joking that it's like being back in high school and I just got asked to go to a party with the popular kids. My colleagues in this show all have such unique and diverse talents, whereas I feel like I'm a bit more of a 'traditional' singer. I think what I'm bringing (aside from my voice) is a pretty deep familiarity with the traditional Messiah. By the end of this season, I will have performed Messiah around 35 times over the past 4 years. I think there's something to knowing where the traditions are and consciously making decisions to go with or against them – like a modern artist having trained in the classics.

I'm really looking forward to the collaborative nature of this project. Although we're not deep into rehearsals just yet, everyone so far has been open, welcoming, and encouraging. It's fun to be a part of the creative process and I'm sure that will make the performances all the more meaningful.

Whether the audience has heard Messiah a hundred times or if this is their entry point, they can look forward to seeing something truly unique and alive. It's always so exciting to go to a performance where you know everyone is genuinely invested in the piece – there really is something 'electric' about it!

Alto Chloe Charles, photo by Jen Squires
Soundstreams regulars might recognize our alto singer, Chloe Charles, from Seven Deadly Sins last season. She's going to bring some soul to the whole evening:
I hope to bring some soul flavors to the show and an organic approach to music. I'm particularly looking forward to all the beautiful harmonies. In my own music I pile them in but never have the chance to sing them live and swim in the sound. Patrons can look forward to the many unique puzzle pieces fitting together to create an unmatchable vista.
Finally, let's switch off the music track to the actual direction of the show – in this case, from director Rob Kempson:
I'm looking forward to the continued evolution of Electric Messiah. When working with material that is so well known, it allows our company of artists to stretch their interpretation muscles–imagining and re-imagining a classic piece. Whenever I approach a work from the classical canon (whether in theatre or in music), I always ask the question: "why now?". To me, Electric Messiah is a great way to answer that question. When we look at this defining work through a contemporary lens, we get insights into the power that it had in the past, but also the power that it has today.

Director Rob Kempson, photo by Jeremy Clay

So for new audiences, get ready to see and hear something you know well like you've never heard it before. And for those who have joined us in the past, this year's Electric Messiah will continue on our pathway of evolution–with new artists, new staging, and new design. It's never a dull moment in the Drake Underground. Come and shake up your holiday tradition!
Electric Messiah is a beautifully colourful and collaborative event, and a great evening out. We hope you'll join us.