by Ben Dietschi, Executive Director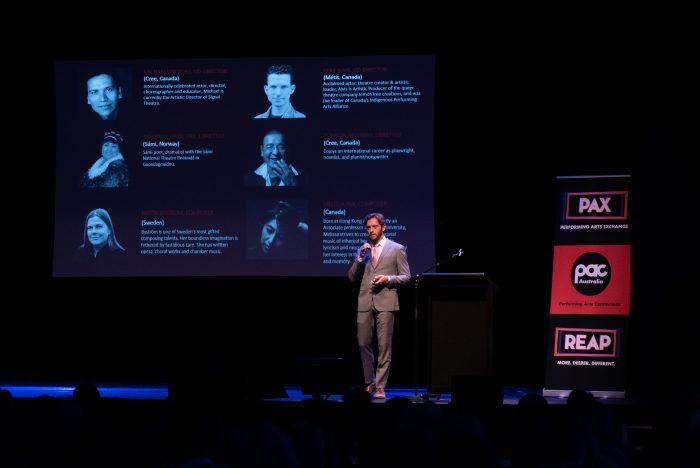 Reflections on PAC 2019
I've just returned from The Performing Arts Connections conference in Queensland, Australia, where I was joined by 300+ presenters, producers, artists, and other government and industry representatives. I had the honour of pitching Two Odysseys: Pimooteewin / Gállábártnit, the world's first opera in Cree and Sámi. Signal Theatre and Soundstreams premiere this double-bill of two music dramas November 13-17, 2019 in Toronto.
Arts markets can be disappointingly cagey and transactional, and I'm pleased to say that an air of authentic relationship-building permeated this affair. "Thinker in Residence" Wesley Enoch, of the Sydney Festival, elevated the experience with a satisfying dose of thought leadership, carried forward by some excellent guest speakers.
My long flight home gave me the opportunity for some brief reflection on some of the prevailing themes.
The artist as a community partner.
Binaries like "presenter" vs "producer" reinforce a tired notion that the artist's function is to create products for consumption by consumers. These products are to be forced through institutional frameworks into predetermined shapes and sizes; aesthetically, culturally, and quite literally to fit into traditional proscenium presentation spaces.
This supply-chain mentality stifles and sanitizes some of the best art, and encourages the creation of programs that are easy to replicate, but might lack local relevance.
If we shift the way we work with creators from transactional to relational, we can begin to see the incredible potential of artists as agents of change in communities.
A bottom-up mentality in responding to communities' needs.
If we can empower artists to be autonomous agents of change in their communities, we can begin to feed the whole system from the bottom-up. Brick and mortar institutions like arts centres can engage creatively with artists to develop work that is deeply connected to the communities in which they live.
I was inspired by the innovation on this front at the Yerba Buena Centre for the Arts in San Francisco, under the leadership of Deborah Cullinan. She has re-envisioned the role of her art centre to be radically responsive and permeable. Her vision for this lives in examples like the YCBA fellows program which "brings together creative individuals from across the Bay Area – artists and everyday people alike – to engage in a yearlong process of inquiry, dialogue, and project generation". Check it out https://ybca.org/ybca-fellows/.
My takeaway is that we spend a lot of time talking about making our work is "relevant", but are we really listening and responding to our community? Or, are we reverse-engineering a case for the relevance of art created apart from our community?
Beyond four walls.
Alison Clark, from Arts Council England helped us to imagine what the arts centre of the future might look like. It certainly needs to be more permeable and adaptable than the monoliths of yesteryear. Culture evolves. The permanence of buildings can be a liability. As we unpacked this notion, the conversation progressed to territory where one began to wonder if we needed four walls at all!
Rather than building monolithic complexes, 'altars to art' if you will, and expecting 'build it and they will come', we might instead think beyond bricks and mortar and imagine what support structures can connect people with creativity and the arts in novel ways.
So often it seems we focus on creating buildings, and negate compelling programming plans. Haven't we all heard a story about an arts centre that opened with a shaky operating budget and non-existent programming strategy? It's time to use our imagination and put the people we serve at the centre of everything we do.
A reminder to centre the marginal.
Brian Joseph Lee gave an electrifying keynote that reminded us to centre voices that are traditionally marginalized. He spoke from a wealth of firsthand experience as his career journeyed from arts marketing to community-engaged programming.
Arts marketers often find themselves handed a fixed season of programming and being asked to engineer the relevance of the programming to sell tickets. His impulse for change came from an urge to invert this top-down approach, and instead create programming that is truly responsive and relevant, by engaging deeply and directly with community.
Brian reminded us about the incredible artistic and audience development opportunities that can arise from exploring intersectionality, and giving voice to underrepresented communities.
Drawing on ideas from the book Emergent Strategies by Adrienne Maree Brown, Brian talked about replacing traditional top-down/prescriptive strategic planning with more inclusive, iterative processes that one can find in nature. Iterative change, like in naturally occurring fractal patterns in plant growth or a nautilus shell. "Fractals are my jam!", became a bit of a mantra for the conference.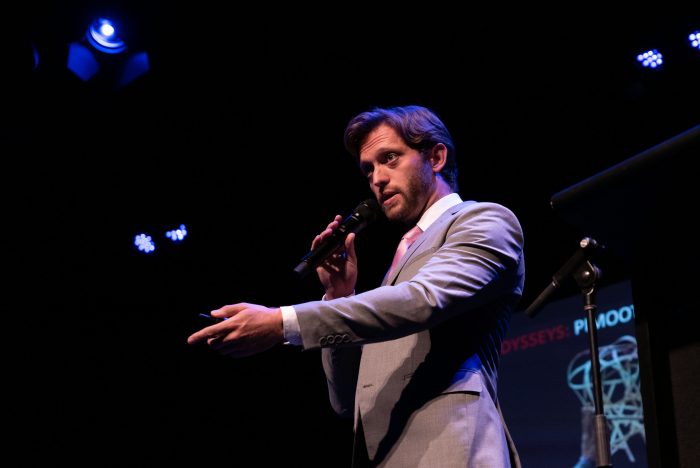 Finding our shared future in the cultures that have existed since time immemorial.
According to recent studies cited by PAC, Indigenous programming makes up just 2% of programming in performing arts venues in Australia. A recent nationwide audience survey by PAC and WolfBrown, indicates that 34% of Australian audience members have an interest in experiencing work by Indigenous artists. If that doesn't spell out opportunity, I don't know what does!
With that in mind, I'm tremendously excited to host a cohort of visiting international presenters at the premiere of Two Odysseys in November. With Native Earth's Wessagacheck Begins to Dance festival running concurrently, it will be a welcome opportunity to continue the conversation.
Editor's note – join us at Two Odysseys Nov 13–17, 2019 at Ada Slaight Hall, Daniel's Spectrum, Toronto. Grab tickets here.