Soundstreams is delighted to see Odaabaanag, the yearlong collaboration between Jumblies Theatre and Soundstreams, coming to life. While composer Melody McKiver works on music for string quartet and recorded voices (inspired by Steve Reich's Different Trains), a companion piece for community choir is now being rehearsed and workshopped in Toronto, composed by Melody's mother and fellow composer, Beverly McKiver. This companion piece draws from the same themes and material as Reich's original work.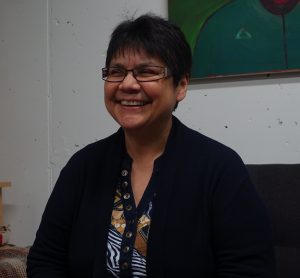 Beverly McKiver, from Lac Seul First Nation and now based in Ottawa, wrote Before We Went Away specifically for Jumblies' mixed-ability, mixed-age community choir, The Gather Round Singers. "I've had the privilege of hearing the choir before. I had the good fortune to be able to attend the "Talking Treaties" piece, so I was familiar with the choir's work," she explained in a conversation with Jumblies' Artist & Media Coordinator, Adrienne Marcus Raja. "I was struck with how fearless the choir is…it's not a conventional choir. I feel everyone's very adventurous and open to new ideas and coming from all different places and life experiences, so that's pretty exciting for me."
On March 21st, The Gather Round Singers gathered with Beverley McKiver, choir director Shifra Cooper, and accompanist Daev Clysdale to begin animating Beverly's work through their weekly rehearsals. Even in its early stages, Soundstreams, Jumblies, and everyone involved in the process can see that this lively choir will produce something special. "I feel pretty emotional because the choir is so receptive and so eager and quick to learn," says Beverly. "I can see the wonderful possibilities. I'm looking forward to the piece evolving… it's going to be a great collaborative process."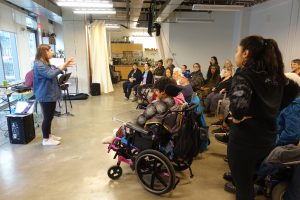 It's never too late to join this process and the Gather Round Singers;
Rehearsals at The Ground Floor (132 Fort York Blvd)
Thurs.   April 18th, 5:00 to 8:00 pm (including talk by composers)
Thurs.   April 25th, 6:00 to 8:00 pm
Thurs.   May  2nd, 6:00 to 8:00 pm
Sat.        May 4th, 3:30 to 5:30 pm
Email [email protected] to join!
Want to see this work in person?
Join us on May 5th for a work-in-progress performance at the Arts & Letters Club – a chance to hear the Gather Round Singers and all of the creative work they've accomplished so far!
RSVP here
Learn more about Odaabaanag here