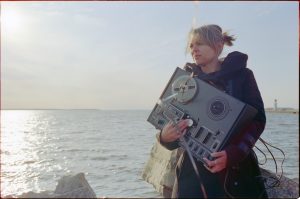 Montreal based composer, Nicole Lizée is one of the Canadian artists in Shanghai with Ensemble Soundstreams.
Lizée has the honour of being the first Canadian invited to be Composer in Residence for the Shanghai New Music Week, presented by the Shanghai Conservatory of Music.
As part of her residency, Lizée delivered a lecture on Sunday, September 16 to an audience full of future (or emerging) composers. Titled, "The Revival of Analogue" it explored Lizée's influences, her work, and why she keeps old electronics around.
"My father collected old electronics, he saved everything. Some of these machines would fail, but kept operating in unexpected ways. I became fascinated with the sounds of failure" – @NicoleLizee Lecture @Soundstreams at Shanghai New Music Week pic.twitter.com/JhXyk6WYzO

— Ben Dietschi (@bendietschi) September 16, 2018
"The directing style of Kubrick, Hitchcock, and Lynch are all important influences on my compositional style." – @NicoleLizee at #ShanghaiNewMusicWeek @Soundstreams pic.twitter.com/EIsFdYKSWQ

— Ben Dietschi (@bendietschi) September 16, 2018
Lizée's work, "Promises, Promises" received its Chinese premiere, and was  featured in the Ensemble Soundstreams  concert "Music of North America." Dedicated to showcasing western composers from across the continent, it also featured works by R. Murray Schafer, John Cage and Steve Reich. Below you can see footage from the rehearsal in the Academy Hall of the Shanghai Conservatory – with a special treatment from the composer herself.