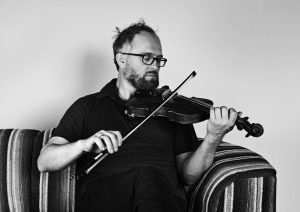 Jesse Zubot – multi-instrumentalist, producer, record company owner and sideman-in-demand. He produced Tanya Tagaq's Polaris Prize-winning album, Animism, and has collaborated with a variety of artists, including Steve Reich, Peggy Lee, Hawksley Workman, and Mother Mother.
Before any of that, Zubot honed his musician skills in rural Saskatchewan, with a violin found by his instructor. Many years and tours later, he still performs with that instrument. Read on and discover what took Zubot's violin from "instrument" to necessity.
It's about 200 years old…but that's almost all he knows about it.
The violin was initially found in Gerald Stanick's violin shop in British Columbia, by Zubot's instructor Bill van der Sloot. Other than that, Zubot's unsure of its maker and even the pros are stumped. "I have tried to get it appraised quite a few times and no one can figure it out."
The best lead Zubot ever found was on the other side of the world, "Recently I performed in Modena, Italy and the presenter seemed to think that it may come from the Cremona region, so at some point I will have to get it looked at when I am back over there again."
It's become a part of him.
Zubot has been playing his current violin since he was a preteen, "It just seemed like my instrument right from the moment it was presented to me […] There's been many memorable gigs/performances, it's hard to count! It feels like an extension of my body."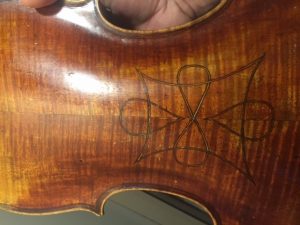 It's also literally a part of him.
The violin has an equally mysterious engraving on it's back, Zubot has had that same pattern tattooed on his shoulder.
The instrument has been though a lot.
"I am trying my best to keep good care of it, but after twenty years of constant touring, doing every kind of gig imaginable, it has paid its dues." The violin has many small cracks and repairs, and its neck has even been broken a few times.
It's deep, and that makes it great for improvising.
"It's a big bodied violin, […] and has "VERY deep kind of silky unique tone." That tone is something Zubot relies on, "I do like the deep tone for improvising and it lets me get a lot of crazy weird tones out of it through extended techniques, without getting TOO upset at me!"
Jesse Zubot is performing with Andréa Tyniec in Almost Unplugged, part of Soundstreams' Ear Candy series, February 1 at Buddies in Bad Times Theatre. Tickets $20 in advance. Buy your ticket here.