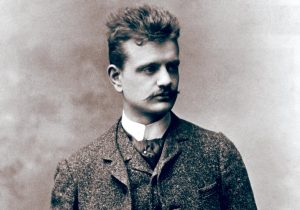 Stumped by Somers? Stuck on Sibelius?
Our season opener Northern Encounters features works by some of history's greatest composers, but that doesn't mean it's stuffy. Get to know a little about these icons and the music they've created!
Stravinsky- Fanfare for a New Theatre
One of Stravinsky's most famous miniatures, Fanfare for a New Theatre was composed for the opening of the New York State Theatre at Lincoln Centre. A short but powerful piece, author Eric Walter White writes that
"The effect of the two trumpets is like that of two pennants flying and crackling in a brisk wind."
Fun Fact: When his ballet and orchestral work Le Sacre du Printemps (The Rite of Spring) was first performed in 1913, it ruffled more than a few feathers. The performance was considered so radical that it caused the audience to riot.

Jean Sibelius- Suite for Violin and Strings op. 117
Written between 1928-1929, Jean Sibelius' Suite in D Minor is part of a collection of lost works by the great composer that weren't published until the 1990s.
Fun Fact: Sibelius' Finlandia was a protest anthem written in opposition to the Russian occupation of Finland. Today it is regarded as Finland's unofficial national anthem.
Claude Debussy-  Preludes
Debussy's Preludes are noted for breaking free from rigid structure. Twenty-four in total, they reflect a full spectrum of the composer's emotions and inspirations. The Lapland Chamber Orchestra will perform Bruyères: Calme and Général Lavine – eccentric: Dans le style et le mouvement d'un Cakewalk.
Fun Fact: While we now regard composers of his time to be relatively tame, Debussy made quite a name for himself in the gossip mill. After a series of high-profile affairs, Debussy and his new partner set sail for England in an attempt to flee his latest scandal.
Kalevi Aho- Symphony No. 14 "Rituals"
Scored for sixteen string players, wind quintet, and two percussionists, Rituals was inspired by Chilean poet Pablo Neruda's The Book of Questions. It was premiered in 2003 by the Lapland Chamber Orchestra.
Fun Fact: Arguably Finland's most prolific modern composer, Aho has composed seventeen symphonies, twenty-eight concertos, five operas, and several vocal works.
Harry Somers- North Country Suite
Premiered in Toronto, 1948 with the CBC String Orchestra, Somers wrote,
"…this music reflects my response to the experience of being completely removed from urban life, and expresses my feelings about that particular landscape."
Fun Fact: Dubbed the "Darling of Canadian Composition," Somers left an indelible mark on the Canadian cultural landscape. He was a founding member of the Canadian League of Composers, and was involved in the formation of the Canadian Council for the Arts as well as the Canadian Music Centre.

Hear these pieces performed by the Lapland Chamber Orchestra in Northern Encounters, October 16, 8 p.m. in Koerner Hall.