Written by: Katerina Gimon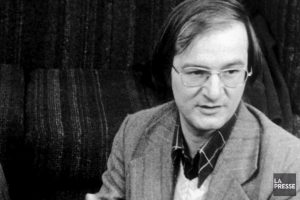 Montreal-born composer, Claude Vivier was not your typical Western classical composer. He lived a short, intense, and passionate life driven by his yearning for new experience and his search for his own identity. Vivier's music was unique and unapologetic – and he had a personality to match. Below are four things you need to know in order to understand this memorable man and the music he created!
He had an unforgettable laugh – All who knew Vivier knew his loud, distinctive, staccato laugh – an immediately recognizable cackle.
"It is a laugh that expresses nervousness, a clear seeking for attention; but…rarely does it seem to express joy."
– Thérèse Desjardins, a friend of Vivier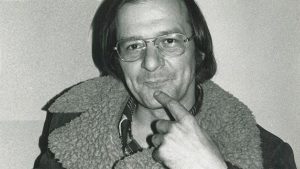 2. His characteristic look was a sheepskin coat – Vivier's favourite item of clothing was an old sheepskin fleece – one with an apparently pungent odour– that he rarely took off.
"Claude had this sheepskin coat which exuded a certain sheep odor…" – Clarence Barlow, a colleague of Viver
"He was very 'bohemian,' usually wearing boots and a big fleece-lined coat (always quite smelly)…" – Barry Truax, fellow composoer
3. He expressed himself through made-up languages – Vivier would often create his own languages or "langues inventées" and use these as texts in his compositions. His languages were essentially nonsensical syllables, hyphenated to create makeshift words, which he then strung together to form sentences. Musik für das Ende features Vivier's own language: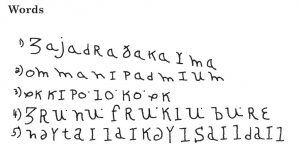 4. He was afraid of the dark – Even as a grown man Vivier was afraid of darkness, sleeping with every light on in the house. In a revelatory excerpt from his piece Journal, Vivier writes "Don't leave me in the dark, you know I'm afraid." Biographer Bob Gilmore suggested that "…without a doubt, Vivier [is] speaking of his own fear of the dark, a fear that he retained all his life."
5. Soundstreams is celebrating our 35th season with Vivier's work! Hear Zipangu performed by The Lapland Chamber Orcherstra on October 16 as part of Northern Encounters, and see Musik für das Ende in Crow's Theatre from October 27 – November 4. Get 35% off both performances when you purchase them as a package!
About the Author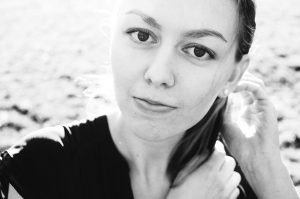 Recently named as one of Canada's hot 30 classical musicians under 30 by CBC, Katerina Gimon is an award-winning and emerging Canadian composer, improvisor, and vocalist based in Vancouver, British Columbia.