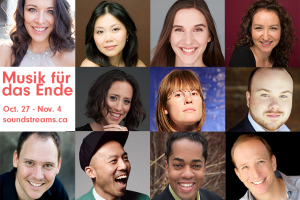 Soundstreams is delighted to announce the cast for the world premiere of the first fully staged production of Musik für das Ende written by legendary Québécois composer Claude Vivier.
Ten of Canada's most talented singers and one actor are improvising, exchanging and collaborating under the guidance of director Chris Abraham and music director John Hess to turn Claude Vivier's challenging musical roadmap into an intimate and unforgettable ritual. Abraham noted the creative team was looking for more than just great singers, during the casting process, they were  looking for artists who were ready for the unique challenges the work provides.
"We were looking for not only singers but artists who had imagination, intelligence, and would be willing to engage in the process of examination, discovery, and analysis of this challenging material" Abraham explained. "Music is not only the technical aspect of producing sound, but also there is a quasi-spiritual activity that is part of it. [As a result] we need a group of people who are willing to investigate that."
Below are the ten singers and actor that have risen up to the challenge! The cast is from a variety of musical traditions including jazz, pop, world, and classical along and is bringing to the show their unique personal experiences and backgrounds.
Cast
| | | | |
| --- | --- | --- | --- |
| Leah Alfred, | soprano | Owen McCausland, | tenor |
| Vania Chan, | soprano | Bud Roach, | tenor |
| Adanya Dunn, | soprano | Keith Lam, | baritone |
| Margaret Bárdos, | mezzo-soprano | Justin Welsh, | baritone |
| Aviva Chernick, | mezzo-soprano | Alex Ivanovici, | actor |
| Robin Dann, | mezzo-soprano | | |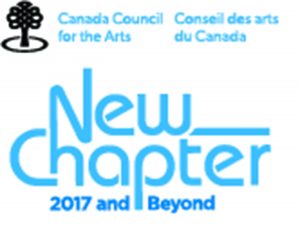 Musik für das Ende is one of the 200 exceptional projects funded through the Canada Council for the Arts' New Chapter initiative. With this $35M initiative, the Council supports the creation and sharing of the arts in communities across Canada.
Cast biographies
Leah Alfred, soprano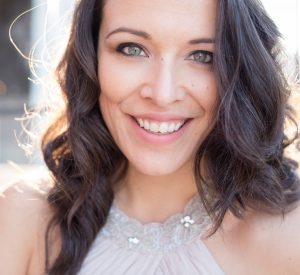 Leah Alfred has been acclaimed for her "superb vocal quality" and "wonderful intimacy and vulnerability". She hails from Vancouver, British Columbia, where she began her formal training in music and fell in love with opera. She has performed in China, Czech Republic, and Italy, as well as in numerous recital tours on Vancouver Island. Leah has performed as a soloist with UBC Opera, Vancouver Symphony, Burnaby Lyric Opera, and Vancouver Opera. Her repertoire ranges from baroque to brand new music, including operas by Hasse, Mozart, Humperdinck, Somers, and Current. She studies with renowned Canadian baritone Daniel Okulitch, and looks forward to whatever future adventures music has in store for her. Gila'kasla!
Vania Chan, soprano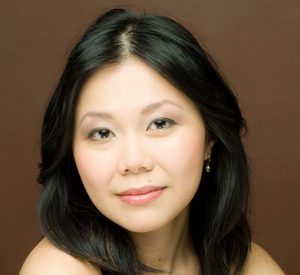 Lyric Coloratura Soprano Vania Lizbeth Chan made her Carnegie Hall debut in Weill Recital Hall, winning first prize in the Barry Alexander International Competition, New York. She premiered the role of the Light Moon in the Dora Award winning opera The Lesson of Da Ji (Toronto Masque Theatre). Vania sang in the recording of this opera, released by Centre Discs, which received a Critics Choice Review in Opera News, New York. She is featured in the comedic D'Italiano Bread "romantic dinner" commercial as the garlic breath woman. Other roles include Mabel in The Pirates of Penzance, Princess Mi in The Land of Smiles (Toronto Operetta Theatre), Madame Herz in The Impresario, the goddess Diane in Hippolyte et Aricie (VOICEBOX: Opera in Concert),  the Ad Exec in Airline Icarus (Soundstreams). Vania received her Masters of Music in Classical Voice from the Manhattan School of Music, New York. Upcoming: Cunégonde in CANDIDE (Toronto Operetta Theatre).
Adanya Dunn, soprano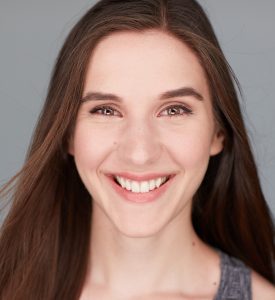 Appearing on CBC's 2017 list of "30 Hot Classical Musicians Under 30", Adanya Dunn is quickly gaining recognition as an avid interpreter of contemporary works and as an operatic soprano. Earlier this season, she was noted by Opera Going Toronto for "her sultry soprano red hot and alluring" performance of Musetta in Against the Grain Theatre's production of La bohème. She then played the title role in the world-premiere musical Charlotte: A Tri-Coloured Play with Music at the Luminato Festival and the World Stage Design Scenofest in Taipei. She holds degrees from the University of Toronto's Faculty of Music; is an alumna of Dawn Upshaw's Graduate Vocal Arts Program at Bard College; has received further training at Marilyn Horne's Music Academy, and was a Rebanks Family Fellow at the Glenn Gould School. Adanya is a two-time long-term grant recipient from the Canada Council for the Arts and is currently a resident performer with FAWN Chamber Creative. www.adanyadunn.com