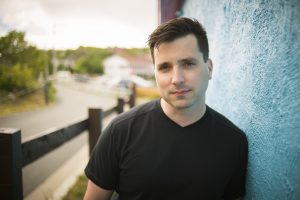 Andrew Staniland is our 2017 TD SoundMakers Composer in Residence! During his time in this role, he will be  posting monthly about his experiences in the classroom and as a composer.

This month Andrew shares his experiences arranging for Toronto's Art of Time Ensemble. An arrangement is when a composer takes a previously composed work and re-imagines it with new ideas, while maintaining much of what's present in the piece. This can be seen when pop songs are rewritten for orchestra – adding new instruments but keeping the recognizable melody. 
Over the past few years, I have enjoyed arranging for Andrew Burashko's Art of Time Ensemble (AOTE). AOTE stands out as a treasure on the Canadian music scene, fusing high art and popular culture in concerts that juxtapose the best of each genre. The shows I have been involved in have a hybrid ensemble: top classical musicians share score and stage with top jazz musicians, fronted by famous vocalists from Canada's pop scene. It is an artistic vehicle like no other.
Charts I have arranged for AOTE since 2015
The Kids  – Lou Reed for AOTE and Margo and Mike Timmins of Cowboy Junkies – Watch here!
La Mer (Beyond the Sea) – Charles Trenet for AOTE and Brent Carver
If a Tree Falls   – Bruce Cockburn for AOTE and Hawksley Workman
Anew Day  – Mary Margaret O'Hara for AOTE and Sarah Slean
The Tennessee Kid  – Steve Earle  for AOTE and Tom Wilson
I absolutely love the gig, for several reasons. While my professional reputation is that of a contemporary composer, I have a life long passion for rock, jazz and blues, and metal. I formally studied jazz performance and arranging at Grant MacEwan College in my early twenties, prior to falling irreversibly in love with contemporary classical music. Arranging for AOTE gives me the outlet and reason to explore these skills. It challenges me in a way that my regular work does not.
When a composer is commissioned, they are given free reign to create, and barring a total artistic disaster (which almost never happens), people will generally accept what you provide with little or no editorial comments or suggestions other than errata. But when one is hired to do an arrangement, one works for someone – the band leader, in this case, Andrew Burashko, and he is a task master. One of my charts was sent back and forth as a finished piece over ten times. At first I found this quite uncomfortable, but I have come to value experienced editorial input. There is no editing practice in contemporary classical music, and that is probably a bad thing.
I would say that there is big difference between arranging and composing. In arranging, you are presented with lyrics, melody, and chord structure, things you need to work within that you would not receive as a composer. Despite this arranging is a highly creative task that is in some ways more difficult than composing. My goal with AOTE is to leverage the unique resources of the ensemble while still maintaining the essence of the original song. The song must be recognizable, but also transformed and elevated, to a place that makes everyone (including the original composer) shine.  As a metaphor, a commission is like being asked to make a painting. Any painting that will be accepted no matter what. An arrangement is like being asked to paint something specific – like a portrait. People can tell if you nailed it or not. It is a specific test of ones skills, and for this reason, I absolutely love doing the charts. It is like Special Forces training for one's composition chops.
As a hybrid group, AOTE is particular, and one must be aware of the differences and synergies between the difference spheres of professional music making.  I offer some personal observations:

This is done with a small sample base of my own arrangements noted, and may not be reflective of larger trends. Interesting how well the jazz musicians shine here. Also, there is no one area where all three spheres excel. This is not meant as a score sheet, rather, a guide to where you can go as an arranger.
You might find yourself writing out a three-chord country rock groove for piano (one of the most difficult things I have ever had to do), or making a mock up audio track of the vocals instead of a sheet music.
It is a total joy to make music for this group, and I would he hard pressed to recommend a more interesting and enriching concert experience. AOTE leads from the front, and I am thrilled to be along for the ride.
See my most recent chart The Tennessee Kid by Steve Earle May 11 – 13  2017
— Andrew Staniland.
This is the 3rd of 6 blogs I will write as composer-in-residence with Soundstream's Soundmakers program.
Read others here: