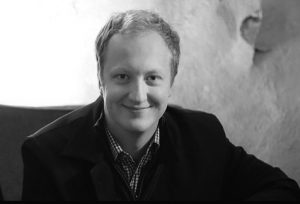 On February 2, Riho Esko Maimets returns home for the premiere of his newest work Three Prayers from the Holy Rosary with the Estonian Philharmonic Chamber Choir.
Born here in Toronto, Maimets began composing in high school and later studied composition at the Estonian Academy of Music and Theatre in Tallinn. He returned to Toronto for his Master's degree, and currently lives and works in Tallinn.
Choral music is a particular passion for Maimets with his works previously performed by the Tartu Academic Women's Choir, the Tallinn Chamber Choir and the Estonian Radio Children's Choir. His work has been performed across Estonia and Canada, along with performances in Hong Kong, the United Kingdom, and the United States.
Maimets has received praise for his work ranging from the Karen Kieser Prize in Canadian Music to being the 2013-2014 recipient of the Presser Graduate Music Award.
We asked Maimets to share his thoughts on adapting spiritual texts for music, where his inspiration comes from, and why he prefers recorded music to the live experience.
Soundstreams: What were your influences and inspirations for Three Prayers from the Holy Rosary?
Riho Esko Maimets: Generally speaking, I find that artistic, or any kind of creative influence is largely subconscious and undeliberate. In my experience, creativity calls for an overall passivity of one's being in order to become open to the whims of the creative force behind the universe. People of faith call this creative force "God". Consequently, I am drawn to whichever artistic creation seems to best reflect this flickering light from above. It is not the creation nor any of its technical qualities to which I am drawn, but the light itself, which emanates from the art.
SS: Why adapt traditional text for music? What draws you to it? How do you go about creating the piece from the text?
RM: It is a very weighty text indeed! It was my desire to write something unambiguously sacred, with as much reverence and poised dignity as I could muster. My spiritual searching led me to the writings of early Christian ascetics, who wrote:
"Those who draw near to the Lord ought to make their prayers in quietness and peace and great composure, and to fix their minds upon the Lord not with unseemly and confused outcries, but with effort of the heart and vigilant thoughts" (Homily VI, Fifty Spiritual Homilies).
The creation of such a work entails a kind of pacifying of one's being, in order to heighten one's sensitivity to the brimming, all-encompassing force of the universe. It requires self-reflection and a great deal of silence. This is often quite painful, because before seeing light, one has to encounter darkness. I guess I am constantly trying to better understand this process. It is a kind of contemplation that I believe is at the core of all forms of religion and mysticism. Music is simply the byproduct of this process.
SS: When did you decide to start composing?
RM: I started composing in grade 8 or 9. It was really just noodling around and trying to understand how to write a piece. It wasn't until much later that I started to try to understand writing meaning into works.
SS: Do you have a favourite piece you've created? Or a piece that means a lot to you? Why?
RM: It's difficult to say. I've written some music for children's choir for which I feel a great deal of affection. One of them will be performed at this year's Estonian Song Festival in Tallinn.

Three Prayers from the Holy Rosary definitely has a special place. I place great importance in the integrity of the process. I if I feel that I have placed earthly considerations above spiritual ones while composing, then I feel a sort of shame, and consequently I draw away from that piece.
SS: What's the best concert you've ever been to?
RM: To be frank, I prefer recordings to live music. I enjoy listening to pieces over and over again and in solitude. I will often go on long walks and listen to my playlist. I haven't had a really cathartic experience with live music in many, many years. But this is probably largely contingent on my personality and specific needs. I do recall a concert by a stellar English vocal ensemble who performed a program of Thomas Tallis and John Sheppard. It was immensely beautiful.
Don't miss the world premiere of "Three Prayers from the Holy Rosary" with the Estonian Philharmonic Chamber Choir on February 2!