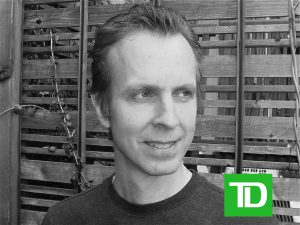 Omar Daniel is a Toronto-based composer creating work for solo voice, electronics, and orchestra.
Currently an Associate Professor of composition at Western University in London, Ontario, Daniel has received multiple accolades for his work including the Jules Léger Award for New Chamber Music and K.M. Hunter Arts Award. His work has been performed internationally with performances in South America and Europe and he has previously been commissioned by the Toronto Symphony Orchestra, Vancouver New Music, New Music Concerts, and The Gryphon Trio.
Daniel's Estonian heritage features strongly in many of his works – previous pieces have included Estonian folk song and poetry. Sõduri Ema, premiering February 2 at our Estonian Philharmonic Chamber Choir concert, is equally inspired by Estonian poetry and history. Read our brief Q&A with Daniel to learn about his inspirations, how he started out as a composer, and find which of his works he considers to be his favourite.
Soundstreams: What were your influences and inspirations for Sõduri Ema?
Omar Daniel: I have always been interested in Estonian folk music idioms, and have set a variety of ancient 'Runo-songs' to music. More 'contemporary' Estonian literature was somewhat familiar to me, and I always wanted to explore the possibility of setting something more current to music. Marie Under is one of Estonia's most famous poets. Apart from the quality of any one of her poems, she is special because her output begins in 1917, just before Estonian independence, and ends during her self-imposed exile in Sweden (1963). Sõduri Ema is an intimate poem that speaks to the grief of loss through the eyes of a soldier's mother. I can't say exactly what attracted me to it, other than the simultaneous existence of the personal and universal in the poem. Although penned by an Estonian in the Estonian language, it is free from political and national boundaries.
SS: Why have you chosen to bring Estonian folk song into your new pieces? How do you go about this process?
OD: I find Estonian Runo-song a strange and compelling song idiom. They are extremely distilled: simple melodies, cyclic repetitions, clear rhythmic profile. Perhaps it has to do with my own desire to simplify, and they help me do this. As well, the subject matter of the songs attracts me; songs of village life – cooking, weddings, games… but also death, grief, and loss.
SS: Why did you initially decide to start composing?
OD: My piano teacher at [the University of Toronto], Clifford Poole, encouraged me to write my own music and play it in public. That was the start.
SS: How does it feel to see someone perform a piece you have composed?
OD: Exciting and often moving. In a fine performer's hands, your composition becomes more profound than you could have imagined.
SS: Do you have a favourite piece you've created? Or a piece that means a lot to you? Why?
OD: Well, that changes as time goes on. I recently heard a twenty-year old work of mine for two percussionists and two pianos (Strategies Against Architecture Book II), and it was a window into my artistic disposition twenty years ago, which was interesting. As well, I've written a few things for my wife, violinist Erika Raum. Wild Strawberries, dedicated to my parents and Erika, is close to my heart. And, I do get a chance to perform it with Erika from time to time, which is special.
Don't miss the world premiere of Omar Daniel's Sõduri Ema on February 2 with the Estonian Philharmonic Chamber Choir. Purchase your tickets here.
Omar Daniel previously worked with Soundsteams for our 30th anniversary concert composing Prologue, Entr'act and Postlude for voice and live interactive electronics. Listen to an interview on this work below:
Soundstreams presents an interview with Canadian composer Omar Daniel from Soundstreams on Vimeo.