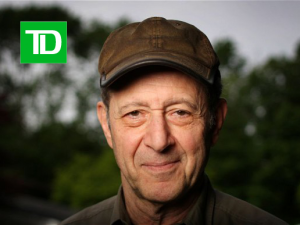 Our TD Composer of the Month for March is Steve Reich.
Biography
Steve Reich has been called  "our greatest living composer" (The New York Times), "America's greatest living composer." (The Village VOICE), "…the most original musical thinker of our time" (The New Yorker) and as being "among the great composers of the century" (The New York Times). From his early taped speech pieces It's Gonna Rain (1965), and Come Out (1966), to his and video artist Beryl Korot's digital video opera Three Tales (2002), Reich's path has embraced not only aspects of Western classical music, but the structures, harmonies, and rhythms of non-Western and American vernacular music, particularly jazz. In April 2009, Reich was awarded the Pulitzer Prize in Music for his composition Double Sextet. "There's just a handful of living composers who can legitimately claim to have altered the direction of musical history and Steve Reich is one of them," states The Guardian (London).
Reich himself will join us April 14 at Massey Hall for Steve Reich at 80. He will also serve as visiting guest mentor for the Emerging Composer Workshop, which takes place April 2 to 14.
Soundboard article: The Reich Stuff by Stuart Berman
"Take a hula hoop and give it a good, hard twirl on the floor. Suddenly, an inanimate object is whirring with life: a flat empty circle is transformed into a fulsome 3-D sphere, its rotation producing complex, heretofore unseen visual patterns. And even as the hoop starts to wobble and its axis shifts, it retains its repetitive rhythm until coming to a dead stop. That's what Steve Reich does with music – he spins something modest into something magical. Over the course of a storied five-decade career, the New York-bred composer has effectively made classical practical."
Compositions
Mallet Quartet (2010)
Co-commissioned by Soundstreams, the Amadinda Quartet in Budapest, Nexus in Toronto, So Percussion in New York and Synergy Percussion in Australia, Mallet Quartet marked the first time Reich had written for the five-octave marimba. This instrument enabled him to add a low bass register that was new to his signature compositional style. Written in three movements (fast, slow, fast), the work involves a series of interlocking patterns among which the four players move. The marimbas create a dense harmonic background in the two fast movements, while in the central slow movement the texture becomes unexpectedly spacious and transparent. Nexus, a group that has a long history both with Steve Reich's music and with Soundstreams, gave the work its Canadian premiere during Soundstreams' 2009–2010 concert series in Toronto.
More information can be found on our SoundMakers page.
Music for 18 Musicians (1976)
Note by Steve Reich: Music for 18 Musicians is approximately 55 minutes long. The first sketches were made for it in May 1974 and it was completed in March 1976. Although its steady pulse and rhythmic energy relate to many of my earlier works, its instrumentation, structure and harmony are new. There is more harmonic movement in the first 5 minutes of Music for 18 Musicians than in any other complete work of mine to date.
As to instrumentation, Music for 18 Musicians is new in the number and distribution of instruments: violin, cello, 2 clarinets doubling bass clarinet, 4 women's voices, 4 pianos, 3 marimbas, 2 xylophones and metallophone (vibraphone with no motor). All instruments are acoustical. The use of electronics is limited to microphones for voices and some of the instruments.
Full piece notes available from Boosey & Hawkes.
It's Gonna Rain (1965)
Notes from interview with Steve Reich: It's Gonna Rain is about the end of the world.  In those days, the voice was recorded in '64, you had the Cuban Missle Crisis and so it was very much a part of many peoples' thinking at that time.  We were at the point where we could all turn into so much radioactive ash at any given time.  So while this guy is preaching about Noah, it's not something abstract that has nothing to do with what's going on in your life.
It was also a time that was fairly difficult for me personally.  So It's Gonna Rain, especially the second half of it, is very bleak.  You're literally hearing the world come apart.  Technically, it's been said many times, the discovery of the phasing process was within that piece.  It happened with those two little Wollensack tape recorders I had.  I made identical loops and I thought I would line them up in a particular relationship.  Mainly with "it's gonna fall" on top of "rain" with the two channel result being "it's gonna… it's gonna… rain… rain…" with 180 degrees separation.