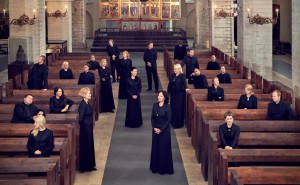 Soundstreams have released their 34th season line-up that includes a variety of programming exploring new formats in music theatre, choral music, and chamber music.
Most notable is Odditorium: an eclectic staging by theatre director Chris Abraham of excerpts from R. Murray Schafer's Patria cycle, complete with circus carnival barker.
Following last year's genre-bending Electric Messiah, Soundstreams will expand their popular Ear Candy series from one to three performances. These include flute virtuoso Claire Chase's Density 2036 project (October 4), an updated version of Electric Messiah at The Drake Hotel (December) and a musical tribute to Philip Glass (April 8).
"We hope audiences will find these interactions meaningful, and above all, fun!" said Soundstreams Artistic Director Lawrence Cherney in a press release statement.
Soundstreams will also team up for a second time with the RCM's 21C Music Festival for a concert with Berlin-based composer Unsuk Chin and Canada's Chris Paul Harman.
On November 23, South Africa's Nelson Mandela University Choir will bring an evening of traditional Xhosa and Zulu songs, African-American spirituals, and perform a new work by Montreal-based composer Gabriel Dharmoo.
Following the choral theme, The Estonian Philharmonic Chamber Choir will return to Toronto on February 2, 2017 with a programme including two premieres by Canadian/Estonian composers Riho Esko Maimets and Omar Daniel.
"We are looking forward to our first collaboration with the Nelson Mandela University Choir, whose exuberant performances of African and Western repertoire have never been seen in Canada before," Lawrence Cherney said.
On Oct. 12 Soundstreams returns to Koerner Hall with a "surround-sound" concert called Magic Flutes. The ensemble, including flute stewards Leslie Newman and Robert Aitken, will perform works by Glass, Takemitsu, Debussy, Somers, and a new piece by Toronto's Anna Höstman.
2016/17 Subscriptions are available now by calling the Soundstreams office at 416-504-1282 ext 102 or online at soundstreams.ca.