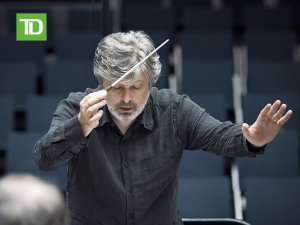 Our TD Composer of the Month of February is Scottish conductor and composer, Sir James MacMillan.
Biography
James MacMillan is the pre-eminent Scottish composer of his generation. He first attracted attention with the acclaimed BBC Proms premiere of The Confession of Isobel Gowdie (1990). His percussion concerto Veni, Veni Emmanuel (1992) has received close to 500 performances worldwide by orchestras including London Symphony Orchestra, New York and Los Angeles Philharmonics and Cleveland Orchestra. Other major works include the cantata Seven Last Words from the Cross (1993), Quickening (1998) for soloists, children's choir, mixed choir and orchestra, the operas Inès de Castro (2001) and The Sacrifice (2005-06), and St John Passion (2007).
He was featured composer at Edinburgh Festival (1993), Southbank Centre (1997), BBC's Barbican Composer Weekend (2005) and Grafenegg Festival (2012). His interpreters include soloists Evelyn Glennie, Colin Currie, Jean-Yves Thibaudet and Vadim Repin, conductors Leonard Slatkin, Sir Andrew Davis, Marin Alsop and Donald Runnicles, and choreographer Christopher Wheeldon. His recordings can be found on BMG/RCA Red Seal, BIS, Chandos, Naxos, Hyperion, Coro, Linn and Challenge Classics.
MacMillan himself joins us on March 8 for The Music of James MacMillan, where he will conduct several of his compositions, including Seven Last Words From the Cross and Gallant Weaver.
Compositions
Seven Last Words From the Cross (1993)
MacMillan's Seven Last Words from the Cross was commissioned by BBC Television and first screened in seven nightly episodes during Holy Week 1994, performed by Cappella Nova and the BT Scottish Ensemble under Alan Tavener.
The traditional text of the Seven Last Words from the Cross is based on a compilation from all four gospels to form a sequential presentation of the last seven sentences uttered by Christ.
The Gallant Weaver (1997)
This ideal introduction to MacMillan's secular choral music is rich in Scottish flavour, appropriate to its Robert Burns text. Characteristic vocal elements are the ornamental inflections drawn from Scottish folk music and Gaelic Psalmody, and the overall mood is one of tranquility. Distinctive colourings of the voice parts are explored through triple divisions of the sopranos and double divisions in the other parts.
Listen to MacMillan introducing this piece on the BBC in 2014.
Veni, Veni, Emmanuel (1992)
A note by MacMillan: Veni, Veni, Emmanuel, a concerto for percussion and orchestra is in one continuous movement and lasts about 25 minutes. Dedicated to my parents, it is based on the Advent plainsong of the same name and was started on the 1st Sunday of Advent 1991 and completed on Easter Sunday 1992. These two liturgical dates are important as will be explained later. The piece can be discussed in two ways. On one level it is a purely abstract work in which all the musical material is drawn from the 15th century French Advent plainchant. On another level it is a musical exploration of the theology behind the Advent message.
Learn more about this piece from Boosey & Hawkes.