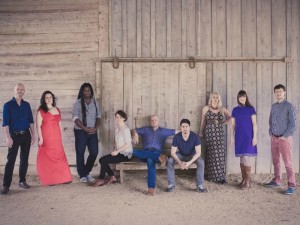 Written by guest blogger Katerina Gimon, a Masters student at the University of British Columbia, studying music composition.
Last week vocal ensemble Roomful of Teeth made their eagerly awaited Canadian debut in Vancouver, British Columbia.  The ensemble played two sold out shows at the intimate Fox Cabaret, presented by Music on Main & PuSh International Performing Arts Festival.
Founded in 2009 by Brad Wells, this vocal octet is all about pushing the boundaries of new music and vocal expression, performing and commissioning new works that explore a diverse palette of vocal techniques from all over the world – from Tuvan throat singing, and yodeling, to belting, and Korean P'ansori.
Since their inception, they have been making waves in the world of contemporary classical chamber music. Their debut album, Roomful of Teeth (2012) received three 2014 Grammy Award nominations, with a win for Best Chamber Music/Small Ensemble Performance. This year, following the 2015 release of their sophomore album, Render, they have been nominated for a Grammy Award for the same category they won two years ago.
Partita for 8 Voices, which appeared on the group's debut album, received the Pulitzer Prize for Music in April 2013 and subsequently topped the iTunes Classical Music Charts. This inventive new work was composed by Roomful of Teeth ensemble member and Music on Main's composer in residence Caroline Shaw. At 30 years of age, this made her the youngest ever recipient of the award to date.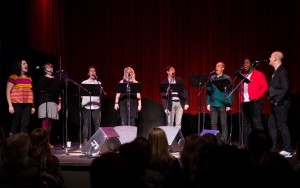 The ensemble began the night with an energetic and emotionally packed performance of this chart topping work. The four-movement composition, which spans nearly 30 minutes, seamlessly combines new and old, conventional and non-conventional, Western and non-Western, sounds into a fresh and captivating piece. The performer's sheer dynamism, passion, and eagerness to explore, left audience members inspired, optimistic, and eager for more.
The second half of the evening featured works from the group's first and second albums by William Britelle, Missy Mazzoli, Judd Greenstein, and Rinde Eckert, as well as a recently composed work by Brad Wells.
Prior to the performance of this new work, Wells explained that it was a musical response to the story of Kalief Browder, a 16-year-old African-American boy who spent three years in jail without a conviction and ultimately committed suicide as a result of being in solitary confinement for two of those years.  At the end of his explanation Wells noted that a development had occurred in the story in the last 24 hours: President Obama had removed solitary confinement as a legal means of convicting juveniles in the United States. The audience applauded this news and the eight singers delivered a powerful and expressive performance of Kalief Brown.
All in all, it was a diverse, powerful, and fearless performance and an invigorating experience to hear Roomful of Teeth live. As soon as the opportunity arises, I will undoubtedly be going to see Roomful of Teeth once again. Here's to hoping they return to Canada soon!
For more from Music on Main and the PuSh Festival, visit the PuSh Festival website, which runs through February 7, 2016, or the Music on Main website.
---
Katerina (Kat) Gimon is a composer, improviser, and experimental vocalist currently based in Vancouver, where she's pursuing a Masters of Music composition at the University of British Columbia.