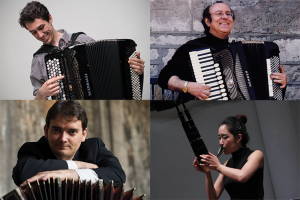 Soundstreams Artistic Director Lawrence Cherney told me recently that one of his favourite ways to feed his creativity when he designs concert programs is by thinking of "families of instruments in all their varieties." Examples of the results in previous season have included Mass Brass (2011) and Piano Ecstacy (2013). And so tonight in Squeezebox we have music for fixed-reed instruments, including various accordions, the bandoneón, and the saenghwang, used in combination with contrasting musical partners and combined with one another.
Joseph Macerollo, Canada's leading concert accordionist, has commissioned and/or premiered hundreds of new works for the accordion, written by Canadian and international composers. Macerollo's work with R. Murray Schafer led to several Schafer works featuring the free bass accordion, including a concerto for accordion and orchestra, and tonight's offering, La Testa d'Adriane.
Schafer's large-scale theatre piece The Greatest Show is, in his words, "an immense outdoor theatrical and musical extravaganza in the form of a town fair or carnival." Of the 100 individual pieces within this assembled work, La Testa d'Adriane (1978) was one of the first to be written. The setting of this piece evokes a circus, and the barker happens to play the accordion. The set was created by designer James Colbeck.
From Schafer's own program notes, regarding La Testa d'Adriane:
For some time my friend Joe Macerollo had been after me to write a piece for accordion. Simultaneously Mary Morrison wanted a new piece for voice. But her voice was past its prime and I resisted until it struck me that I could put these two "misfits" together in a kind of carnival attraction. What resulted was the first piece of what was eventually to grow into Patria 3: The Greatest Show.
The accordionist, dressed in a tattered tuxedo and top hat, opens with a happy tune to attract an audience. Behind a curtain he claims to have the bodyless head of a woman, saved at the instant before death and preserved by the fantastic art of leger demain. When he pulls the curtain of his little booth, we do indeed see a woman's head on a table without a body. She appears to be sleeping, but the barker awakens her with music and she sings a strange aria of gurgles, trills, whispers and pops, finally ending in laughter that descends into weeping before she subsides again into her comatose state. In vain the showman tries to revive her with his accordion. Finally he pulls the curtain shut. The show is over.
Macerollo was also one of the three musicians for whom Alexina Louie composed Refuge (1981), for accordion, harp and percussion. CBC Radio Music commissioned this work for broadcast on my Radio Two series, Two New Hours. Macerollo was joined by harpist Erica Goodman and percussionist Beverley Johnson for that premiere, as in tonight. Louie's Refuge and Schafer's La Testa d'Adriane are, in the words of Macerollo, "not only significant for their composers but also are important works for the history of the accordion."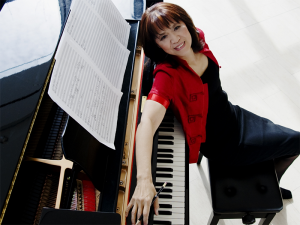 Macerollo's student at the University of Toronto, Michael Bridge, is featured in another historically important composition, Marjan Mozetich's Dance of the Blind (1980) for accordion and string trio. This was Mozetich's first composition in the tonal, accessible style that he's now known for. Mozetich had become skeptical of 1970s modernism and was searching for a change. The opportunity for that new direction arrived when CBC Radio Music and I agreed to commission Dance of the Blind for broadcast on Two New Hours. He never looked back!
The oldest instrument on tonight's program is the saenghwang, an ancient Korean mouth organ with 17 reed pipes. Tonight we will hear the artist known as gamin play it in two duets: Duologue (2008) for saenghwang and marimba by the young Korean composer Taejong Park, and the world premiere of On the Courtship Displays of Birds of Paradise for saenghwang and accordion, a Soundstreams commission by the young Canadian composer, Anna Pigdorna.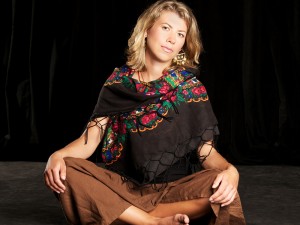 Pigdorna told me she has long been fascinated by birds, and has included them as sources for her music. In the case of On the Courtship Displays of Birds of Paradise, she notes that the male birds of paradise tend to be more stationary than their female counterparts, who busy themselves moving about, checking out the males. Accordingly, in her three-movement composition she has ascribed male behaviour (both in music and choreography) to the accordionist (Michael Bridge) and female behaviour to the player of the saenghwang (gamin). Pigdorna's first two movements mimic the calls and movements of the black sickebill and the Parotia species, respectively. For her third movement, she decided to invent her own species, the Princess Marcia.
Argentine-American Héctor del Curto, founder of the Eternal Tango Orchestra in New York City, is one of the world's most celebrated bandoneón soloists, having played tango music with Astor Piazzola and many other noted tango artists. His tango set concludes tonight's Squeezebox experience.
David Jaeger is a composer, producer and broadcaster based in Toronto. He was the creator & Executive Producer of the long-running CBC Radio Two contemporary music series, Two New Hours.
---
Join us February 10 at Trinity-St. Paul's Centre for Squeezebox, a multicultural celebration of the accordion family. Featuring accordionists Joseph Macerollo and Michael Bridge, bandoneonist Héctor del Curto, and saenghwang virtuoso gamin, tickets start at only $22 – buy now!