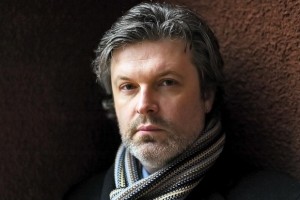 Soundstreams welcomes back preeminent Scottish composer/conductor Sir James MacMillan. Our first collaboration with MacMillan was in 2001 when we presented the North American premiere of his Raising Sparks, a work that reflects the deep affinities between Christianity and Judaism. And in 2006 Soundstreams' University Voices toured his major choral composition revolving around St. Dominic, Sun Dogs, to several Canadian cities. Tonight, we're pleased to once again have MacMillan on the podium leading Choir 21 and the Virtuoso String Orchestra in a wide-ranging program that includes two of his compositions that underscore the foundations of his work: Roman Catholicism and his Scottish heritage.
MacMillan's a capella setting of Robert Burns's poem, The Gallant Weaver was premiered by the Paisley Abbey Choir in 1997. It's a gentle setting of the poetry, with hints of Scottish folk music. The use of multiple separate voice parts within the choir creates a particularly effective "woven" texture, appropriate to the poem's subject.
One of MacMillan's most important works, Seven Last Words from the Cross was commissioned by BBC Television. The work was presented in 1994 in seven consecutive nightly BBC telecasts during Holy Week. The piece, composed for choir and string orchestra, comprises seven movements, one for each of the seven last statements uttered by Christ, as compiled from the four Gospels. Each movement portrays the progressive emotional and dramatic stages over the course of the Crucifixion. It is a powerful work, building gradually to an intense climax before its last breath is drawn in sighing strings. Seven Last Words from the Cross is also a deeply personal expression of MacMillan's faith.
Toronto composer James Rolfe met MacMillan in 2001 when they appeared together in Soundstreams' Encounters series at the Glenn Gould Studio. Tonight, MacMillan conducts Rolfe's eight-part choral setting of portions of Walt Whitman's long poem, When Lilacs Last in the Courtyard Bloom'd, a lament after the assassination of American President Abraham Lincoln. The work was commissioned by Soundstreams for the 2006 University Voices tour. Tonight's performance of the piece is the first by a professional choir. Whitman's poem progresses from an expression of grief at the loss of Lincoln, America's "great star disappear'd," to an affirmation of the natural processes of renewal that occur each spring and an ultimate acceptance of "lovely and soothing death" as the friend that ends all human suffering.
Murray Schafer's The Fall into Light is an oratorio for multiple choirs, commissioned by Soundstreams and premiered in 2006. Schafer describes the work as, "A syncretic work based on texts from a wide variety of sources, gnostic, hermetic and mystical for the most part, but also with texts by Rilke, Nietzsche, and some personal reflections." Schafer adds that, "The whole work is a study of light within darkness as well as darkness within light." The Three Hymns drawn from this large work appear between the major dramatic sections, and function as moments of reflection on the dualism of light versus dark, good versus evil. They are often sung separately from the larger work, and can easily be presented by smaller choral groups.
To open the concert, we have a choral favourite, Immortal Bach by the late Norwegian composer Knut Nystedt. This work uses the first stanza of J.S. Bach's liturgical song, Komm süßer Tod (Come, Sweet Death) as sonic source material for the subsequent fantasy-like choral mutations that just might surprise you.
David Jaeger is a composer, producer and broadcaster based in Toronto. He was the creator & Executive Producer of the long-running CBC Radio Two contemporary music series, Two New Hours.
---
Join us on March 8 for The Music of James MacMillan, a choral evening featuring composer Sir James MacMillan conducting his own work, and more. Tickets start at only $22 – buy now!