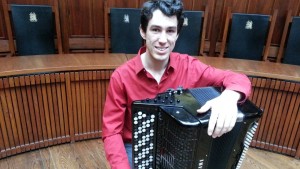 It seems that accordions are making a comeback.
That's not only because the box-shaped instrument can be heard in new songs from Mumford & Sons, Arcade Fire, and The Lumineers. The trend goes deeper than that.
The accordion, or squeezebox, is coming back into vogue after a generation of ridicule.
New York's Carnegie Hall had its first solo accordion performance in 30 years last year. And in Toronto, there's the Squeezebox concert this week.
'One of the world's most underestimated instruments'
It features players from around the world, playing various types of accordions, like the South American bandoneon. One of those players is Canadian wunderkind Michael Bridge, whose interest in the accordion began when he was four years old.
"The accordion has got to be one of the world's most underestimated instruments. And it certainly is one of the most versatile," said Bridge.
He said he sees the generational difference in attitudes around the accordion. While older people think of polkas or Weird Al Yankovic parody songs, younger people see it as cool.
"I've never had someone under the age of 35 ask me why I play the accordion," said Bridge.
Read more via Metro Morning.