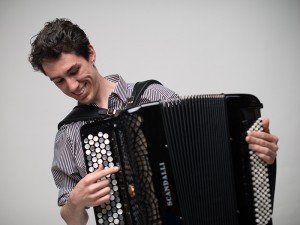 MICHAEL BRIDGE
Michael Bridge is one of the most versatile accordionists of today with a unique ability to blend great classics with world music and pop hits. Michael made his solo orchestral debut at age 16 with the Boston Pops, and his music has led him to China, Croatia, Italy, France, the U.K., and all across North America. In high demand, Michael gives over 100 performances annually. Career highlights include the Roland International V-Accordion Festival in Rome, Miami's Renaissance Ballroom, a tour of Virginia and West Virginia, the Glenn Gould Studio and a TEDxTALKS Youth presentation in Toronto, and proudly winning the Calgary Stampede Talent Search. Michael is currently pursuing his Masters at the University of Toronto, where he studies with Joseph Macerollo.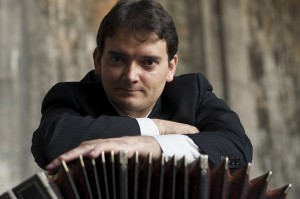 HÉCTOR DEL CURTO
Héctor del Curto has been praised by The New York Times as a "splendid player." The Argentinean bandoneonist 's career, spanning for more than twenty–five years, has encompassed the traditional tango, new tango, jazz, classical and world music. As one of the most sought–after bandoneonists, he has performed with luminaries across many musical genres including tango legends, Astor Piazzolla and Osvaldo Pugliese, and appeared with prestigious orchestras such as Metropolitan Opera Orchestra, St Louis Symphony Orchestra, National Symphony Orchestra, Orpheus Chamber Orchestra, Rochester Philharmonic Orchestra, Mobile Symphony and Buenos Aires Symphony Orchestra.  As a music director, he directed the spectacular show Forever Tango on Broadway and founded the Eternal Tango Orchestra, a ten piece ensemble, now known as the Hector Del Curto Tango Orchestra.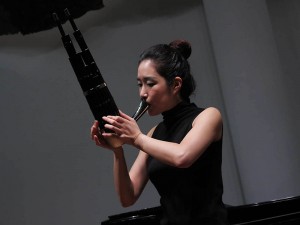 GAMIN
Gamin (represented as "gamin") is one of the most celebrated piri, taepyeongso, and saengwhang (ancient wind-blow instrument) performers in Korea today. From 2000 to 2010, she was a member and assistant principal player of the Contemporary Gukak Orchestra at the National Gukak Center. Solidly trained in jeongak, a form of classical court music, gamin also studied the techniques of sinawi, the shaman ritual music. The music director of the National Changgeuk Company, Yoo Young-Dae describes her music as "free-spirited in restrain, delicate in bluntness, and sorrow in bliss." She has released three albums, and is now expanding her musical realm to interdisciplinary projects in collaboration with international artists. Currently, as a yisuja of the Important Intangible Cultural Asset No. 46 for piri and Daechita, she aims to preserve traditional music, and enhance the tradition as well. (Yisuja is a title designated to someone who mastered a course study of intangible cultural assets of Korea.)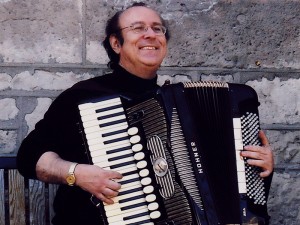 JOSEPH MACEROLLO
Joseph Macerollo is a consummate musician, performer, educator, and organizer. As an educator, Joseph pioneered the acceptance of the accordion at the Faculty of Music, University of Toronto and at Queen's University in Kingston. He has lectured, given workshops, written articles and reviews of concerts and taught history of music, analysis, and the interpretation of contemporary music courses. As an administrator, he has served on the board of directors of New Music Concerts, Pro Arte Orchestra and The Classical Accordion Society of Canada Inc., as well as the Canadian Music Centre, Mississauga Music Council, Mississauga Civic Centre Opera, and Guelph Performing Arts Centre. He was awarded the Order of Canada in 2013 for his "pioneering achievements as a musician and educator, and for bringing the classical accordion to Canadian concert halls."
---
See theses artists perform in Squeezebox, on February 10! Tickets start at just $22 – buy now!