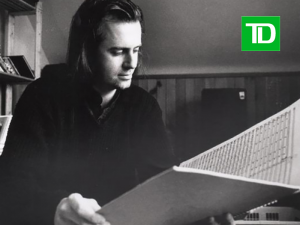 Our TD Composer of the Month for January is Canadian Chris Paul Harman.
b. 1970, Toronto
Chris Paul Harman was born in Toronto, where he studied classical guitar, cello and electronic music with Barton Wigg, Alan Stellings and Wes Wraggett, respectively.
His works have been commissioned by the Nieuw Ensemble of Amsterdam and Soundstreams, and have been performed by the Asko Ensemble, CBC Radio Orchestra, Esprit Orchestra, Montreal Symphony Orchestra, New Music Concerts Ensemble, Noordhollands Philharmonisch, Seoul Philharmonic Orchestra, Tokyo Symphony, and the Toronto Symphony Orchestra, among others.
Since 2005, Mr. Harman has served as Assistant Professor of Composition at the Schulich School of Music of McGill University in Montreal.
Compositions
Fanfare/Processional (2006)
The Toronto Fanfare Project, a series of eclectic concerts presented as part of the 2006 soundaXis festival of music and architecture, offered an elaborate five-day welcome to this rich literature for brass ensemble, animating some of the great architectural and acoustical masterpieces in the core of Toronto with a celebration of the music of Canada and its northern neighbours.
Performed by:
Soundstreams Fanfare Trumpets
Read more on SoundMakers
Projection (2001)
Harman composed Projection at a time when he was pursuing his growing interest in condensed forms of expression. Consisting of many small sections and many even smaller fragments, the piece has a decidedly anti-narrative large-scale structure. Yet despite its lack of an overarching narrative, it still creates dramatic expectations—even though these are systematically undermined.
Performed by:
Encounters Chamber Orchestra
Gary Kulesha, conductor
Commissioned with generous support from the Laidlaw Foundation
Read more on SoundMakers
After Schumann (2008)
Sonata for Solo Cello (2007)