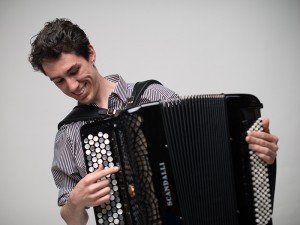 Canadian accordion champion and winner of the University of Toronto Concerto Competition, Michael Bridge uniquely fuses classical, pop-rock, jazz and world music. He is one of the talented artists featured in Squeezebox on February 10, which explores the accordion and its family members in an exotic cross-cultural carnival.
Michael made his solo orchestral debut with the Boston Pops at age 17, and has performed in Asia, Europe, and North America, now giving over 100 concerts per year. In 2013, he placed 2nd at the world digital accordion championships. Michael recently finished his Bachelors of Music in Accordion Performance at the University of Toronto with Professor Joseph Macerollo and is currently pursuing his Master's degree at U of T. He is a captivating young musician— boldly redefining the sound and image of his traditional instrument.
We chatted with Michael in advance of Squeezebox, about how he began playing the accordion, his relationship with his mentor Professor Joseph Macerollo (who joins him on the concert bill), and some of his favourite pieces to perform.
Soundstreams: How and when did you begin playing the accordion?
Michael Bridge: When I was five years old, my mother purchased an accordion for me at a garage sale for $5, by suggestion of a family friend. At my first 'concert' (age 5), I played the first half of Jingle Bells.
SS: How many accordions do you own? What are some of the differences between these instruments?
MB: I'm down to seven instruments right now. The principal distinction is that some of my accordions are acoustic (traditional) whereas others are digital (computerized). I still have a few piano accordions kicking around (I switched to buttons when I was 16).
SS: You've recorded and produced seven folk albums, one classical album, and two albums of your own compositions. What is the experience of recording like? How do prepare for it?
MB: Starting recording projects is easy, but finishing them is one of the hardest things I've ever done. I'm generally both dissatisfied and inspired (to re-record) by everything I produce, and knowing when a track is 'ready' is a skill that requires a lot of experience. Just as a good performer has to imagine what they sound like from the audience, a recording artist or producer has to constantly think about how the product will be perceived from the other side.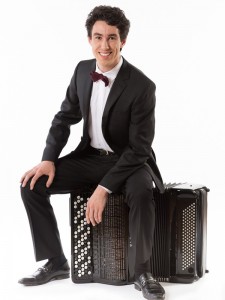 SS: You're known for melding classical with contemporary. What are your favourite pieces to perform in each genre?
MB: One of my favourite classical pieces to perform is Tchaikovsky's 1812 Overture which I play solo on digital accordion. It's incredibly exhilarating to play pretend and be the conductor and the orchestra. (And the cannon-firer!) One of my favourite contemporary pieces to perform is Alexina Louie's Refuge for accordion, harp and vibraphone, which was written for my professor, Joseph Macerollo, and happens to be on the program for this concert.
SS: Have you performed with your teacher Joseph Macerollo before Squeezebox? What's that like, and what is the best piece of advice he has given you?
MB: We performed Andrew Staniland's Pentagrams for two accordions together at the University of Toronto. [Editor's note: Michael is currently pursuing his Masters in classical accordion performance with Professor Joseph Macerollo, who will also appear in Squeezebox.]
However, one of the pillars of Joe's philosophy is that accordionists can (and must) seek out collaborations with great musicians on other instruments, not just accordion. I have learned so much about tone and rhythm from other instrumentalists and vocalists. How to be a 'musician first, accordionist second' is one of the greatest lessons Joe has instilled in me.
SS: You had the amazing opportunity to perform and speak at TEDxYouth Toronto (see above), introducing the digital accordion, and performing on it. What was that experience like?
MB: I love performing for youth. Having the chance to explain my instrument, how I make music, and how it has affected my psychological development is one of the most rewarding experiences. I always jump at the opportunity to perform for youth.
SS: What do you like to do when you're not performing?
MB: Both at home and on the road, I really enjoy cooking, reading psychology and philosophy, working on audio and video recording projects, and getting deep into conversations that can last all night.
LIGHTNING ROUND
Favourite city: Barcelona
Worst airport: Denver International Airport [Editor's note: An airport which is, we recently discovered, surrounded by many conspiracies!]
Guilty pleasure song: Gangnam Style by Psy
Best concert hall: Boston Symphony Hall
Favourite restaurant: Fresh on Bloor
---
See Michael perform alongside fellow accordionist Joseph Macerollo, Argentinian bandoneón virtuoso Hector del Curto, and Korean saenghwang virtuoso gamin, in an exciting evening exploring the accordion and celebrating the unusual world it comes from, at Squeezebox on February 10. Tickets on sale now!