'We're hoping the feel will be something like a mashup of Handel, Bjork, and Kubrick's 2001 Space Odyssey'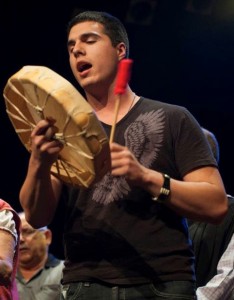 Every year around this time, there are a handful of Messiahs around Toronto to pick from.
This year, George Frideric Handel's 1741 English oratorio will also be offered in part in Maliseet, an Algonquian language spoken by the First Nations people of the Wabanaki Confederacy in their traditional territory stretching from New Brunswick and Nova Scotia to parts of New England and southern Quebec.
The show, called Electric Messiah, has been translated into other languages as well as Maliseet, and will debut at Monday night at the Drake Underground.
Jeremy Dutcher is performing in the show, and helped translate the production. Each task came with its own challenges.