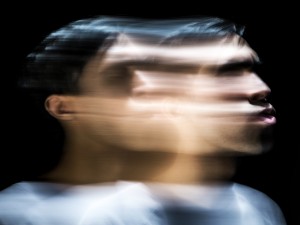 We're excitedly preparing for the premiere of Electric Messiah on December 7 and 8, at our new venue, The Drake Underground. In honour of this new show, and what we hope will become a new holiday tradition, we chatted with Gabriel Dharmoo, one of the artists who will perform in Electric Messiah.
Gabriel studied composition at the Conservatoire de musique de Montreal with Serge Provost and finished his studies with a "Prix avec grande distinction," the highest honour to be awarded, in both composition (2006) and analysis (2007). In addition to regular grants from the Canada Council for the Arts and the Conseil des arts et des lettres du Québec, he has won awards such as the Prix d'Europe de composition Fernand-Lindsay (2011), Canada Council for the Arts' Robert Fleming Prize (2011) as well as 6 prizes from the SOCAN Foundation. He is a member of the Canadian Music Centre and The Canadian League of Composers. Along with his work as a composer, Gabriel develops his musical identity as a vocal improviser, singing on stages in Montreal, Banff, Vancouver, and Berlin.
Soundstreams: You've been described as a "sound poet," among other things. How do you describe yourself and what you do to others?
Gabriel Dharmoo: I describe myself first and foremost as a musician. When strangers strike up a conversation, it's the easiest way for me to explain what I do. Then I come to the other labels: composer, improviser, singer, vocalist, vocal performer, extended voice artist… "Sound poet" is not incorrect per say, but the term reminds me more of artists whose background is in literature or poetry, such the amazing work of Kurt Schwitters and his legacy.
SS: What does Handel's Messiah (the original composition on which Electric Messiah is based) mean to you?
GD: The first things that come to mind are: choir members trying to sell their quota of concert tickets, divas outdoing one another's dress, and audience members fidgeting long hours before they finally recognize a tune from a TV commercial.
SS: How would you describe Electric Messiah?
GD: A parobute (blend of parody and tribute).
SS: What is something new and unexpected that we can expect in the show?
GD: A mobile-resonating mouth.
SS: Your fellow artists come from a wide variety of backgrounds. Besides your own work, whose take on the Messiah are you most interested in hearing?
GD: Honestly, since the creative process will be collaborative, I'm most interested in how everyone will influence and contaminate one another!
SS: Seeing or listening to Messiah is a common tradition for many in the holiday season. What are some of your traditions during the holidays?
GD: [I always listen to] Salsoul Orchestra's Christmas Jollies album.
LIGHTNING ROUND
Favourite city: Jaisalmer
Worst airport: Calgary (it looks like a mall…)
Guilty pleasure song: Sun Saathiya from Bollywood movie ABCD2
Best concert hall: Koerner Hall
Favourite restaurant: Any sushi or izakaya place in Vancouver
Handel goes Underground: A stripped down, surround sound electro-improv Messiah for today's Toronto. Join us for Electric Messiah on December 7 and 8, at the Drake Hotel. Tickets only $15 in advance – buy now!