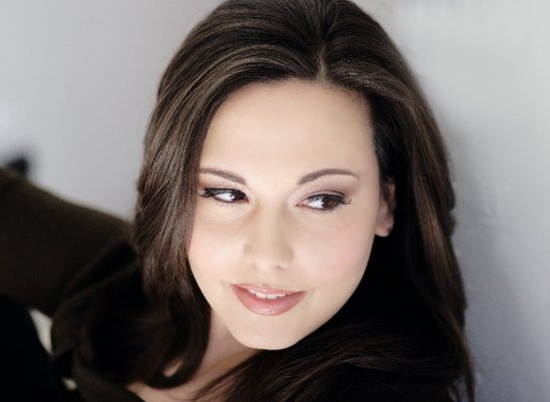 Canadian mezzo soprano Lucia Cervoni has been described by The Globe and Mail as, "Tall and statuesque, she has a voice on the darker side, and blessed with this natural color, she has a distinctive sound that should take her far." Lucia has been hailed by critiques around the globe as possessing a voice and presence "beautifully rich and glamourously beautiful to behold." She has gained great critical acclaim performing in international opera houses throughout the world.
As the title character in Julie, presented with Canadian Stage, Lucia will be making her Canadian debut, singing in a professional production at home for the first time. We caught up with her over email, in between rehearsals, to discuss how she became an opera singer, how she feels about finally making her home debut, and her advice to aspiring opera singers.
Soundstreams: In a past interview, you stated that you decided to become an opera singer in grade 8, at school in London, Ontario. How exactly did you start on this path? Was it difficult in a smaller town to explore this profession?
Lucia Cervoni: I was in Grade 8 at St. Mary's Choir and Orchestra School in London, Ontario, when my grade 8 music teacher suggested that I become an opera singer. The comment ignited such a deep feeling about music and my voice for me that I never looked back from that moment onwards. (I knew from a very young age, at 9 that music would become my life.) In high school I continued being a part of all things musical. During high school, I met my first private vocal teacher, and that led me to meeting her husband, with whom I continued studying with during my time at Western University during my Bachelor's degree in voice. After a truly great time at Western, filled with tons of exciting experiences, I ended up taking a year off, and landed a scholarship to do my Masters in voice in New York City, at the Manhattan School of Music.  
I have to add that my time in London was fantastic, and I look back upon those years as a very enriching time for me.  They were rich with many musical opportunities: I was in every choir at the time, I studied piano for 10 years, and I played in orchestra at school. London has a lot to offer kids looking to explore music and theater. I'm truly grateful for having experienced so much (plus a huge thank you to my parents, for schlepping me everywhere). 
I decided to leave Canada in 2003 and study in New York. My heart led me there. There was no one that told me to go, just my gut, and it was the best decision. During my studies, I met my present day teacher, with whom I owe a great deal, as she has always guided me and supported me along my journey. After spending roughly five years in America, being a part of some wonderful Young Artist's Programs, and debuting a few roles with some great companies, I took off to Germany to gain more experience on the stage. I feel like it is the only place in the world where a young singer can truly learn how to sing and gain continuous opportunity to learn their repertoire.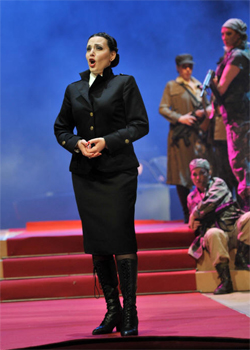 SS: Who are some of your favourite contemporary composers and opera singers?
LC: I have a lot of favorite contemporary opera singers, but a few that stand out are: Jonas Kaufmann, Renee Fleming, Diana Damrau, Patricia Racette, Luciana D'Intino, Patricia Bardon, and Anja Harteros. As for composers, I truly enjoy Osvaldo Golijov, Philip Glass, Arvo Pärt, Tan Dun, and Hans Werner Henze.
SS: Do you prepare differently for a contemporary opera like Julie, with a cast of only 3 people, versus a traditional opera like Madame Butterfly or Le Nozze di Figaro?
LC: I didn't prepare differently for Julie due the size of the cast, but I did have to prepare differently due to the difficulty of learning the music. Learning most modern pieces is, for me at least, a lot more challenging than learning Mozart or Verdi. When I learn music from earlier composers, I can usually learn the rhythms, notes, and text within a few days. My muscles for such things has become quite strong over so many years of practice. When I jump into a show like Julie, it takes considerably longer.  
I was lucky because there was already a recording out there, just to get a taste of how it goes, however, at the beginning of listening to the piece, my brain couldn't hear it all, or comprehend what was going on! I had to learn the piece over months and I took it note-by-note. Some days I would spend about 30 minutes on one page of music, speaking the text only in rhythm, and repeating that until it became understandable to my musical aptitude.  
Over time, I began to see the genius of the piece, and the relationships between my individual line of music and the orchestration. Once the music was settled within me, I began to coach it with my pianist in Magdeburg.  He is an amazing musician and was able to help me learn the piece with a deeper understanding. Through all of that, Julie has now become one of my favorite roles that I have ever sung!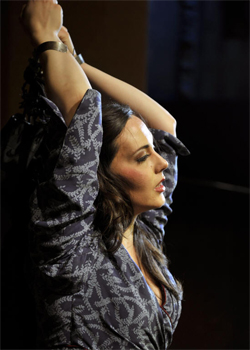 SS: You are (finally) making your Canadian debut in this production. How do you feel about this?
LC: I am so excited! This is definitely a dream come true for me. My entire Italian family is thrilled too, and they're all coming to see at least one performance.
SS: What is your favourite thing about Canada, which you miss while performing abroad?
LC: I miss Canada, period. It's simply the best country! The people are kind, the quality of life here is a luxury, and the artists with whom I have the privilege of working with are giving 150% of themselves. I also feel spoiled to have my family so close by. I miss them terribly when I'm in Europe, and here everyone can pop over so easily, so it's a dream situation!
SS: What piece of advice would you give to an aspiring opera singer?
LC: I would tell a young singer to find a really good teacher, someone who can help them and support them along their journey. I would tell them to know that drama and technique need to be studied right at the beginning of preparations, right alongside with all your other goals of learning a piece i.e., notes, rhythms, text translations, etc. I would tell them to enjoy a full life outside of the career. To find a peace and solace within themselves so that this journey with their career can be one of joy and gratitude, and that when it gets tough that they can always turn inwards to take refuge.  
SS: What's your favourite thing to do during rehearsal, when you're not required on stage?
LC: My favourite thing to do during rehearsals of Julie is to sit and observe how the rest of the team creates their scenes. I love watching Matthew work with Sharleen and Clarence. It's such intense and deep work, and it's very inspiring.  
LIGHTNING ROUND
Favourite city: That's a hard question! I think it would have to be, Santa Fe, New Mexico
Worst airport: Anywhere in Italy!
Guilty pleasure song: I Kissed A Girl by Katy Perry
Best concert hall: Esplanade in Singapore
Favourite restaurant: My mother's kitchen!
---
See Lucia perform in the North American premiere of Julie, presented with Canadian Stage. Only 8 shows – buy now!
Image credits
Top image: Tom Wolf
Middle image: Donna Isabella, Die Braut von Messina, Theater Magdeburg, 2015. Photo by Nilz Boehme
Bottom image: Carmen in Carmen, Theater Magdeburg 2010. Photo by Nilz Boehme