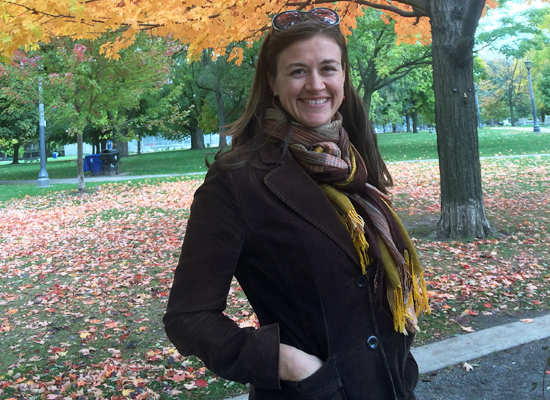 The team at Soundstreams has expanded; we'd like to introduce our new Director of Development, Jessica Whitford!
Jessica joins us with a breadth of experience, working in the arts for over 10 years, both locally and abroad. She's held various roles at several organizations, including Toronto 2015 Pan Am Games, Hot Docs Film Festival, Dusk Dances, and Tribal Crackling Wind. We're thrilled to have her on the team.
Learn more about Jessica in our Q&A, and be sure to say hello to her at our next Soundstreams event.
Soundstreams: Tell us about your professional background.
Jessica Whitford: I've had a lifelong involvement in the arts, originally as a contemporary dancer which introduced me to the world of producing. Eager to develop necessary business skills, I pursued an MBA from York University with a specialization in Arts and Media. When I finished the program, I started my own business providing arts management services for dance artists and arts service organizations in Toronto, mainly in a general manager and producer capacity. I've recently lived in London, UK for a few years where I did similar work for a contemporary circus company.
SS: What inspired you to go into a career in the performing arts?
JW: Growing up, I spent all my free time in studios with dance, music and drama so I naturally expected to work in the performing arts. I grew up in a small town in Alberta, which had so few cultural events that I craved any opportunity offered. I was inspired by my high school band teacher and drama teacher, both of whom were dedicated to fostering a love of the arts in us all! It became engrained in me early on that the performing arts enrich our lives and I therefore wanted to contribute to making the arts more accessible.
SS: Many people find fundraising an intimidating career choice; what attracted you to this position, and what impact are you hoping to have at Soundstreams?
JW: Fundraising is an exciting aspect of the arts business because it requires strategic thinking, personable skills, creative planning and collaborative teamwork. It is a rewarding challenge to work in fundraising because you are making a measurable impact to the organization you serve. I'm most excited about relationship building; forging connections between artists and their products with the communities it serves. I'm attracted to Soundstreams' ambitious and innovative programming and the organization's commitment to showcasing contemporary talent to our audiences. Development allows me to be an ambassador for Soundstreams; I hope my work will allow the artistic team to plan great things, expanding our diverse programming and reaching greater audiences.
SS: What upcoming Soundstreams events are you most looking forward to and why?
JW: I'm really looking forward to the Steve Reich celebration, partially because I've never been to a concert at Massey Hall! I'm most excited to see Clapping Music and coincidentally, our corresponding Salon will be involving audiences clapping music as well. It should be a great week at Soundstreams.
SS: What is your favourite piece of music?
JW: I'm a big fan of Rachmaninov; the first piece I was introduced to was Prelude in C sharp minor which remains a favourite.
SS: Tell us about some of your interests outside of work.
JW: In recent years, I've taken up flamenco dance, which has combined my shared passions of dance, language, culture and travel. I'm learning Spanish alongside my studies and I've had the opportunity to study in Spain. I'm a big foodie and love traveling; I enjoy cooking at home and also exploring culinary delights both locally and abroad.
SS: You were living in London, England, before coming back to Toronto 6 months ago. What do you miss most?
JW: While I'm so happy to be back in Toronto after a few years abroad, I really miss my neighbourhood in South London. I lived in Herne Hill, next door to Brixton, which boasts a beautiful big park (green all year round), a weekly market at my doorstep, and Brixton's unique setting of great little restaurants, produce stalls and a 100 year old cinema.
SS: Best book you've read recently?
JW: I finished The Luminaries by Eleanor Catton this summer. Great read of a convoluted storyline with multiple characters, set in New Zealand during the gold rush of the Victorian era.
LIGHTNING ROUND
Favourite city: Sevilla… or Madrid… or San Sebastian
Worst airport: Charles de Gaulle in France (no croissants!)
Guilty pleasure song: Dancing Queen by ABBA (Editor's note: We fully support this choice of song, Jessica.)
Best concert hall: Royal Albert Hall
Favourite restaurant: Boqueria, in London