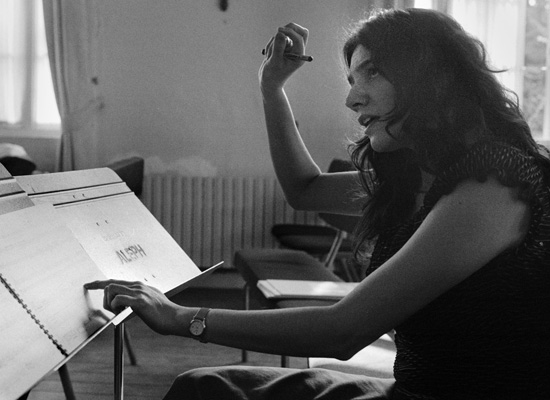 Composer Analia Llugdar was born in Argentina, where she originally studied composition, before earning both her Master of Music and Doctor of Music in composition from University of Montréal. Her work is characterized by a concise investigation of musical textures used deliberately to create an artistic commentary on the state of the world. This can be said of her works based on literary texts as well as those that are more abstract in nature.
Our season opening concert on September 29, Adrianne Pieczonka: Beyond the Aria, will feature the world premiere of a new work composed by Analia. In honour of this, we chatted with Analia about what inspired her to become a composer, and the common themes in her music.
Soundstreams: What inspired you to become a composer?
Analia Llugdar: When I was a teenager, I had a fantastic teacher in Santiago del Estero, Argentina, named Cristina Vallé. She taught me music theory, counterpoint, and harmony. She was a composer and a very passionate person. We spent a lot of time discussing music, composers, and listening to music and analyzing it. Each meeting was fascinating, [as I learned more about] these sounds, and the world of music. These exchanges awakened in me the desire to become a composer.
SS: Would you say that you return to specific themes in your work? If yes, which ones?
AL: Madness, loneliness, women, death, and dance, are all themes that recur in my work.
SS: Several of your pieces are based on literary texts (including Romance de la luna, luna, which is based on the poetry of Federico García Lorca). What inspiration do you find in literary texts?
AL: Literature has always nourished my music and inspirations. It is not only the theme  of a novel or piece of poetry that inspires me, but also the form, language, the multiplicity of characters, and the way in which the stories overlap, intersect, and  amalgamate over time. In literature, as in music, space and time are two silent but fundamental pillars that determine the essence of the work.
SS: You are part of a prestigious group of women who are finding success in the composition world, which is often regarded as an "old boys club." How are you working to break down these barriers?
AL: Honestly, I have never paid too much attention to the fact that I'm a "female" composer and not a "male" composer. I'm a composer and that's all. Unfortunately a lot of people have many prejudices about many subjects, which I believe is a cultural problem. I prefer that we resolve prejudices that people have against immigrants for instance, which should be a priority.
http://www.youtube.com/watch?v=QdtqcdJtNEY?t=31s
SS: You are originally from Argentina and now live in Montreal. What is it like working as an artist in both cities? Does one place influence your work more?
AL: The roots of my work and my inspirations come from my Argentine culture. Montreal is a cultural crossroads that has allowed me to learn a lot and has fed me new ways of expression. My music is a result of this merger of cultures.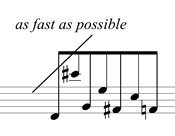 SS: If you could be represented by a musical notation, what would it be?
AL: Several eighth notes tied, and played as quickly as possible!
LIGHTNING ROUND
Favourite city: Humahuaka
Worst airport: Miami airport
Guilty pleasure song: "Ciuleandra" by Maria Tanase
Best concert hall: La Grande Salle – Philharmonie de Paris
Favourite restaurant: Le Petit Alep, Montreal
---
Join us September 29 at Koerner Hall, for Adrianne Pieczonka: Beyond the Aria, for the world premiere of Analia's new work, Romance de la luna, luna, performed by mezzo-soprano Krisztina Szabó. Buy now!