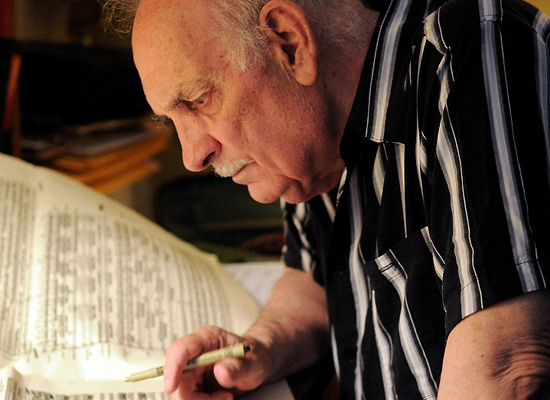 George Crumb
American composer George Crumb (b. 1929) once described the essential acoustic of his music as "a kind of echoing, reverberant acoustic of haunting sounds that cross the river, and bounce between the hills." Crumb likens this quality to one of the vocal styles used in his 1970 composition, Ancient Voices of Children, as the soprano sings, "a kind of fantastic vocalise into an amplified piano, thereby producing a glimmering aura of echoes."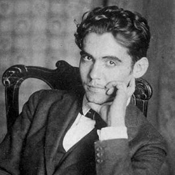 Ancient Voices of Children is part of an extended cycle of Crumb's compositions, all based on the poetry of Federico García Lorca (left). The work, commissioned by the Elizabeth Sprague Coolidge Foundation, was composed for American soprano Jan DeGaetani, and had its premiere late in 1970 at the Library of Congress in Washington, D.C. Crumb wrote that, "In Ancient Voices of Children I have sought musical images that enhance and reinforce the powerful, yet strangely haunting imagery of Lorca's poetry. I feel that the essential meaning of this poetry is concerned with the most primary things: life, death, love, the smell of the earth, the sounds of the wind and the sea." Crumb set Lorca's poetry for soprano, boy soprano (mostly sung off-stage), and an ensemble of instruments, "chosen for their particular timbral potentialities: the pianist also plays toy piano, the mandolinist musical saw, and the oboist harmonica, and the percussionists command a wide range of instruments."
When Soundstreams artistic director Lawrence Cherney first produced the work in 1987, he chose, as soloist, an emerging vocal talent, Canadian soprano Adrianne Pieczonka, who was still a student at the time, studying voice with Mary Morrison at the University of Toronto's Faculty of Music. Pieczonka told me that, although Ancient Voices of Children was already an acknowledged masterpiece by then, learning the advanced vocal techniques from Morrison opened her eyes and ears to a new world of singing. She said that Morrison introduced her to the nuances of Crumb's vocal writing, which she found to be fascinating and memorable, "visceral and earthy." Tonight, we hear Pieczonka sing the work for the second time in her brilliant career.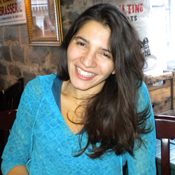 When planning tonight's concert, Cherney felt that the significance of Crumb's work could be underscored if it served as the basis of a new companion composition with similar instrumentation and poetic inspiration. Soundstreams, who has before championed the work of Montreal composer Analia Llugdar (right), commissioned her to create such a response to Ancient Voices of Children. Her setting of the Lorca poem, Romance de la luna, luna, which receives its world premiere on tonight's concert, retains many features of the Crumb, yet makes a completely fresh artistic statement. Llugdar said she had known the Lorca poem for some time, and as she considered setting it, she realized that, "the image of the child stands as a symbol for the vulnerable people of the world, living in real danger." She said that she drew from the flamenco tradition in setting the seductive opening section for mezzo-soprano Krisztina Szabó. As the drama in the poetry develops, the voice is intensified through combinations with the instrumental ensemble, especially the oboe and the percussion, as the child's voice is eventually silenced. Llugdar uses metallic percussion extensively in the work, often to represent the metal of weapons.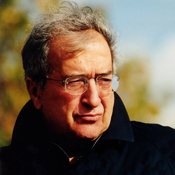 The story behind Luciano Berio's settings of Beatles songs is one in which a child's innocent infatuation with pop songs triggered a response from this major 20th-century composer. Cristina Berio, the daughter of Italian composer Luciano Berio (1925–2003) (left), and his wife, the American soprano Cathy Berberian (1925–1983), was in her pre-teens when Beatlemania swept the world in the 1960s. Cristina was caught up as well, and she sang Beatles songs so persistently that they eventually captivated the ear of her famous mom. Berberian eventually decided she needed to add some of these songs to her recital repertoire, and in 1966 she asked various composers, including Luciano Berio, to arrange some of them for an upcoming performance at the 1967 Venice Biennale. Berio's arrangements used various combinations of winds and strings from the chamber ensemble accompanying Berberian's recital. Berberian subsequently persuaded Dutch composer Louis Andriessen to create simpler arrangements, using piano accompaniment, so that she could program the songs in her recitals more easily. Tonight, Pieczonka performs Berio's imaginative arrangements for the first time.
Pieczonka and Szabó also share five songs selected from George Crumb's voluminous American Songbook. There are lullabies for each soloist, and three songs that they sing together as duets. Crumb had set out, in 2000, to write a projected four volumes of settings of American hymns, popular tunes, and spirituals, but the project grew to seven volumes, completed in 2010. The original texts and melodies remain intact in these settings, but Crumb opens his musical imagination in his accompaniments. Scored for amplified piano and numerous percussion instruments, they become extreme embellishments of the songs, displaying an unrestrained contemporary language. It's an approach to song setting that clearly takes us, to quote tonight's concert title, beyond the aria.
Image credits
George Crumb: Sarah Shatz
---
Join us September 29 at Koerner Hall, as we open our 2015/16 season with Adrianne Pieczonka: Beyond the Aria. Featuring the exquisite voices of soprano Adrianne Pieczonka, and mezzo-soprano Krisztina Szabó, we will explore the work of George Crumb, a world premiere work by Analia Llugdar, and Luciano Berio's arrangements of Beatles Songs. Buy now!