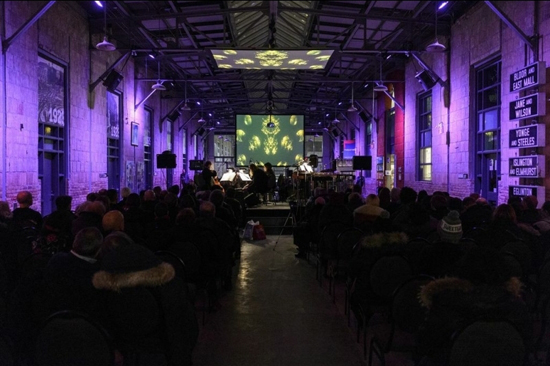 Music in the Barns
This is the first of a three-part series featuring some of Toronto's foremost "indie" new music presenters. Check out part two, and part three.
One of the things that I enjoy about my work at Soundstreams is the way that it naturally intersects with my broader activities in the arts community. In 2010, I founded Spectrum Music, a composer collective dedicated to presenting genre-defying themed concerts that explore a meshing of jazz and contemporary classical aesthetics. In fact it was my work with Spectrum that led me to an internship at Soundstreams, and the rest is history. Today, along with the welcome demands of my role at Soundstreams, I proudly keep one foot in the "indie" world.
So you can imagine how excited I am to be able to shine a light on some of the most exciting big music coming from small places. In the digitally-fueled D.I.Y. generation, artist collectives have become fully-functional micro presenters, producing incredible audience experiences that ought to keep more established organizations in the city on their toes!
Artist-driven collectives play an important role in the ecology of arts presenters in Canada. They face incredible environmental challenges but are also free from some of the constraints of larger companies. Fluid and quick to react to the world around them, they create with an immediacy and specificity that speaks strongly to their dedicated communities. In the audience, you'll feel a special energy from these groups. Because the artists themselves are in control of the entire presentation process, they present their craft passionately and directly to you, up close and personal, just as they intend it.
There are already a few excellent articles about the thriving indie opera scene in Toronto, so for our article I'm going to keep the focus to music. Tell us what you think and give anyone that we missed a shout-out in the comments section. Be sure to read parts two and three to find out who got the most mentions as an "Indie Presenter Crush!"
Interviewed: Carol Gimbel, founder and artistic director
Soundstreams: When and why did you form your company? 
Carol Gimbel: Music in the Barns was inspired by two key personal experiences of mine: summer concerts performed in a working barn (Symphony in the Barn – not to be confused with Music in the Barns), and as a partner in an artists' collective in a storefront in New York City (The Art Fiend Foundation). Both left a deep impression and contained concepts that could be applied as solutions to complex issues around sustainability and accessibility in the classical music industry.
In 2008, I was invited to participate as an inaugural tenant at the Artscape Wychwood Barns (AWB), which brought these experiences together. Not only would I be able to engage the community as an AWB tenant with a storefront level studio, but I would have access to the Artscape Wychwood Barns' 7,500 square foot Mainspace, which would act as a community space and an alternative performance space, much like the concerts at Symphony in the Barn, in a working barn.
SS:  Ideally, where will Music in the Barns be in five years?
CG: Music in the Barns will continue to explore innovative uses of its concert space, the Artscape Wychwood Barns Mainspace, and ideally will have the resources to invest in capital updates, including state of the art staging, projectors/screens and sound system. We are working towards offering more concerts per year in order to offer a subscription series. We also aim to increase our corporate and industry partnerships. The expansion of our educational programme is also key, including developing an adult education component that hooks into our concert series, open rehearsals and concerts for children, a state of the art sound system in our studio, and a pipe dream to have a streaming radio station.
SS: As an audience member, why should I attend performances by smaller companies? What can I expect at one of your shows?
CG: Expect to experience something you cannot see or hear anywhere else! I have termed Music in the Barns concerts as "installation performances" – i.e. every part of the concert experience acts as one fully immersive event. Don't be fooled. Smaller companies are doing big things! They are taking risks and incorporating unique elements into their concerts. A regular attendee of an indie series has the unique opportunity to witness and influence (yes, influence!) the course of its development.
SS: What's the most exciting thing coming up for you in the next year?
CG: 2015/16 is a big year for Music in the Barns. With great thanks to the Canadian, Ontario and Toronto Arts Councils for their generous support, Music in the Barns will unveil Song of Extinction. This large scale, site-specific multimedia work, three years in the making, will premiere in June 2016. We are exploring cutting edge technology for this event which we are very excited about. Music in the Barns is also in the midst of creating and releasing our first album.   
SS: Who is your indie presenter crush?
CG: There are several. I am a fan of Spectrum Music. I think they are doing very exciting fresh concerts and have a great team of people working behind the scenes. Thin Edge Collective has a great stride right now. And Tapestry Opera, with several great productions recently, and also with a fantastic, risk taking team behind it.
Interviewed: Stephanie Chua, co-founder and pianist
Soundstreams: When and why did you form your collective?
Stephanie Chua: junctQín formed in the spring of 2009. It happened quite accidentally. Joe and Elaine had plans to participate in the spOtlight Festival (Kitchener-Waterloo), and they approached me to join them in presenting a workshop revolving around the toy piano. We needed a name and Elaine came up with junctQín -junct meaning to join and Qín meaning keyboard instrument in Chinese. We started looking for ensemble repertoire, embracing alternate keyboard instruments, and commissioning works.
SS: Ideally, where will junctQín be in five years?
SC: In five years, we'd like junctQín to evolve beyond the ensemble of just the three of us. We see ourselves individually putting on chamber, solo, and multi-media projects under the umbrella of our organization, and featuring guest artists.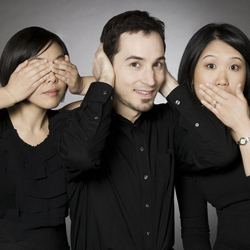 SS: As an audience member, why should I attend performances by smaller companies? What can I expect at one of your shows?
SC: Attending performances by smaller companies is a chance for audience members to experience refined performances and focused programming in an intimate environment. In Toronto, each organization has its own unique aesthetic, giving audiences an opportunity to sample all of the different facets of contemporary art music. junctQín's shows feature the piano and keyboard repertoire with a fresh perspective. We showcase a combination of ensemble and solo works involving the piano, toy piano, melodica, and kalimba, alongside electronics and music theatre. You can expect works by emerging composers alongside established ones.
SS: What's the most exciting thing coming up for your group in the next year?
SC: The most exciting thing for us next year is hosting a week-long residency by Finnish composer Tomi Räisänen and presenting a portrait concert of his works on May 19, 2016. It is the first time we will be featuring guest artists with us–guitarist Rob MacDonald and pianist Heidi Saario.
SS: Who is your indie presenter crush?
SC: Our indie presenter crush is the Toy Piano Composers. We formed roughly around the same time. Joe and Elaine performed on their very first concert and junctQín was featured in one of the concerts of their second year. We are inspired by their growth and the consistency at which they challenge themselves as programmers and composers. They have worked tirelessly to build a loyal following, and are continually bringing together the contemporary music community.
---
The first five people to email Ben Dietschi at [email protected] with your "Indie Presenter Crush," will receive two tickets to either:
This is the first of a three-part series featuring some of Toronto's foremost "indie" new music presenters. Check out part two, and part three.