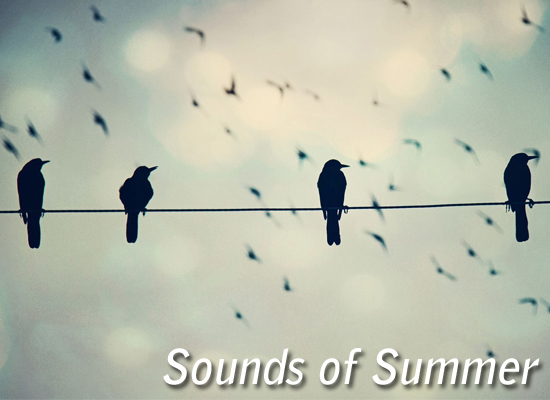 Summer is here! The sun is out, the sky is blue, the weather is warm – now here is the perfect music to listen to as you revel in the joys of the season. Plus get a peak into our upcoming 2015/16 season, in this list curated by our Artistic Associate Kyle Brenders. Listen to the entire playlist on YouTube.
1. George Crumb – Music for a Summer Evening
Music for a Summer Evening is the third volume of the series Makrokosmos, by American composer George Crumb. The title alludes to Mikrokosmos, a set of piano pieces by Béla Bartók. Music for a Summer Evening, scored for two amplified pianos and two percussionists, shows off Crumb's exploration of instrumental colour, or timbre, used to evoke the mystical sounds of a summer evening.
The work is in 5 parts:
Nocturnal Sounds (The Awakening)
Wanderer-Fantasy
The Advent (including Hymn for the Nativity of the Star-Child)
Myth
Music of the Starry Night
It includes unconventional (and often exotic) sounds such as amplified pianos, slide whistles, plucked/strummed/hit piano strings, thunder sheets, Tibetan prayer stones, an African thumb piano, and more.
2. 'Summer' from Vivaldi's The Four Seasons
A unique rendition of 'Summer' from Vivaldi's iconic The Four Seasons performed by Virtuosi3: Kornel Wolak, clarinet; Michael "Lorenzo" Savona, guitar; and Michael Bridge, accordion.
See Virtuoso3 member Canadian Michel Bridge in action in our 2015/16 season at Squeezebox, a cross-cultural concert featuring the accordion and its extended family. 
3. Phillipe Boesmans – Summer Dreams
Belgian composer Phillipe Boesmans's second work for string quartet 'Summer Dreams,' explores an unusual and complex dream world. (Note: Am I the only one whose dreams don't sound like this? I wonder what this composer's nightmares sound like…)
This fall, Soundstreams and Canadian Stage will present the North American premiere of Boesmans's Julie, the acclaimed chamber-opera adaptation of August Strindberg's play Miss Julie.
4. The Beatles – 'Yesterday'
This year marks 50 years since The Beatles recorded 'Yesterday,' what has since become one of their most well-known and loved songs. This version is performed by mezzo-soprano Cathy Berberian.
This September, Adrienne Pieczonka: Beyond the Aria will feature, among various other pieces, Luciano Berio's arrangement of Beatles songs by Lennon and McCartney.
5. James MacMillan – A New Song
A New Song is a short anthem on texts from Psalm 96 by Scottish composer James MacMillan. With its evident influence of Scottish folk music, Gaelic Psalmody, and plainsong, A New Song is a perfect, all-encompassing example of MacMillan's emotionally potent, rhythmically thrilling, and richly reflective choral music, which has won him international critical and popular acclaim.
This 2015/16 season, MacMillan himself conducts Choir 21 and the Virtuoso String Orchestra in The Music of James MacMillan, a choral program at Trinity-St. Paul's Centre comprising Canadian works, selected motets by J.S. Bach, and his own 1993 cantata Seven Last Words from the Cross.
6. Steve Reich – Music for 18 Musicians (800% slower)
Enjoy 'Pulses' from Steve Reich's renowned Music for 18 Musicians in an entirely new way. Reduced to a speed 8 times slower than its original tempo, the resulting music is remarkably ambient and serene – perfect for mediation, or for listening to while enjoying the beauty of a warm summer day.
Join us in April 2016 for Steve Reich at 80, a concert at Massey Hall in celebration of his milestone year. 
7. Steve Reich –  It's Gonna Rain
The last thing anyone wants to hear on a beautiful summer day – It's Gonna Rain!
8. Clara Rockmore – Summertime
George Gershwin's Summertime (from his opera Porgy and Bess), performed by theremin virtuoso Clara Rockmore, from the Lost Theremin album.
9. Miles Davis with Gil Evans – Summertime
Another rendition of Summertime, arranged by Canadian composer and jazz pianist Gil Evans, and performed alongside none other than Miles Davis.
10. Soundstreams presents Salon 21: Summer Songs
Last year we did an entire salon on summer songs! Listen as the beautiful voices of Alex Samaras and Susha Ranagarajan waft through the museum terrace on the summer evening's breeze.