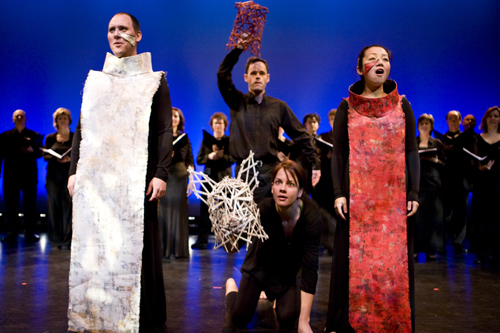 Bud Roach and Xin Wang, with Elmer Iseler Singers, in Pimooteewin
The concert season might be over but new music creation never stops! This week, Soundstreams is holding a workshop for Gállábártnit, the companion piece to our opera, Pimooteewin. This workshop is a private event, to help the creators and artists develop the opera. While Pimooteewin was the first opera written in Cree, Gállábártnit will be the first Sami opera ever staged. Together, these two works form The Journey.
The workshop features the original soloist of Pimooteewin, lyric tenor Bud Roach, as well as soprano Zorana Sadiq. Conductor and pianist Gregory Oh acts as Musical Director, with pianists Christopher Dawes and Stephanie Chua providing accompaniment. The chorus is completed by sopranos Gisele Kulak and Julia Morson, altos Loralie Vancourt and Valeria Kondrashov, tenors Mitchell Pady and Charles Davidson, and baritones Michael NyBy and Dave Yung.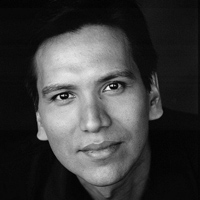 The Journey is a two-part international project that's been nearly 10 years in the making. Director and choreographer of both operas, Michael Greyeyes (right), explained the connection between the two pieces:
Pimooteewin was the first Cree language opera and Gállábártnit is the answer to our search for a companion piece. It's an examination of how we live, what are the consequences of love and sacrifice. This story is a perfect parallel to Pimooteewin's exploration of how we pass to the land of the dead – Gállábártnit is about how we live on earth.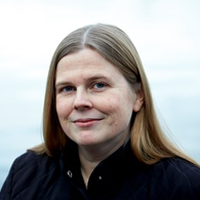 Composer Britta Byström (left) wrote the music for Gállábártnit, stating:
The libretto of Gallabartnit is very rich. It contains scenes from Sami everyday life (such as women cutting grass on the marsh), but also features fantastic mythological material (people being lifted to the sky like stars). I tried to capture this richness in the music. The women use their working tools as percussion instrument: the choir whispers and whistles; the percussionist plays vibraphone in one scene and swanee whistle in another; and a singer and two woodwinds are placed off stage. There were many different influences [for this piece]: traces of a Swedish hymn, a Bob Marley song, and parts from the Danish composer Per Nørgård's infinity series. Through all this, the music tells a beautiful story about a woman choosing the unknown.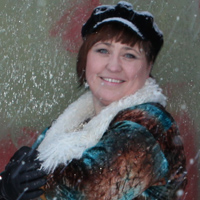 Librettist Rawdna Carita Eira (right) wanted to explore the "unknown" with the opera, as well as Sami myths:
The fear of the unknown. The attraction to the unknown. To walk paths no one else has gone before you. To be true to yourself. To be a part of something bigger than yourself. These themes are what Gállábártnit and The Journey are all about. I´m very proud and excited to be a part of this project, to get to work with creators and artist from different places and different cultures reaching out for one another to gain new understanding. [Together we are] reaching for the point that the main character Áile speaks of in Gállábártnit: Amas ii leat šat munnje amas, which means, The unknown is no longer unknown to me. The libretto is based on an old Sami myth, but it´s directed to the people of today.
You can help fund new works like Gállábártnit, and see them come to the stage. Help support new work creation at Soundstreams by making a donation through Canada Helps.
Please stay tuned for more information on Gállábártnit, and how you can see public performances of this new opera!
Image credits
Top image: Cylla Von Tiedemann