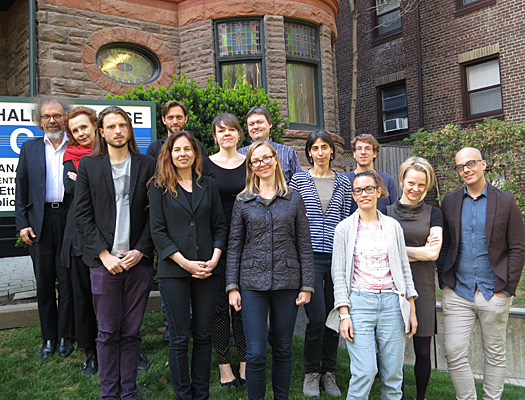 The participants of the 2015 Emerging Composer Workshop, from left-to-right: mentors Jean-Baptiste Barrière and Kaija Saariaho; composer James O'Callaghan; Soundstreams Associate Director of External Relations Ben Dietschi; flutist Leslie Newman; composer Santa Bušs; violinist Stephen Sitarski; composer Tawnie Olson; composer Núria Giménez-Comas; composer Oren Boneh; composer Helga Arias; singer Carla Huhtanen; workshop facilitator Adam Scime
What happens when you bring together six talented, youngish composers from around the world, and stick them in a house in downtown Toronto? It turns out a lot!
In response to our desire to reach the next generation of composers, the Soundstreams Emerging Composer Workshop has grown in scope and intensity since its launch just three years ago. I'm proud to say that we are attracting top talent from Canada and around the world, and pairing them with some of the most lauded composers of our day.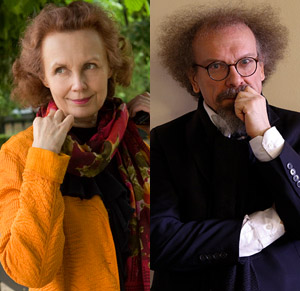 This year we had the incredible opportunity to host two trailblazing leaders in contemporary composition, Kaija Saariaho and Jean-Baptiste Barrière. Not only are these two globally recognized, they are also consummate educators, and two of the most warm and genuine people I've met during my tenure at Soundstreams.
Saariaho and Barrière are both known for seamlessly blending the worlds of acoustic and electronic music, so there was a focus on creating with a hybrid of those mediums this year.  The performance space at the Canadian Music Centre began to look like the cockpit of some wonderful machine, as more and more electronics sprawled over the room to accommodate the evolving needs of our composers. With intimate knowledge of both the violin fingerboard, and the intricacies of writing MAX MSP code (a musical programming language), these composers embody the future of music in everything they do.
We scheduled our workshop to coincide with a frenzy of new music activities happening in Toronto. The Royal Conservatory of Music's 21C Music Festival, which included our season finale Encuentros, and the culminating concert of the workshop, along with some great concerts from New Music Concerts and The Music Gallery, meant that there was a smorgasbord of choices for an evening out after a long day of rehearsals and seminars.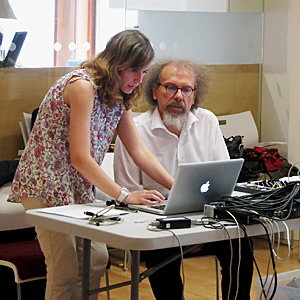 The learning and collaboration that happens at the workshop is outstanding, but perhaps the most rewarding outcome is the lifelong connections forged. In many ways, we see the workshop as a place of beginnings: new directions in artistic practice, new collaborators and friendships, new career opportunities. It's also the start of a relationship between Soundstreams and each of these composers, which we hope will develop in the years to come.
After three years of the workshop, I'm happy to say that we're starting to see things come full circle, where workshop alumni are active members of the Soundstreams community. We've programmed several ECW alumni on our main concert series, and our local facilitator/mentor at the workshop this year was Adam Scime, a graduate of the first year of the program. Andre Mestre, one of our 2013 participants, recently had a piece premiered in China thanks to his ongoing relationship with Ye Xiaogang, our 2013 visiting mentor. A handful of other collaborations between participants have also happened post-workshop. 
Each year Kyle Brenders, Artistic Associate at Soundstreams, and I work hard to craft a rewarding workshop experience. Fostering emerging talent has personal resonance for both of us. As young practicing artists ourselves, we recognize how important opportunities like this are in the crucial and challenging years of career building, which happen in the decade after finishing post-secondary studies.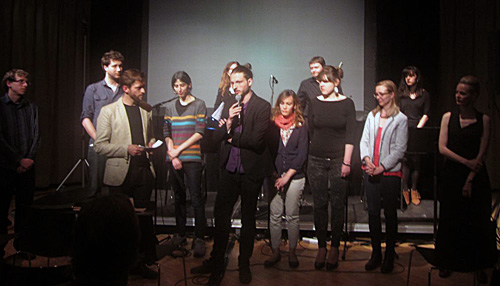 The composers present their work at The Royal Conservatory of Music's 21C Music Festival concert, 21C After Dark #2
The level of sacrifice, dedication, and unwavering commitment to excellence that I see in our emerging composers is staggering. They are carving out an existence in the world, championing some of the most cutting-edge music out there.
We can all take a cue from these folks. No matter what we do in life, we would certainly be better off if we approached it with the vivacity and tenacity that it takes to be an emerging contemporary composer in the world today. I'm looking forward to keeping an eye on these inspiring folks, and I invite you to as well. Not surprisingly, these composers all have active online presences. Have a listen to the sounds this intrepid bunch are casting into the world online, and check the itinerary of this globetrotting bunch; they might have a performance in a city near you!
---
To learn more about our Emerging Composer Workshop, visit our Education page. To learn more about the participants in this year's workshop, and visit their websites, visit our ECW Participants page.