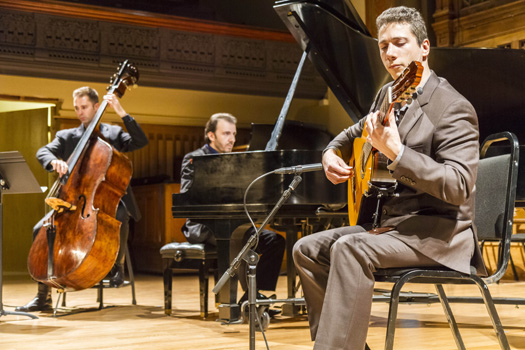 Jeffrey Beecher, Serouj Kradjian and Grisha Groyachev perform at Reimagining Flamenco, November 2013
Soundstreams welcomes back Serouj Kradjian, the versatile pianist and composer, with his newest collaboration in a series of genre-crossing adventures in the music of Latin cultures. In recent years Kradjian, at Soundstreams' initiative, has created imaginative programs of newly composed and re-arranged works that reference flamenco, tango, and Spanish contemporary classics. This time, Soundstreams, together with the Royal Conservatory of Music's 21C Music Festival, has invited Kradjian and the ensemble to blend together works from an even wider pool, with fresh arrangements of both well and lesser-known pieces in a range of styles in an eclectic fusion of traditions. These range from the "Old" world (the highly ornamental Spanish flamenco and mournful Portuguese fado), to the "New" world (sultry Argentinian tango or African influenced genres such as Brazilian afro-samba and Colombian currulao or chapuca).


The performers of Encuentros: Fabio Zanon, Héctor Del Curto, María Mulata, Serouj Kradjian, 
Grisha Goryachev
To enable this creative initiative, Soundstreams Artistic Director Lawrence Cherney has assembled a multi-national ensemble that includes Brazilian guitarist Fabio Zanon, Argentinian bandoneon player Héctor Del Curto, and Colombian singer María Mulata, together with Russian/American guitarist Grisha Goryachev, Toronto percussionist Sarah Thawer, and TSO principal bassist Jeffrey Beecher, all combined for a fresh encounter with the music of Latin America. This is the Toronto debut for Ms. Mulata, and also the first time that Goryachev and Zanon have performed together as a duo.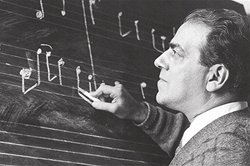 The centrepieces of the concert are two commissioned works by Canadians Andrew Staniland and Mark Duggan, both receiving world premieres this afternoon. Both of these new pieces make reference to the Brazilian popular music genre known as "choro." Andrew Staniland's Choro: The Joyful Lament for Villa-Lobos is a duo conceived for the two virtuoso guitarists, Grisha Goryachev and Fabio Zanon. Andrew Staniland, himself a guitarist, says, "I set off to write a work inspired by the choro genre that channeled my deep affinity for the music of [composer] Heitor Villa-Lobos (image at right). Interestingly, the literal translation of choro is 'cry' or 'lament,' seemingly contrary to the upbeat and cheerful musical character of the genre. It is characterized by virtuosity, improvisation, subtle modulations, syncopation, and counterpoint. As homage to Villa-Lobos, I sampled a favourite riff from his Choros #1, transforming it into a new motif in a characteristic syncopated choro rhythm. While it is difficult to say if this work is a real choro, it certainly channels many choro characteristics. It is my humble, joyful homage to the great music of Villa-Lobos." The work was commissioned for Soundstreams by Stanley and Rosalind Witkin, in honour of Mr. Martin Offman.
Mark Duggan's Choro Sem Lua (translation: Choro Without Moon or I Cry Without the Moon) is a larger composition for voice, piano, guitar duo, bandoneon, bass, and percussion. Duggan says that, "Musically, there are elements of Brazilian choro and samba, Cuban son, and a hint of flamenco." The work is based on poetry of the early 20th century Portuguese poet, Fernando Pessoa, from his most famous collection, Poesias de Fernando Pessoa. Duggan says of Pessoa's poetry, "His work, for me, falls squarely into the existentialist category. I feel it's very much about getting an objective view (as much as is humanly possible) on our understanding of both our external and internal reality and experiences. It sometime comes across as negative or nihilistic to many readers, but ultimately, I feel it is a very realistic interpretation of human experience, almost zen-like in its objectivity." He says that when Artistic Director Lawrence called him to request the work, "I was at my place in the country during a very cold night with many stars and no moon. It reminded me of Pessoa's poem which eventually became the text for the piece. I also added a stanza at the end from a different Pessoa poem from the same collection." 
David Jaeger is a composer, producer and broadcaster based in Toronto. He was the creator & Executive Producer of the long-running CBC Radio Two contemporary music series, Two New Hours.
---
Tickets for Encuentros on May 24, are still available, and start at only $20! Buy now.