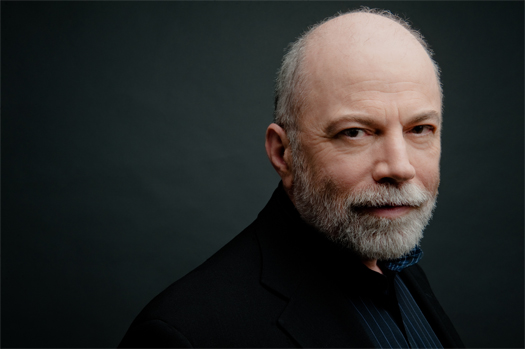 Greek-Canadian Christos Hatzis is widely recognized as a Canadian icon, with two Juno Awards and a SOCAN Award to his credit. CBC has stated that he is "one of the most important composers writing today." His music is influenced by early Christian spirituality, Pythagorean and Hermetic ideas, his own Byzantine music heritage, world cultures and religions, and various classical, jazz and pop music idioms from the past and present. He is a believer in borderless culture and the uninhibited flow of cultural information. A professor of composition at the University of Toronto, Hatzis writes extensively on these and other related subjects. 
His work Psalm 91 will be performed at our concert Song for Athene on April 16. We caught up with Christos over email to discuss how he became a composer, how religion has influenced his work, and the themes of Psalm 91.
Soundstreams: Why did you decide to become a composer?
Christos Hatzis: In my small hometown of Volos, Greece, we had no classical music radio stations until the FM Radio 3 from Athens placed an antenna on Mount Pelion that we could tune into. I was in my teens when that happened. One of my first listening experiences was music by J. S. Bach. I cannot remember which work of his I had heard but, at dinner that day, I announced to my family that this was what I would have liked to do for the rest of my life. It had such a profound effect on me.
SS: You're very prominent on social media, using Facebook and Twitter. Do you think it's important for composers to use social media now? What kind of connection does it establish with your fans?
CH: Yes I am a user, but I personally think social media has become a disease, a symptom of some collective disorder with people choosing to communicate online even though they may be within physical reach of each other. But it also helps connect people over vast distances and this is helpful when you are an artist who cannot find a critical support group within a local audience. We build our audiences over vast geographical distances nowadays. Social media and the internet make these networks of like-minders possible.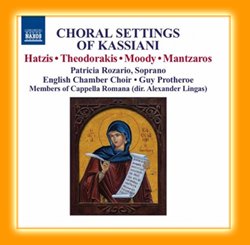 SS: Patricia Rozario has performed your pieces in the past, notably The Troparion Of Kassiani, which was commissioned by The Byzantine Festival of London for Patricia and the English Chamber Choir. (Patricia is our featured soprano in Song for Athene.) What is your relationship with Patricia?
CH: I am a big fan of Patricia's voice and she performed and recorded The Troparion of Kassiani at St. Paul's Cathedral in London. We met on a number of other occasions: in Toronto for another concert, and in Halifax during Scotia Festival, but we have not been in touch for years.
SS: The theme of this concert is a celebration of the life of the late Sir John Tavener, as well as religious themes, which were integral to Tavener's work. What is the importance of religion in your own work?
CH: Spirituality and religious faith are central to my life and work. Even though I was born and raised as an Orthodox Christian, my own understanding of Christianity is more universal and, nowadays, quite . . . unorthodox. Even though I have been interested over time in a number of Christian and other monotheistic traditions, my understanding of Christ as a creative force in the world goes beyond canonical Christianity, covering a vast cosmic vista, vaster than any theology I know.
My music is a constant conversation with this cosmic source, to the extent that my spiritually deaf ears allow for such conversation to take place at all. Aware of my limitations, I still cannot understand music or life devoid of the need for such a conversation. I have been musically exploring my religious beliefs in a large work-in-progress, a cycle of five 30-minute long compositions and an audiovisual installation collectively called Redemption. Three orchestral works (a total of over 90 minutes of music) and Harmonia, the audiovisual installation, are complete and have been individually performed repeatedly, while the two smaller chamber and mixed media works are still pending. I hope one day to hear the entire cycle presented in its entirety but I have resigned to the fact that this may not be during my lifetime.

Constantinople Chapter 7. Old Photographs (2000), by Christos Hatzis,
performed by The Gryphon Trio
SS: You wrote Psalm 91 in 2008, as a commission by the Elmer Iseler Singers and the Vancouver Chamber Choir. What are the important themes of this piece? What do you hope audiences take away from it?
CH: It was inspired by a trance vision by the American prophet Edgar Cayce who died in 1945 and has been a seminal influence in my thinking, life and work. In that vision, Cayce described in minute detail the Last Supper, consistent with the gospel accounts but with much more detail. One of these details takes place at the end of the supper and before they walked to the garden where his passion begun. They all sang Psalm 91. Jesus, also a musician according to Cayce, accompanied his disciples and others present on a harp-like instrument. The choice of choir and harp but also the mystical setting of this psalm stems from this vision. Cayce attributes a previous life to Jesus as Asaph, King David's psalmist and prophet. Even though modern biblical scholarship does not attribute Psalm 91 to Asaph, in my intimation of this Last Supper scene, Jesus is singing and accompanying his "own" composition which does prophetically fit his life and that particular moment in his life. To explain it in any more detail would take a great deal of space and time, but this was the inspiration for the work.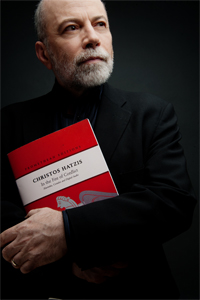 SS: You have written both instrumental and choral work. Which do you prefer to compose for? Do you have any favourite compositions for either form?
CH: The human voice emanates from deep inside a person and demands a different kind of attention and connection. It is a distant echo, a holographic reflection of the primordial "Let There Be." It originates in the depths of our being and, in the best of circumstances, carries with it some hint of what is hidden in these depths. I think all my music is vocal music. Even when written for instruments, I am hoping for the kind of unpremeditated directness, honesty and heartfelt surrender that may uplift someone else's soul, if given half a chance.
With regards to your second question, I love all my pieces like they are my children. There is one, however, Sepulcher of Life (Redemption: Book 5,) for soprano, Arabic vocalist (alto), orchestra and choir that is a summation point for my ever developing spirituality. Composed twelve years ago, it will have its twelfth performance next season in Calgary with an unusually large cast. I have heard some fabulous performances of this work in the past all over the world, including one at the Temple of Dendur in the Metropolitan Museum of Art in New York.
SS: If you could give advice to your younger self, what would it be?
CH: Everything in this life happens for a purpose. Nothing is random. So don't waste your energy worrying about the future.
SS: What kind of music do you listen to?
CH: The sounds of the Durham Forest around our home, south of Uxbridge, ON. No music I know can match that.
SS: Are there any new pieces you are composing and can share with us?
CH: I just finished revising a very difficult work for me, Going Home Star, a full length ballet for the Royal Winnipeg Ballet on the subject of the residential schools, one of the darkest pages of Canadian history. It will be recorded at the end of the month with the Winnipeg Symphony Orchestra and native vocal luminaries Tanya Tagaq, Steve Wood and the Northern Cree Singers for a Centrediscs CD release next fall, just ahead of the RWB tour of the ballet. I will be doing the production and post-production so it will be a lot of work in the next few months.
I also have to create two new orchestral works, both for the Thunder Bay Symphony Orchestra. The first on the subject of the native drum which will tour native communities in Northern Ontario and the other for the amazing Canadian chanteuse Sarah Slean and the orchestra. This will be my second orchestral collaboration with Sarah and this time the music will be based on her own original texts.

Lamento Movement 1 (When This Is Over), by Christos Hatzis,
performed by Sarah Slean and Symphony Nova Scotia
---
Tickets for Song for Athene start at only $20! Join us for a celebration of the life and music of the late Sir John Tavener, featuring Psalm 91 by Christos Hatzis, as well as a pre-concert chat with Hatzis, and Artistic Director Lawrence Cherney.