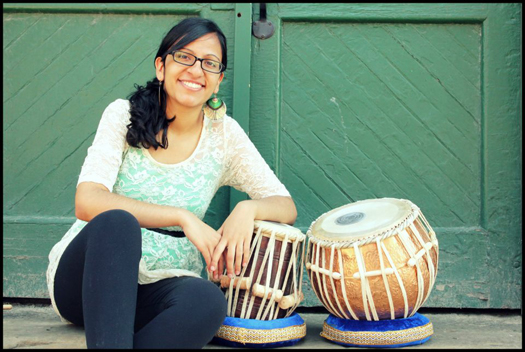 Sarah Thawer is a drummer, percussionist, vocalist and pianist based in Toronto. She is currently in her fourth year studying jazz and world music at York University and is the recipient of the prestigious Oscar Peterson scholarship. Sarah is a self-taught drummer and percussionist, and primarily specializes in playing drum sets, and both Indian and Latin percussion instruments, working as a freelance musician, playing with various bands and artists. She will be one of the featured percussionists at Salon 21: Latin American Encounters on May 8, as well as Encuentros on May 24. We caught up with Sarah over email to discuss her passion for percussion, the many instruments she plays, and her popular Youtube channel.
Soundstreams: How did you first become interested in percussion? What was the first instrument you learned how to play?
Sarah Thawer: Since I was about three years old, my father (who is a part-time musician and plays piano) used to babysit me and my sister for several hours every day. My father would play Indian music (folk, semi-classical, classical and Bollywood), and my sister and I would play drums and percussion on top of the music.
SS: How many instruments can you play (last count in this article put it at 16)? Do you find it's easier to pick up new instruments now, based on your years of knowledge?
ST: In my eyes, all drums and percussion instruments are categorized in one big, multicultural family. They are all linked but yet so different. As a kid I never distinguished one genre from the next, and I never considered myself as a drummer/percussionist that plays only a certain kind of music. I just loved to play rhythms and beats, and learn about these different instruments, and where they come from. For me, learning a new percussion instrument or drum is like diving into a culture, and seeing life from a different perspective: it's beautiful.
Even at York University, I could not specialize in one genre. Every year, I took at least 2-3 private lessons and always had an overload of studio courses. For instance, some of the courses I took over the four years consisted of jazz workshop and private lessons, a contemporary improvisation course, flamenco Cajon and guitar private lessons, hand percussion and drum kit for Latin music (afro-Cuban and Brazilian), and a course in South Indian Classical music. I also played for the gospel choir, and studied vocals and tabla outside of school hours.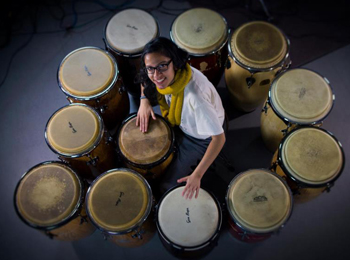 Additionally, I am very grateful for growing up in a music environment that consisted of Indian music (folk, semi-classical, classical and Bollywood). I remember at one point my parents used to leave music playing while my sister and I would fall asleep every night as kids. Indian music consists of so many percussion instruments, and Bollywood music has a whole era of Latin-influenced music.
The instruments that I love to play are: drum set, Brazilian percussion, flamenco Cajon, Latin percussion (congas, bongos, timbale), and Indian percussion (tabla, dholak, kanjira, dhol, ghatam, djembe, darbuka, udu pot).  I also play piano and completed grade 8 of the Royal Conservatory program. I learned to play violin in middle school and high school and I love to sing!
Each instrument comes with so much history and has a language of its own. However, I feel like it would be definitely a teeny-bit easier to pick up a new instrument since I have studied music theory and have dabbled with various instruments.

Sarah Thawer's most popular Youtube video, a cover of Get Lucky by Daft Punk
SS: You have a very popular Youtube channel (SarahTDrumGuru), where you cover modern songs with your own percussion twists (we got lost for an afternoon watching your versions of several songs). We noticed that you often use more than just your hands when playing, like your elbows, or placing your chin on the drum, then hitting it (seen in Sarah's cover of Party Rock Anthem by LMFAO). What different kinds of sounds can you create by doing this?
ST: I love using different parts of my body to create different sounds. You can make different pitches, pitch bend and mute the percussion/drums to different degrees!

Sarah Thawer covering Like A G6 by Far East Movement, using found items
SS: We were very intrigued by your video of various "drums" to cover Like a G6 by Far East Movement (above). (Is that a hair straightener?) What are some found items you've used as percussion instruments?
ST: It was actually my sister's hair straightener! When I recorded that video a few years ago, I locked my bedroom door, and played around with some of her makeup and straighteners. On one of my other videos (Lady Gaga's Edge of Glory), I played with pots and pans, a basketball, and the locks on the door. In middle school, I would get all of my friends to sit at the lunch table, and I would assign each of them a different rhythm and a way to play the rhythm on the table, then I would play a solo on the table over that ostinato. I would assign one person to clap, another to use the heel of their hand, another to stomp their foot, and so on. Then the lunch-lady would get angry and yell at us! I would also play beats on pots and pans, or on my body. At one point I wanted a ghatam so bad that I started playing on the cookie jar in front of my parents every day until they bought me the real deal!
SS: What is your favourite modern song to perform? Favourite classic piece to perform?
ST: There are so many! Right now I'm really digging the song Post To Be by Omarion, Chris Brown and Jhene Aiko. I have many favourite classic pieces from different genres, but the two that pop up in my mind are I Wish by Stevie Wonder, and Yeh Kahaan Aa Gaye Hum, sung by Lata Mangeshkar from the movie Silsila. 
SS: What would your dream collaboration be?
ST: To play with Snarky Puppy.

Snarky Puppy and Metropole Orchestra, performing The Curtain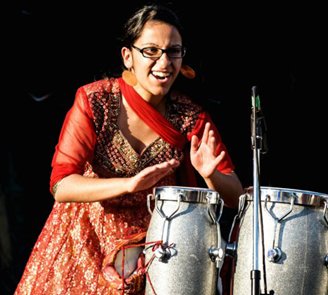 SS: What is your ultimate goal as a musician?
ST: My ultimate goal is to understand music at a deep level, and to be able to play in the moment. Music is very spiritual in many ways, and it forces us to be in the moment, to be mindful and sensitive, and it can even put us in a meditative state. My goal is to be able to reach those states, and to always have a desire to keep learning, growing and making the world a better place by performing and playing with musicians around the world.
LIGHTNING ROUND
Favourite city: T.Dot!
Worst airport: They are all so pretty in their own ways 🙂
Guilty pleasure song: Personally by P-Square
Best concert hall: Carnegie Hall
Favourite restaurant: Moxies
---
See Sarah perform at our next Salon 21 on May 8, along with percussionists Alejandro Céspedes and Jamie Drake. Register now for tickets to Salon 21: Latin American Encounters.
Sarah will also appear as one of our featured percussionists at Encuentros on May 24, an afternoon of electrifying Latin American music. Buy tickets now, starting at only $20!