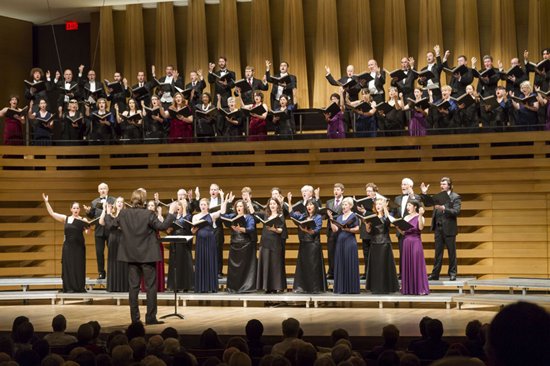 Soundstreams presents Canadian Choral Celebration
Patrons who subscribe to Soundstreams are a community of people with a strong admiration of contemporary music, and who also enjoy exclusive benefits, like prime access to concerts and special events. We spoke with one of our loyal subscribers, Ruth Manchee Kenins, about why she subscribes to Soundstreams, her deeply rooted love of music, and some of the past concerts she has enjoyed the most.
My personal musical background was gained in school choirs and bands, and the Royal Conservatory piano program. Music was a large part of my childhood with the radio or record player always on at home and my mother acting as choral leader of sing-along car rides (back in the days before on-board entertainment systems). I enjoy music from classical to jazz, to folk to pop, and I subscribe to several concert series in Toronto each year in different genres to feed my music interest.
Several years ago I was drawn to the intrigue of a new music concert series performed at the outstanding Koerner Hall, and an affordable one at that. Who knew what delights awaited me at Soundstreams? I was familiar with contemporary composers such as R. Murray Schafer but many new names have now become part of my vocabulary, from John Adams to James Rolfe. As well I have been introduced to many new instruments over the years.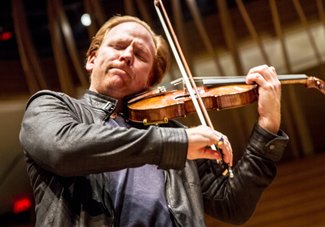 I will never forget the alluringly haunting tones of the Sanukite played by the Fujii Trio at Salon 21: Japanese Music for Percussion. Or the extraordinary experience of six grand pianos on stage and in performance together, aptly named Piano Ecstasy. Last season I was thrilled to find composer Riho Maimets on the program. He was a school classmate of my daughter and it was wonderful to chat with him and celebrate his success and inclusion in the Soundstreams season. Soundstreams' support and encouragement of young Canadian artists is beneficial to all of us.
My favourite Soundstreams concert is tough to choose, but two highlights not already mentioned would be the magical Canadian Choral Celebration, and the extraordinary Daniel Hope (above right) playing Max Richter's The Four Seasons Recomposed. I would love to hear Daniel Hope again in a future Soundstreams concert.
Soundstreams often challenges [the listener], and that is very appealing to me. I learn from the concerts and they stay with me. We are always provided with educational opportunities about the program in advance, through the Salon 21 series [at the Gardiner Museum], blog posts, e-mailed programs and the pre-concert chats.
The multicultural and multidimensional performances prompt thought, reflection, excitement and very often a sense of peace. We are generously offered instrumentation, voice, dance, poetry, and performance. I look forward to the delights of Lawrence's next season and the new experiences that await me. 

Soundstreams presents The Four Seasons Recomposed – Winter I by Max Richter, performed by Daniel Hope, violin and the Virtuoso String Orchestra
---
Interested in becoming a Soundstreams subscriber? We've just announced our 2015/16 season, full of exciting new concerts, including the opera Julie, in partnership with Canadian Stage, and Steve Reich's 80th birthday bash at Massey Hall. Subscribing is now easier than ever, and can be done completely online! Visit our subscribe page to learn more, or take a look at our new brochure.