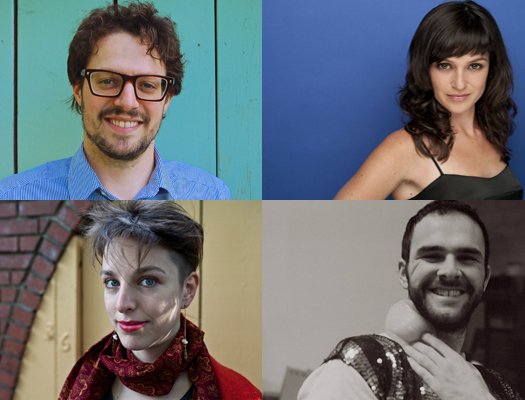 Later this week, our SoundMakers Composer in Residence Aaron Gervais will visit Toronto, for the premiere of his commission, Longuement me sui tenus. Four talented singers will be joining us at Salon 21: Aaron Gervais World Premiere, on Friday, March 20: Larissa Koniuk, soprano; Anna Atkinson, alto; Will Reid, tenor; Alex Samaras, baritone. We spoke with these performers about what it's like to learn a new piece of music and how they prepare long distance with a composer who is on the other side of the country. Visit our Salon 21 page to register for free tickets, or make a donation to reserve a prime seat for you and your friends.
Soundstreams: What excites you about performing a piece of music?
Anna Atkinson: I love the total absorption I feel when I perform. I love the feeling of intimacy between the performers, and also with the audience.
Larissa Koniuk: I get a serious thrill when connecting with an audience. I love immersing myself in a project, working in a tight knit bubble with artists I admire, and can learn from. Making beautiful music really is enough for me, and of course, singing in harmony with other humans is one of those incomparable sensations.
Will Reid: What's exciting for me is the challenge. I enjoy sight-reading new material, and contemporary music never disappoints on a degree of difficulty. It is always a pleasure to read something that has been written during your lifetime. Having access to the composer is a luxury you don't have growing up singing Bach.
SS: What are some of the challenges of putting together a new work that you don't have experience with, versus a piece you've performed many times before?
AA: I find that every piece has its own set of vocabulary, parameters, and patterns. Sometimes, especially in contemporary music, these elements can be unfamiliar or subtly altered versions of the familiar, and can take a while to grow accustomed to. Sometimes you're even required to learn a new technique. 
LK: New works are always challenging us in new ways. They take longer to put together, but I find that time really pays off in the long run, because by the time you can perform it, you know it so well, it's very deep inside you. You've created this intimacy between yourself and the piece and it lives a little in your heart for a while.
WR: I would say one of the most challenging aspects of learning a new piece is setting aside time and energy to create truly beautiful music. Playing around with dynamics, tempo, feel, diction, etc. is integral. With pieces that you have performed before, you have more time to spend on musicality because the notes and lyrics are already in your head. Allowing time to get to that point of interpretation when performing new music is the key.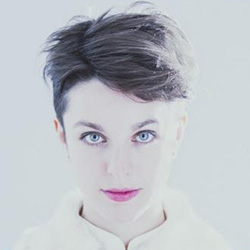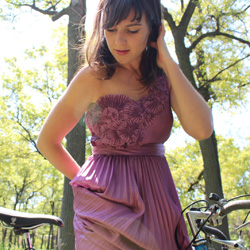 From left to right: Anna Atkinson, Will Reid, Larissa Koniuk
SS: What are the best parts of performing a new piece of music?
AA: A piece really comes to life when it is first performed in front of an audience. Being at the centre of that process is magical.
LK: One of my favourite parts about working on new music is collaborating with living composers. I love being in the same room, and trying things out together. When a piece is new there is this feeling that the audience is leaning in a little closer. There is something really fragile and special about a new piece – it seems as though the audience handles it with a little more care.
WR: I think knowing that your performance and interpretation will mark the first time your audience will experience a piece is an exciting thought. Also, maintaining the thought that this first performance may be the start of a fascinating journey for the particular work.
SS: This piece uses electronics to delay the singers' voices. How are you preparing for this? Are you planning on rehearsing the piece differently?
LK: I'm excited to test the electronics next week with Aaron. We really don't have a sense yet of how that will go, but that's part of the fun. We're rehearsing with the delay in mind, trying to get a sense of the piece without reverb first, so that we can anchor to each other in performance in real time.
AA: We started by rehearsing the piece acoustically and will add the electronics later on in the process. Delay can easily alter the way we sing, because the playback can be distracting, causing us to slow the tempo down. We're making sure to listen foremost to the acoustic sound of each other's voices and to push the tempo forward in the places where it tends to lag. 
There is something really fragile and special about a new piece – it seems as though the audience handles it with a little more care.
– Larissa Koniuk
SS: Can you tell us a little about the singers you're working with? What makes them a good fit for this piece?
LK: Alex, Will, and Anna are all great musicians and people, and they bring with them the aesthetic that I think Aaron is looking for. He's written a complex piece that also requires much soft singing, control of vibrato, and singing right up close to the mic. I usually work with opera singers, but I looked for singers who are extremely versatile for this [piece]. Everyone performs a huge range, from folk to choral to jazz to hip hop; they're all really active with various new music projects. They know how to use mics and how to blend, and they are extremely sensitive to ensemble. They are people who I admire hugely and who dig deep. We're really enjoying breathing together.
WR: I have performed with all of my fellow singers in varying capacities and I think that our familiarity is extremely helpful for this piece. Being able to rely on each other musically is important, especially in a new piece. Alex, Anna and Larissa are all fantastic musicians and people, and each bring their own personality and musicianship to the piece. It is easier to sing with people of whom you are comfortable, not to mention more fun.
LIGHTNING ROUND
Favourite city 
Larissa: Paris
Will: Haiku, Hawaii
Worst airport 
Larissa: Ours – Pearson Airport
Guilty pleasure song  
Anna: Come On Eileen by Dexys Midnight Runners
Will: Let's Groove by Earth, Wind & Fire
Larissa: Shake It Off by Taylor Swift (you said guilty!) [Editor's note: Finally, an excuse to put this song in a blog post! This is truly a guilty pleasure song.]
Best concert hall
Larissa: I have a soft spot for the Music Gallery. So intimate and lovely.
Favourite restaurant:
Anna: Cafe Fiorentina or Nazareth or La Bella Managua or Tenoch, all in Toronto (oh wait, that's four…)
Larissa: Farmhouse Tavern in Toronto
---
Join us at Salon 21: Aaron Gervais World Premiere to see these singers perform the world premiere of Aaron's piece, Longuement me sui tenus. Register now!